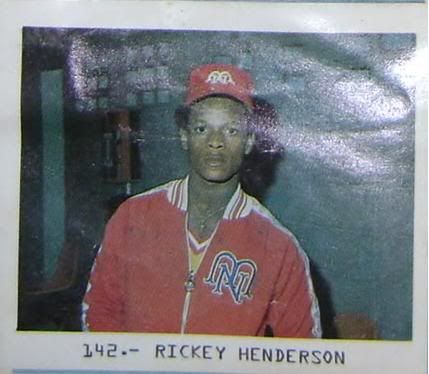 As a Rickey collector for almost 25 years, it's not too often that I'm surprised by an item that I've not only never seen before, but never even heard of, especially one as significant as the card below. Fortunately, thanks to the help of fellow collectors, it still does happen, which is one of the reasons that makes player collecting that much fun!
After being drafted by the A's in 1976, Rickey played for the Boise A's in 1976, and then the Modesto A's in 1977. It was his time in Modesto that produced his first baseball card, the ever elusive 1977 Modesto A's Chong.
Rickey then played for Jersey City in 1978, followed by Ogden in 1979. But, before the 1979 season began, he played winter ball for the Navojoa Mayos (Mayos de Navojoa) of the Mexican Pacific League (Liga Mexicana del Pacifico or LMP). Prior to this weekend, the only picture of seen of Rickey's time with the Mayos is the one shown above.
I have never been able to find any other items from Rickey's days in the Mexican League, until now...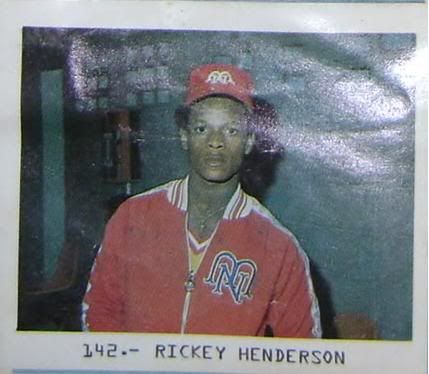 The above images are of a sticker album produced by the Liga Mexican del Pacifico for the 1978-1979 season. It was quite a surprise to see a young Rickey featured, along with the rest of his Navojoa Mayos teammates. It's not often that an unknown "pre-rookie" card of a Hall of Famer surfaces, but that seems to be exactly what happened here. It's possible that others have known about this cards existence, but all of the other hardcore Rickey collectors I've talked to have been just as shocked as I was.
The cover of the album is shown above, and is officially titled "Album Fotografico de Beisbol," with the rays of the sun on the right indicating the other teams in the league. You can view the rest of the pages here, filled with stickers of the other players in the league.

The pictures of the album are all courtesy of Arturo, a collector of Mexican born baseball players, who was recently selected by Beckett to be featured in an upcoming SuperCollector issue. Thanks again to Arturo for scanning all of the pages of this album, if you hadn't, the Rickey card might still be a mystery today!