When to my first A's game of the year on Saturday, which just happened to be Turn Back the Clock night, in honor of the A's championship teams from 1972-1974. As an early birthday present, my wife surprised me with really great tickets to the game, right behind the A's bullpen.
This first picture is for Brian, who asked me a few weeks ago if Rickey's numbered had been added to the tarps in the upper deck. The answer...yes, but his jersey is also still on the fence in left field, along with the logo commemorating Braden's perfect game.
In honor of Charlie finely, the A's brought back Charlie O the mule, their mascot in the late 60's and early 70's. (The real Charlie O died in the mid-70's, but it is the thought that counts).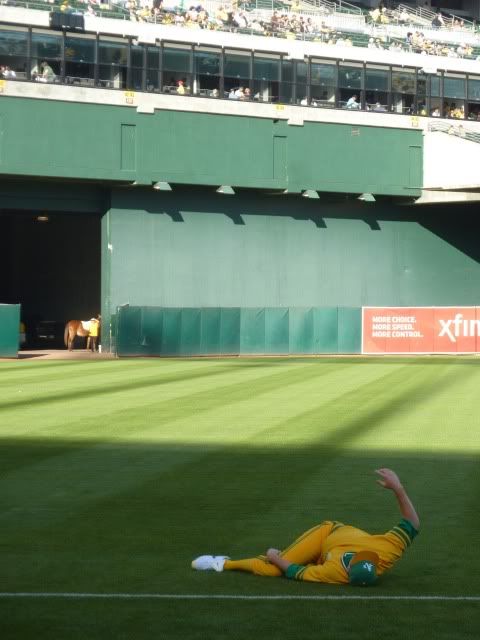 Since we had good seats, I wanted to get there early and watch warm-ups. I don't think Cahill stretches with a mule watching him from centerfield every night, but I could be wrong!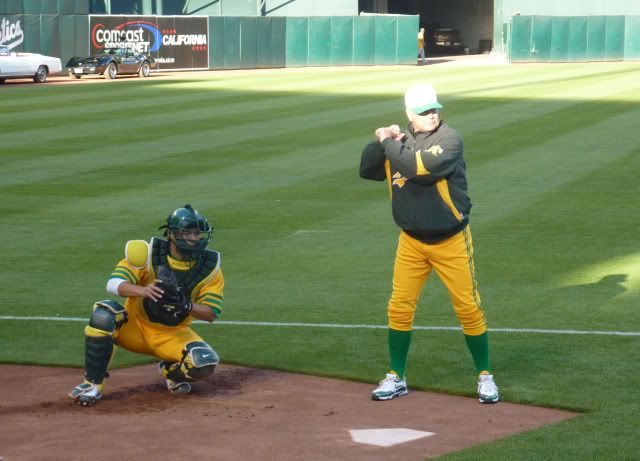 As they attempted to dodge the classic cars driving around the warning track, Cahill and Suzuki warmed up in the bullpen, with pitching coach Curt Young looking on.
Due once again to the awesome seats, I got a thumbs up from Ray Fosse (center), and he joined Vida Blue (left) and Campy Campaneris (right) with the 1972, 1973, and 1974 World Series trophies.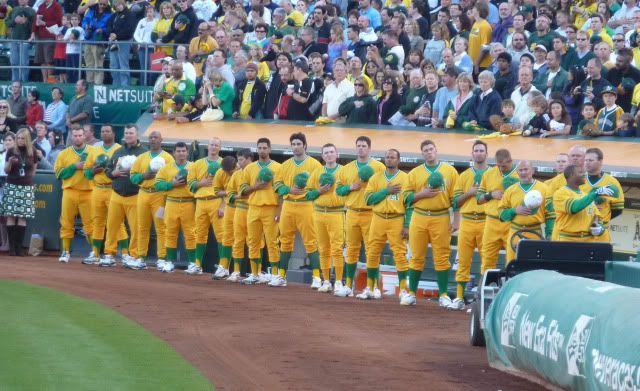 As the players stood for the national anthem, there was definitely plenty of yellow to go around!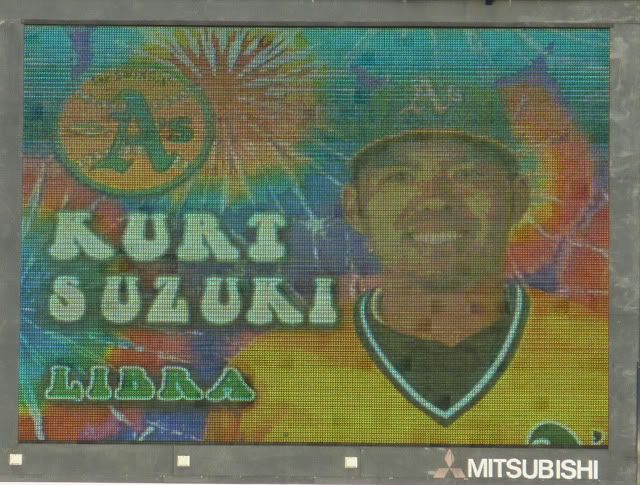 The A's went all out with the throwback theme, even displaying the players astrological signs along with their stats.
The view from our seats. Definitely a great place to watch a ballgame.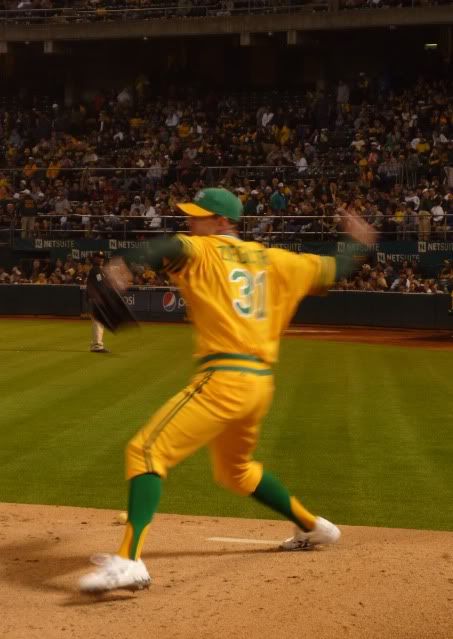 Due in large parts to Cahill's impressive start (7.2 innings, 2 hits, 10 K's), we didn't get to see too much action in the bullpen. But, I was surprised to learn, that contrary to other sidearm pitchers I've seen, Ziegler actually starts his warm-ups overhand, and then drops down later on.
This was the last pitch of the game, when Andrew Bailey got Pirates catcher Ryan Doumit to pop up to Kouzmanoff at 3rd.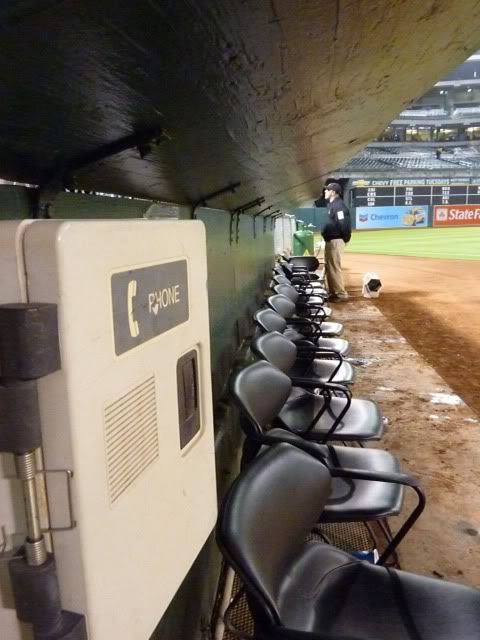 We were sitting right behind the bullpen phone, and could even here it when it rang. After the game was over, I stuck my camera down into the bullpen, and got a pretty cool shot.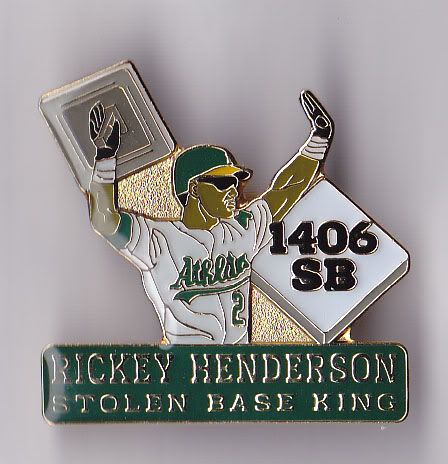 Since this is a Rickey blog, I was actually able to get this pin, which I missed out on during my last trip to the Coliseum for Rickey's jersey retirement ceremony. I'd only seen one on eBay since then, so I was surprised to see they still had them in stock.
Overall, it was a great night out with my wife, and a perfect 30th birthday present!