It's been almost 15 years, but I've managed to acquire all 4 of Rickey's cards from the 1996 Fleer/Skybox Circa set, finally tracking down the elusive "Rave" parallel.
I don't remember buying any of these at the time, but I remember the big deal that everyone was making out of the serial-numbered (to 150 copies) Rave parallel set. Since I borrowed the picture above, I figured I should link to the source, where you can still
purchase
a box of 24 packs, for the fairly reasonable price of $24.95.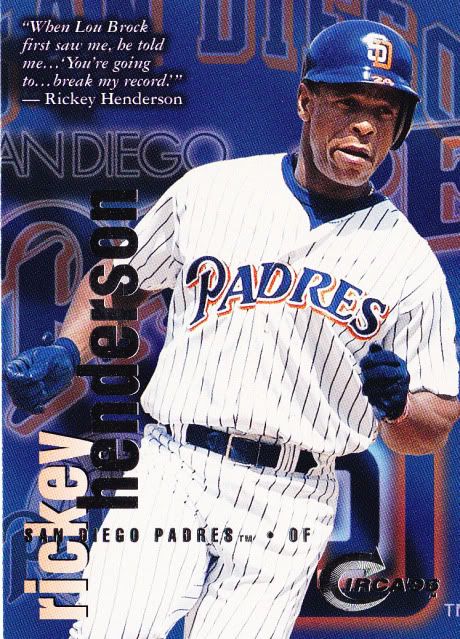 Here's Rickey's base card from the set, which features a fairly busy design, including his name vertically along the left side in silver foil, as well as a quote from Rickey in the upper corner.
The Boss inserts were a 50-card set seeded 1:6 packs, and all features a different design in the background. For some reason, Rickey's card includes a wicker basket, but a like the fact that it is em"boss"ed onto the card, giving it a nice texture.
The Access set featured 30 cards, and was inserted 1:12 packs, or 2 per box. Until I pulled out the card to scan it for this post, I had actually forgotten that it was a 3-panel foldout.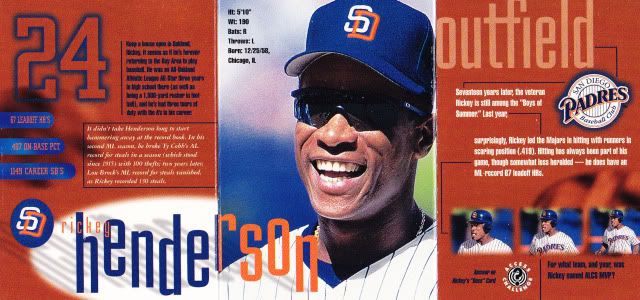 The top pictures shows the front and back of the panel when folded, with the front using a slightly modified version of his base card. The bottom picture is the inside of the panel, which included some basic statistical information and a few facts about Rickey. It also includes a trivia question, the answer of which can be found on Rickey's Boss card. I guess they were attempting to integrate the insert sets among each other, but I'm not sure how well it worked.
Finally, we come to the card that took me almost 15 years to track down (at a reasonable price that is)...the 1996 Circa Rave #/150. These cards were inserted 1:60 packs, or about one in every 2.5 boxes. The front is he same as his base card, except instead of your basic silver foil it has been replaced with a sparkly/shimmering effect.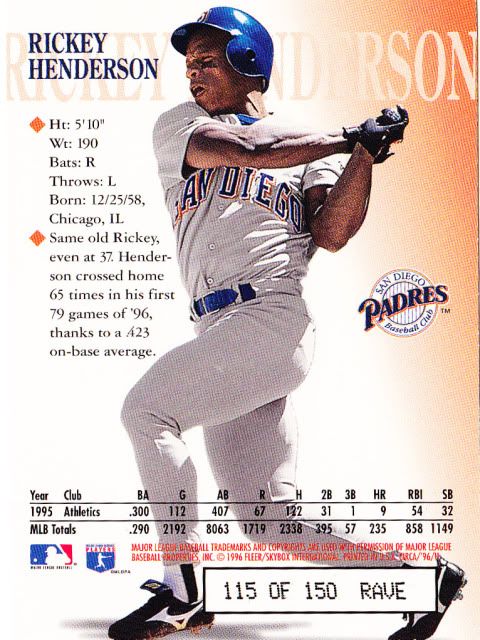 The box in the lower right hand corner indicates that this is #115/150 in the Rave parallel set. Other than Rickey's 1991 and 1992 Donruss Elite inserts, which are serial numbered to 10,000 and 7,500 copies respectively, this is Rickey's first low-serial numbered card, and his first serial numbered parallel.
Now that I've been able to check this one off the list, I'm going to set my sights on a 1993 Finest Refractor, which although not serial numbered, has an announced print run of only 241 copies.