It's been awhile since I've showcased some of the oddball items in my collection, and since I just recently found out something interesting about the High 5 decals, I thought now would be a good time to share.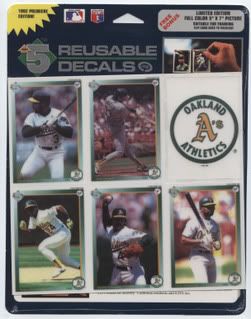 The High 5 decals came on sheets with 5 player cards and a logo. There are two different types of sheets, team sheets (5 players and the team logo ago), and "Superstar" sheets (with 5 players and the "Superstar Collection") logo.
Shown above is the Rickey decal from the A's team sheet, described as "1992 High 5 105" by Beckett.
The back of the sheets include a bonus "5 x 7" of a particular player (in this case Ken Griffey Jr.), as well as the checklist of the full 130 card set.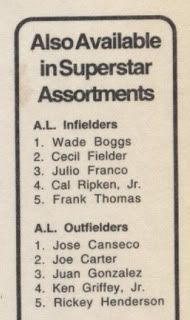 On the sidebar on the back, it describes the "Superstar Assortments" that are also available, with Rickey being included in the A.L. outfielders set.
You may have noticed on the upper corner of the package, that there was a different looking Rickey card included as an example of how the decals were "reusable and removable." When the A's sheet was the only one that I had, I assumed that this must be the Superstar variation that is referred to on the back. But, I have never seen this decal, and I don't believe it ever existed.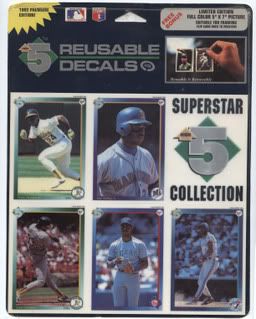 I eventually came across this set of decals, which is actually the Superstar Collection, featuring the same decal as in the base set (at least that's what I thought, until this past week)
Here's a close-up of the Superstar version of the decal, labelled "High 5 Superstars 19."
Based on a question from a fellow Rickey collector about the difference between the two decals, I pulled out both of my sheets. I then noticed that the decal from the A's sheet on the left spells his name "Rickey," while the decal from the Superstars sheet on the right is spelled "Ricky." Followers of this blog know of my disdain of those that can't spell "Rickey" correctly, but at least in this instance it actually helps collectors determine the difference between two variations. This won't help collectors of other players, however, as the Canseco decal, which also appears on both sheets, looks to be the same in both instances.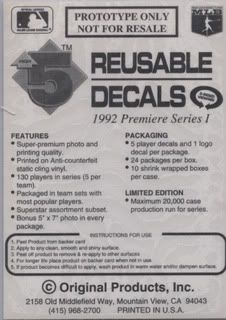 This last picture is of the back of a prototype decal that I also have. The front looks exactly like the Superstars decals, which can be determined due to the "Ricky" spelling. Since even the prototype doesn't feature the picture used in the upper corner of the sheet, it's just further proof that the decal never existed.