I've been patiently waiting for the A's to announce their promotional schedule for 2009, and they finally
released
it today. I knew that they had to do something for Rickey this year, and they didn't disappoint. It all looks very promising!
"Another recent staple in Oakland has been replica-jersey giveaways, and the highlight this season will feature Rickey Henderson, who was elected to the National Baseball Hall of Fame last week. On "Rickey Day," set for Saturday, Aug. 1, Henderson jerseys will be handed out -- No. 24 -- before the "Man of Steal" is honored in a ceremony on the field. The following day, on Sunday, Aug. 2, the A's have plans for a Rickey banner giveaway."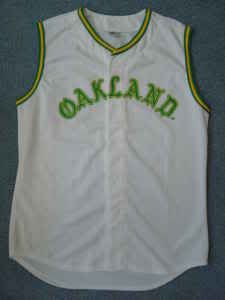 The Campy Campaneris retro-jersey the A's gave away in 2008 was one of the nicer promotional jerseys that I've seen. Hopefully the Rickey jersey will be just as nice.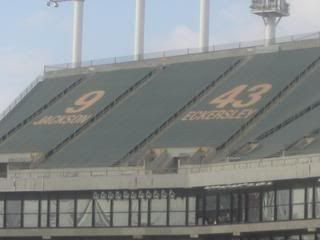 Although they don't say it directly, it's pretty safe to assume that the "ceremony on the field" is going to be the A's retiring of Rickey's number 24. I'm going to have some busy weekends at the end of July / beginning of August, with my son turning 1 year old on July 16th, the Hall of Fame induction ceremony in Cooperstown on July 26th, and now the A's own ceremony on August 1st. I can't wait!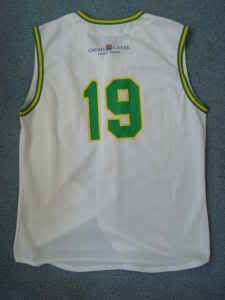 I'm interested to see what the "Rickey banner" looks like, and have to figure out if I'll be able to go to that game as well. Hopefully they A's decide to "sponsor" the banner themselves, and not cover it in giant logos of Tide or Arrowhead, as is the case with most giveaways. The Campy jersey only includes a small Cache Creek logo on the back, which is not entirely objectionable. Although I understand that these are promotional items, I hope they decide to honor Rickey without all of the corporate sponsorship.