The first Rickey card produced by Razor (at least the first that I know of) surfaced on eBay, and sold for over $300!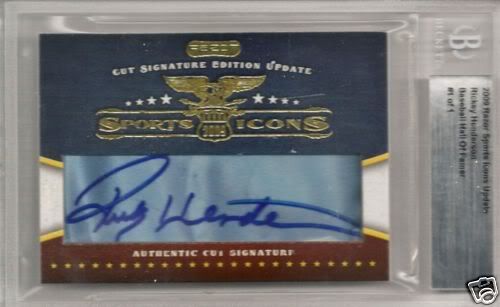 The card is part of Razor 2009 Sports Icons Auto Update set, the complete checklist of which can be found here.
Razor is currently not the biggest player in the card market, but they are at least still making cards, which is more than can be said about a lot of other companies. All of Razor's releases feature cut signatures, and some are obviously better looking than others.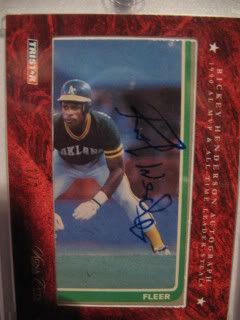 Tri-Star has also produced similar cut signature sets, with this "interesting" (sorry Ken) looking Rickey included in their 2008 Signa-Cuts Baseball Edition set.

I haven't seen them for sale yet, but Rickey also has cut signature cards in 2008 Tri-Star Signa-Cuts Baseball Edition series 2 and 2009 Tri-Star Signa-Cuts Bronx Edition.