Whenever a new checklist comes out, I always quickly scan it over to see if Rickey is included, but usually come away disappointed. When the
TriStar Signa Cuts Baseball Edition
checklist was released early last year, I saw that Rickey was included, but quickly forgot about the release.
First, I knew that the card would be extremely short-printed, and I'd never be able to afford it anyway. And second, based on the Franken-cards that I'd seen from Tri-Star's cut signature sets, I knew it was not going to be the most attractive card.
I received an e-mail from Ken (a fellow Rickey collector) last week, with scans of the Rickey card, which was the first time that I had seen it.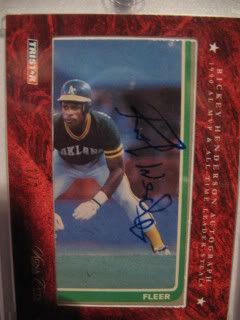 As expected, this card is horrendous! I don't see why they felt the need to hack a perfectly good signed card to pieces, and then put a little frame around it. To make matters worse, the 1985 Fleer card that they used was not the most exciting release in the first place.
Plus, considering that the main point of this card is the signature, it looks like he signed it while on a riding mower! It's definitely not one of the better Rickey sigs I've ever seen.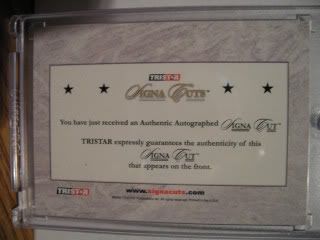 The back of the card features the typical legal jargon. It doesn't list the print run, but Ken says that only 2 were produced. I'm curious as to if the other card also features a similar mangled Fleer card, or if it is actually a different card that has been encapsulated.
Of all the signed Rickey Henderson cards that are out there, you'd think they could have purchased one that was a little nicer, especially considering that they only needed to buy two of them!
Other than the Prime Cuts game-used card that accidentally leaked out, this was the only card produced of Rickey in 2008. But, given the look of the card, I think the hobby would have been much better without it! I'm still holding out hope for better luck in 2009.