Early last week I got an email from Jim over at
TasteLikeDirt
about something he had found while attending the A's open workout a few days earlier. The A's new pocket schedules had finally been released, and Rickey was featured on one of them!
It's hard to believe, but this is one of the few "new" Rickey items that has been released since I started this blog almost a year-and-a-half ago. After a few e-mails to the A's, and coming up empty (no one there even knew the schedule existed), I received a package in the mail from Ted, a Bay Area A's fan and collector of A's pocket schedules.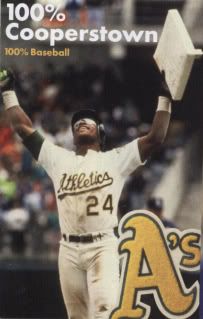 What an awesome schedule! I don't remember if I've mentioned it on the blog before or not, but my only other "collection" besides Rickey is of Oakland A's schedules. I also have a side collection of schedules of the teams that Rickey played for, during the years that he played for them. So, when my two collections come together, and Rickey is actually featured on the schedule (which has happened 4 or 5 times before), it's even better!
Here's a link to a slightly outdated list of all of the A's schedules I currently have. I'd definitely be interested in any that are not listed on here. This next link is of the teams that Rickey has played for over the years, and I need schedules for almost all of them.



On the July portion of the calendar, the A's even included a little mention of Rickey's Hall of Fame induction at the end of the month. As mentioned previously, the A's are celebrating Rickey Henderson Weekend the following week, with Rickey themed giveaways on both August 1st and 2nd.




This last pick is of the back of the schedule, which may not seem all that exciting, but it can be for a pocket schedule collector. The A's schedules typically feature different sponsors on the back (such as their local radio affiliates), and I'm sure that this is the case with this one. If anyone happens to find any more Rickey schedules, or any A's schedules in general, please let me know! Hopefully this is the first of many new collectibles showcasing Rickey's induction into the Hall.