As you probably noticed in the title, my Rickey collection reached a significant milestone lately, when I acquired my 2,000th different Rickey card! I've come along way from categorizing my cards on stapled pieces of binder paper, and I really can't believe I've made it this far.

Due to the vast increases in his cards during the end of his playing career, I still don't even have half of the almost 5,000 total cards of his that were produced. But, if you focus on anything released from 1977-1995, I have over 97% of the recognized cards, which drops only slightly to 92% if you extend the time period out to 1998.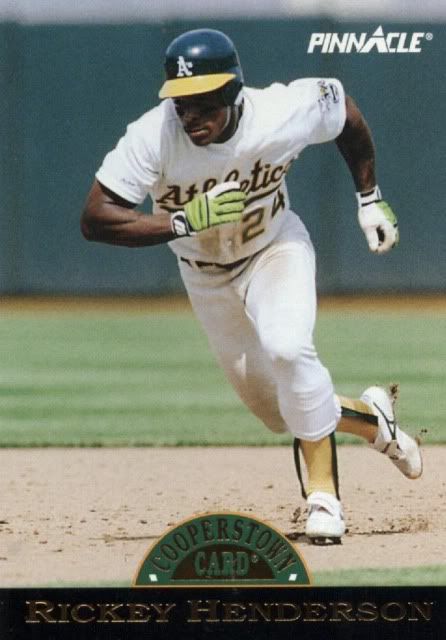 In 1993 Pinnacle released a 30-card "Cooperstown" collection factory set. When I first came upon this card at a card show, it was actually still fairly rare (it's a common card now), as the factory sets could not be found everywhere. But, up until the advent of eBay, I had no idea that a parallel version of this card even existed!
The 1993 Pinnacle Cooperstown Dufex card above, along with the release of 1993 Select, was Pinnacle's first foray into the use of Dufex (they call it "FX" on the box) technology. I first saw this card on eBay about 10-years ago, and due to the crazy prices with which it was selling, I had kind of written off ever acquiring one. But, thanks to being very patient, and getting a very good deal, I can now call it my own. 1993 was a rather important year in terms of sports card innovation , as Topps also released the first ever "refractor" card in 1993 Finest (another card that I'd LOVE to add to my collection).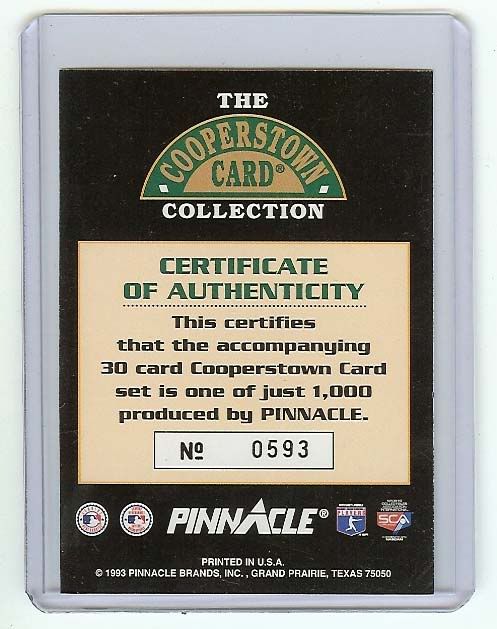 The card above is not the back of the Rickey card, but is a card that was inserted into the 30-card dufex set. There has always been a bit of mystery surrounding the Cooperstown Dufex cards, as no one was exactly sure where they came from. There was a total of 1,000 sets produced, but it's not clear how many of these actually made it into circulation.
Whenever I have a question regarding the background of a specific oddball release, the first place I look is BAMCards online eBay store, and once again they didn't let me down. (Note: BAMCards is not a sponsor of this blog -- although I wouldn't mind if they were -- but just a seller who knows a lot about 1980's and 1990's oddball releases). The quoted text below, as well as the letter from Pinnacle, are both thanks to the vast knowledge of BAMCards.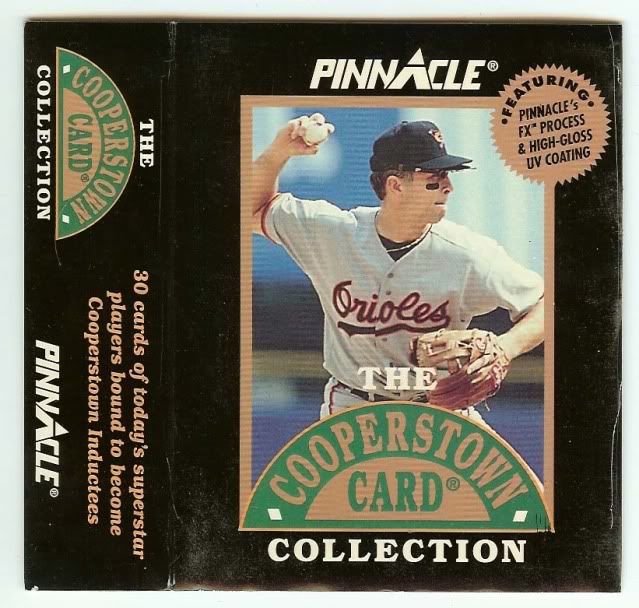 "The Dufex version was a non-commercial set that was actually a 'Full Attendance Prize.' These were given to the members of the SCAI, a now defunct dealer association, who attended each and every meeting of the SCAI November 1993 Conference in Dallas Tx. Contrary to some reports, the cards were not really handed out at the conference but were a commemorative gift mailed to the 'Full House participants' by Pinnacle in late February 1994."




"The SCAI President, who complied the attendance winner list, has indicated that the total fell far short of that originally anticipated by Pinnacle. As the Conference attendance was light, and as each meeting, generally card company promotions drew fewer and fewer dealers, the number that attended all was embarrassingly small."




"Before each meeting encouragement was given to the members to attend as Pinnacle, Topps, Pro Set and others promised gifts. But many of the actual attendees were the employees of the manufacturers. So it is likely that some of the sets sent several months later to those on the Full House list ended up in the hands of people who were not active hobbyists. Some other sets may have also been given out on Pinnacle factory tours or through a radio show."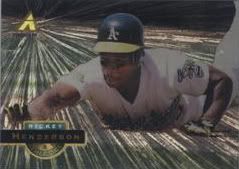 So, there you have it, the story behind a rather interesting oddball release. In 1994 Pinnacle first included a "Museum Collection" parallel in their base set, and the rest, as they say, is history.