As you have probably noticed, my updates on the blog recently have been few and far between. There's many different reasons for that, with one of them being that I have been trying to do too much with each post. Instead of posting something short and sweet, I've tried to put together longer posts, which tend to take forever, and never seem to get finished.
From here on out, even if I've only got a single card to post, I'm going to try and get it done, rather than waiting until there's something more substantial. That way, the blog is updated more than once a month, and everything doesn't get backed up as it is now. I've had the following scans completed for about a month now, so it's finally time to put them out there
These are all cards that I recently received from 1980's and 1990's sets, which comprises the bulk of my collection. While I'm still excited about Rickey's more recent cards, I love nothing more than checking off these earlier cards from my list. Without further ado, on to the cards...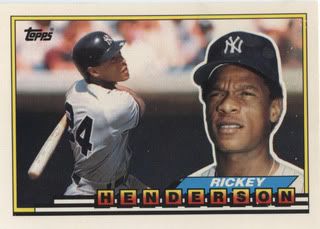 1989 Topps Big #271 -- I'm really not sure how this card had alluded me for so long. It does look similar to his 1989 Topps Big, and I must have thought that I had them both.
1991 Panini French Stickers #171 & #196 -- These French releases were the last Panini's that I still needed for my collection. I now should have all of Rickey Henderson cards that Panini produced, beginning in 1988 and continuing through 1996.
1992 Donruss Cracker Jack II #19 -- I had one of these already, but mine was badly off-center, and I was finally able to find a replacement. I always thought it was interesting that the 1991 Cracker Jack release was a Topps card, but the 1992 release was from Donruss. I have a stack of about 10 of these the I pulled from boxes of Cracker Jacks, but I just couldn't seem to run across a Rickey.
1996 Collector's Choice Gold Signature #240 -- I've almost completed my Collector's Choice Gold Signature set, with the only one remaining the 1994 Collector's Choice Gold Signature #510. I actually thought that I had picked it up a few weeks ago, but the seller actually sent me the 1995 card, so the search continues.
1996 Flair Gold #376 -- This is a parallel that I didn't know existed until fairly recently, when Beckett updated their master checklists.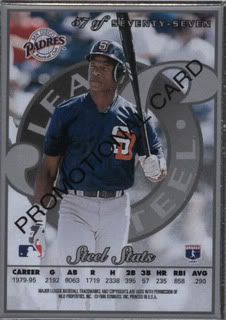 1996 Leaf Preferred Steel Promos #57 -- I scanned the back of this one, since the front looks exactly like the regular base card. This is the silver promo, and I'm still on the lookout for the gold promo that was also produced.
1996 Padres Mother's #4 and 1997 Padres Mother's #5 -- I always enjoyed collecting the Rickey's Mother's Cookies cards, and since played on the West Coast after leaving the A's, he had cards produced with the Padres as well. I'm still missing the 1998 A's Mother's 2 card, which I'd love to add, as it would complete my Mother's collection, which started all the way back in 1984.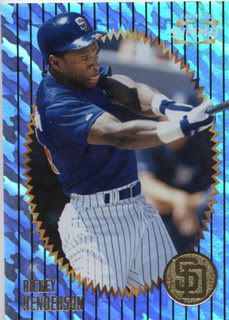 1996 Summit Above and Beyond #66 -- I've been trying to track this one down for awhile, and still need the Artist's Proof parallel. The Artist's Proofs from this Score brand sets (such as Summit and Zenith) are notoriously difficult to find.
1997 Donruss Limited Exposure Non-Glossy R.Henderson/D.Hamilton #85 -- Here's a variation that I was finally able to track down. The top version (showing the back of the card, with Rickey on the front) is the "error" with "Limited Exposure" listed under the card number, but featuring only the standard non-glossy finish. The card below is the corrected version, showing how the card was supposed to look
1997 Score Showcase Series Artist's Proofs #51 -- This is another one of those Score Artist's Proof that I was finally able to track down. I also just recently obtained the White Bordered Artist's Proof, which should be in the mail now. I still am looking for the "Hobby Reserve" parallel from this set, which I've actually never seen, and was only recently added to the Beckett checklist.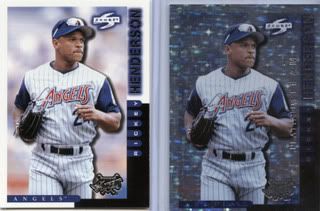 1998 Angels Score #1 and 1998 Angels Score Platinum #1 -- I'm not sure how it worked out this way, but I've recently picked up a lot of the harder to find Score parallels that I was missing. I purchased the entire team set of Angels Score cards (denoted by the team logo in the corner), to get the card on the left. If anyone is interested in any of the other cards, just let me know. I also picked up the Platinum version on the right, for the whopping price of $0.25. It's definitely the best deal on a Rickey card that I've found in awhile.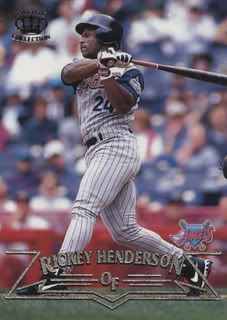 1998 Pacific Silver #9 -- It seems that the late 1990's Pacific parallels are just never-ending, and it's usually impossible to figure out which version you actually own! There were surprisingly only three parallels to the 1998 card, and I'm still missing the Platinum Blue and Red Threatt (and yes, it does have 2 t's).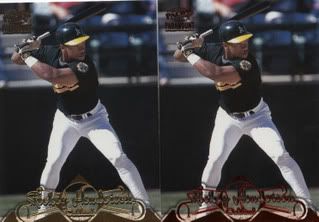 1998 Paramount Gold #80 and 1998 Paramount Red #80 -- The 1998 Paramount set included 5 different cards, with the Gold and Red versions shown here. I also have the Copper parallel, but am still missing both the Holographic Silver and Platinum Blue versions.