I just wanted to wish everyone a Merry Christmas, with a special Happy Birthday to Rickey Henderson as well. Now that 2009 is finally over, it's been a long year, but one that I'll never forgot. As a Rickey fan, getting to see him inducted into the Hall of Fame, as well as seeing his number retired by the A's, we're both once in a lifetime opportunities, and I'm glad that I was able to take part.
Speaking of the Hall of Fame, since I'm still a member (I actually renewed my membership for next year as well), I randomly get things from them in the mail, which I'll share as time permits. I just received a Christmas card, which included a nice picture of Rickey and Jim Rice on the cover.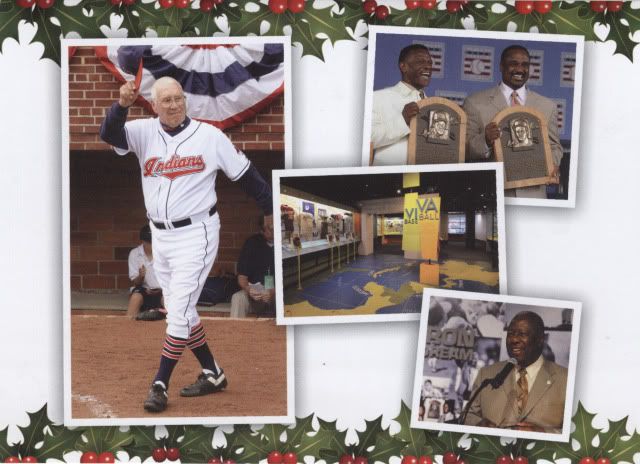 I think it's pretty cool that they chose to use this picture, since it's similar to one of my favorites from the trip, and the one I entered in the ESPN contest.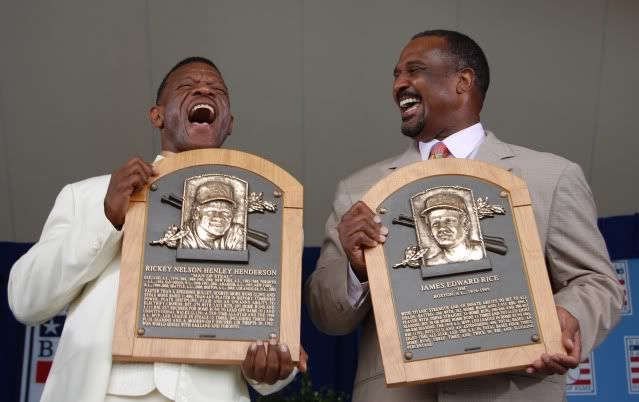 I know everyone has seen this picture way too many times, but one more won't hurt anyone. I do want to thank everyone that voted for me, as I think I managed to get into the top 20 of the people's choice, which I definitely can't complain about.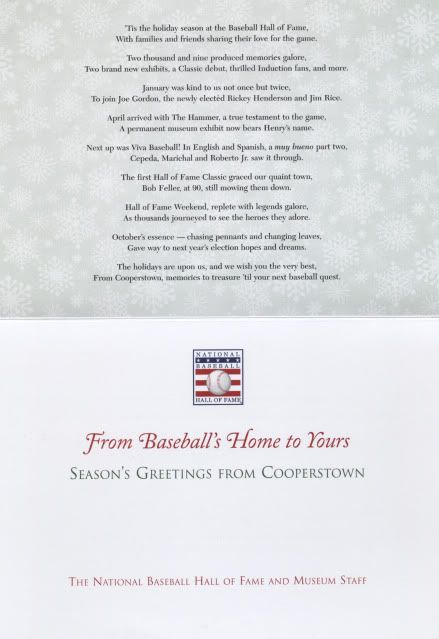 Back to the Christmas card, inside was a short poem that they had written, incorporating the events of the year. I've reproduced the text below:
"Tis the holiday season at the Baseball Hall of Fame,
With Families and friends sharing their love for the game.
Two thousand nine produced memories galore,
Two brand new exhibits, a Classic debut, thrilled Induction fans, and more.
January was kind to us not once but twice,
To join Joe Gordon, the newly elected Rickey Henderson and Jim Rice.
April arrived with the Hammer, a true testament to the game,
A permanent museum exhibit now bears Henry's name.
Next up was Viva Baseball! In English and Spanish, a muy bueno part two,
Cepeda, Marichal and Roberto Jr. saw it through.
The first Hall of Fame Classic graced our quaint town,
Bob Feller, at 90, still mowing them down.
Hall of Fame Weekend, replete with legends galore,
As thousands journeyed to see the heroes t hey adore.
October's essence - chasing pennants and chasing leaves,
Gave way to next year's election hopes and dreams.
The holidays are upon us, and we wish you the very best,
From Cooperstown, memories to treasure 'til your next baseball quest."