A few weeks ago I received an e-mail from Adam at
Thoughts and

Sox
, asking for my address so that he could send over a stack of A's that he'd accumulated. He sent a nice stack of
base
cards, as well as the two inserts below, which were definitely my favorites.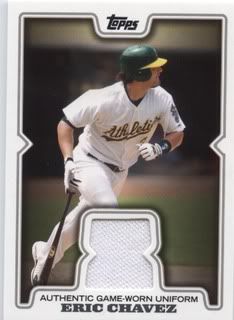 I've been wanting this Chavez card for awhile, as it's actually been pretty popular among online A's
bloggers
. Not too long ago
dayf
had one for trade, and he ended up having a "
Fake Tony

Gwynn

Card Contest
" to determine the winner. I decided against challenging
PunkRockPaint
to "Paint-Off," but now I have a version of my own!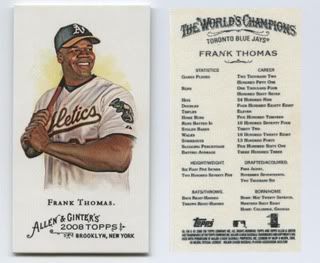 This is the second version of Thomas' 2008 Allen &
Ginter
that I now own, and neither one is the base version. The first one, the Allen &
Ginter
back parallel, I actually pulled from a pack. I thought that the one that Adam sent over was the base, until I realized that there was no number on the back!
Thanks for the cards Adam, there's some Red
Sox
on their way to you as we speak (well, not literally, since today's a postal holiday, but they should be there shortly).