I was able to sneak off to Target at lunch today, and grabbed a few packs of the newly released 2010 Topps. I was hoping to snag a Rickey or too, but I would have no such luck. But, I figured someone out there has pulled one (or will in the near future). All of the 2010 Topps below are for trade for 2010 Rickey's, or any other Rickey that I need for that matter.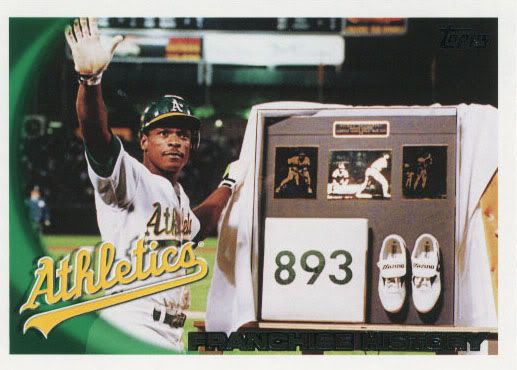 This is the A's Franchise History card, and it was a nice surprise to see Rickey on the front!
Here's the Rickey's that should be in the set:
Athletics Franchise History card #137 (as well as any parallels)
The Cards Your Mother Threw Out MTO29 Rickey Henderson
Legendary Lineage LL30 Rickey Henderson / Carl Crawford
Peak Performance Relic PPR-RHE Rickey Henderson
Hat Logo Relic MHR-110 Rickey Henderson
Hat Logo Relic MHR-111 Rickey Henderson
Hat Logo Relic MHR-112 Rickey Henderson
Hat Logo Relic MHR-113 Rickey Henderson
This is the back of the "Cards Your Mother Threw Out" insert, the front of which looks just like his 1980 Topps rookie.
In the preliminary checklist, these were referred to as "Past & Present," but they must have changed it to "Legendary Lineage" somewhere along the line. This is the last of the Rickey inserts in the set, the only cards I've yet to see are the Hat Logo and Peak Performance Relics, which will show up once the hobby boxes are released.
Here's what I have for trade:
Target Red Back Minis
1 Reggie Jackson
6 Cy Young
11 Lou Gehrig
Turkey Red
TR14 Kevin Youkilis
TR16 Ozzie Smith
TR48 Willie McCovey
Peak Performance
4 Walter Johnson
23 Stan Musial
Toppsstown
TTT3 Hanley Ramirez
TTT4 Adrian Gonzalez
TTT17 Todd Helton
TTT22 Andrew McCutchen
Legendary Lineage
LL6 Jimmie Foxx/ Manny Ramirez
LL25 Tom Seaver/ Roy Halladay
Base Cards
37 Garret Anderson
38 Houston Astros®
41 Los Angeles Dodgers®
67 Matt LaPorta
83 Mark Teahen
87 Darin Erstad
88 Jerry Hairston Jr.
93 Joe Nathan
100 Albert Pujols
103 Daniel Murphy
105 Madison Bumgarner
111 Ty Wigginton
132 Cliff Lee
142 Tim Hudson
143 Omar Vizquel
148 Cody Ross
152 Nyjer Morgan
162 Wade Davis
175 Josh Hamilton
178 Kerry Wood
183 Jonathan Papelbon
184 Jeff Francoeur
188 Joe Blanton
190 Pablo Sandoval
202 San Francisco Giants®
217 Gio Gonzalez
223 Ryan Church
226 Juan Rivera
227 Josh Thole
228 Chris Pettit
237 Ryan Braun/Prince Fielder
248 Jason Kendall
258 Edwin Encarnacion
274 Stephen Drew
275 N.L. Rookie of the Year
287 Jhonny Peralta
292 Tommy Manzella
293 Brent Dlugach
294 Adam Dunn
296 Atlanta Braves™
301 Jack Cust
302 Kevin Youkilis/David Ortiz
307 Henry Rodriguez
310 Elvis Andrus