When the A's announced their promotional schedule last month, it included a Rickey Henderson bobblehead giveaway during the Saturday April 30th game against the Rangers.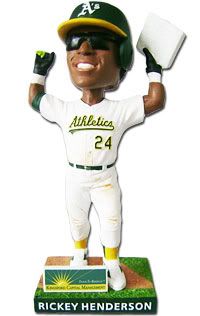 They have now released a picture of the bobblehead, along with a few more details. It will be distributed to the first 15,000 fans, and will be sponsored by Kingsford Capital Management. While I could live without the Kingsford Capital logo on the front, it is a pretty nice looking bobblehead.
Although I can't imagine the game actually selling out, single game tickets go on sale this Saturday (January 29th) for those looking to get the best seats to the game. I have not seen it posted yet on the official A's website, but I did recently read on MLB.com that Rickey was going to be on hand to throw out the ceremonial first pitch, which would be a nice bonus to go along with the bobblehead.