On the heals of their successful "Million Dollar" and "Diamond" giveaways, Topps recently launched the website of this years promotion, the
Golden Giveaway
. By entering codes randomly inserted in packs, you are rewarded with either a virtual gold coin, or if you're lucky, an exclusive Golden Moments card, which can be requested and delivered at a later date.
According to Topps, the odds of receiving a a regular Golden Moments cards (the set consists of 100 players) is 1:15 codes. There's also a gold parallel (1:200 codes), as well as a 14k gold 1:1 version (1:20,000). Along with the Golden Moments cards, there's also 14k gold 1:1 versions of all 330 Topps Series 1 and 2 base cards, but the odds aren't much better (1: 6,666).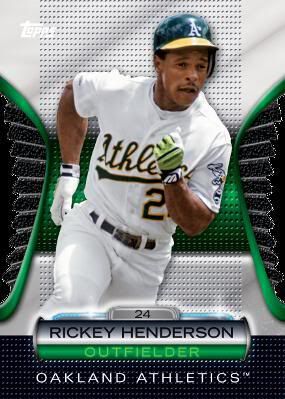 2012 Topps Golden Moments # GMDC-20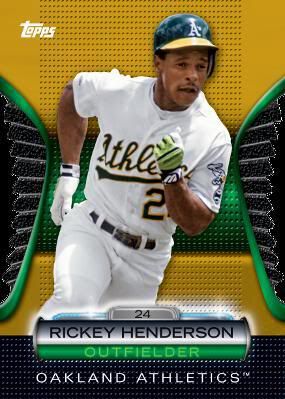 2012 Topps Golden Moments Gold Parallel # GMDC-20
2012 Topps Golden Moments 1:1 Gold # GMDC-20
Unlike in previous years promotions, you don't get an actual "vintage" Topps card with every code that you redeem. Since the odds of the Golden Moments cards aren't that great, you're more likely than not to get a virtual gold coin. If you collect all 30 coins in a single category (current MLB Stars, past MLB greats, MLB teams, with the rare 30th coin having odds of 1:6,666), you instantly win a signed Willie Mays card.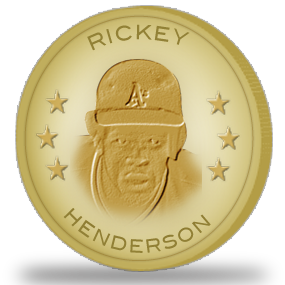 The coins will not actually be produced, so unless you want to print out and cut up this picture, there's no need to attempt to track one of these down.
The cards themselves probably won't be produced and able to be shipped for a few months, but once they are, I'm sure they'll flood eBay fairly quickly.