The theme for the past two months has been quality over quantity. While I haven't added a lot of new cards to the collection, what I did add were ones I never thought I'd be able to track down. I recently posted about my first certified auto, and I also picked up a few older promo and sample cards, which I have yet to post to the blog, but hope to shortly.
The past few months have been pretty hectic, as I've been going to grad school for the past 4 years, and finally had my last MBA class on Monday. But, now that school is complete, I should finally have a bit more free time to spend with the blog. I also got a little crazy, and decided to open up a Rickey Henderson Collectibles
Twitter
account as well. I've already been able to track down a couple of interesting interviews and factoids that I may have otherwise missed. If you're up for your daily dose of Rickey (or as often as I find something interesting), come check out @manofsteal_ (and don't forget the silly underscore at the end).
And now, what you've probably all been patiently waiting for, on to the cards.
2004 Throwback Threads Generations Material w/Jackson & Chavez #21 #/50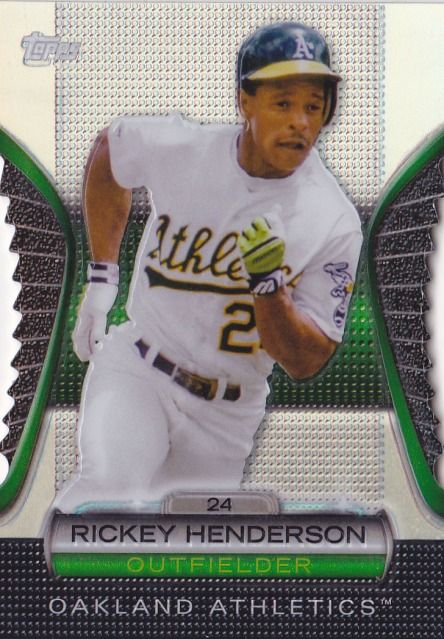 2012 Topps Golden Moments Die Cuts #GMDC20
2010 Topps Triple Threads Sapphire #93 #/25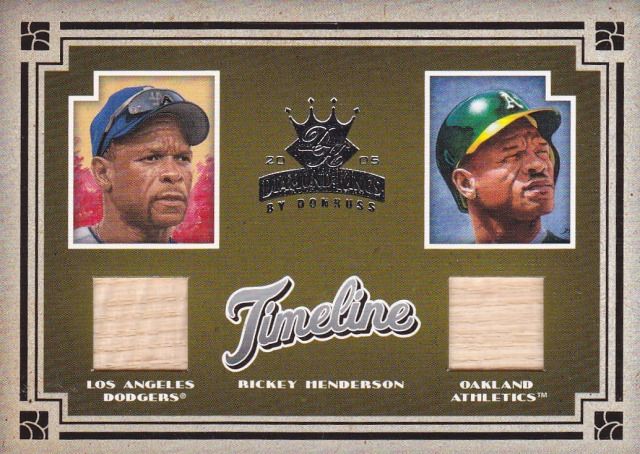 2005 Diamond Kings Timeline Materials Bat A's-Dgr #14 #/100
2005 Timeless Treasures Game Day Materials Bat #8 #/100
2005 Timeless Treasures Statistical Champions Materials Year Jsy #35 #/100