Rickey and his manager have been steadily piecing together all aspects of the upcoming Official Rickey Henderson "RH24" Fan Club. After holding a contest on Facebook asking for logo ideas to be submitted, the two winners were announced this morning.
The first design, which will be used as the official fan club logo, was designed by John Wong, a fellow Rickey fan and collector. A simple yet personalized design, I think it looks great! Although it features the classic Oakland A's green & gold, it's basic enough that fans of all of Rickey's teams are able to relate to it.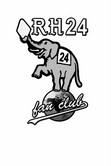 The next logo, designed by Ryan Lundy (owner of the craziest collection of Rickey cards serial numbered beginning in 24 you'll ever see), will be used on club letterhead and correspondence. As an A's fan myself, I love the use of the elephant, and it represents the team that Rickey is most widely recognized with.
Overall, I'm real happy with the designs (I wished I had the skills to submit one of my own), and can't wait until more details of the fan club are released. Once they are, I'll post them as soon as I hear anything.