Rickey Henderson was pretty busy around the Bay Area this past weekend. As a follow up to my
previous post
on the event, on Saturday he was at a "Home Run for Education" event held at a Kennedy High School in Fremont. Blog reader John was able to make it to the event, and was kind enough to send me along the following pictures.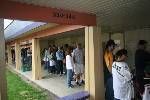 These first two pictures show the long line of people awaiting to meet the Man of Steal! John estimates that the line, as it wrapped around the school, was close to 300 people long.
Believe it or not, it was actually FREE to get Rickey's autograph! You don't see events like these very often any more, and definitely not featuring players of Rickey's caliber.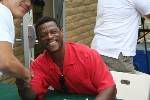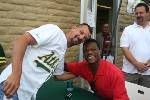 It looks like Rickey really was enjoying meeting all of his fans. According to John, Rickey "was VERY gracious, shook everyones hand and posed for pictures.....really a great experience for both of us." Rickey was only supposed to be there for an hour, but with over 300 people in line, I hope he stayed a little longer, but I'm sure that he did.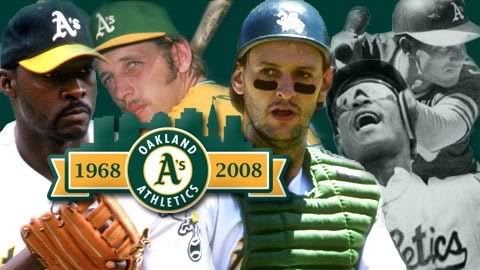 On Sunday, Rickey was at the Oakland Coliseum (okay, McAfee Coliseum), for the official presentation of the
Oakland A's 40th Anniversary team
.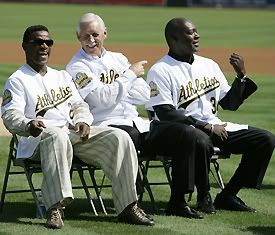 Along with Rickey, Terry Steinbach, Joe Rudi, Campy Campaneris, and Dave Stewart were also present. It's unfortunate the Mark Ellis is injured, as he was the only active team member to be voted in, and he wad unable to make the ceremony.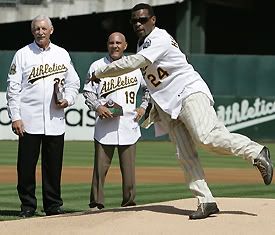 But, even when the ceremony was over, Rickey still wasn't done. He also threw out the ceremonial first pitch.
In what I found to be the most exciting news of the day, Rickey announced that he would definitely be entering the Hall of fame (when inducted, of course)
wearing an Oakland A's hat
. I don't know what I would have done if he'd have decided to enter as a Yankee (a la Reggie Jackson). But, the player doesn't actually get the final say, the Hall of Fame does, and I couldn't imagine them letting him enter wearing anything else!
Rickey also finally admitted that he's been talking to the A's about a possible role with the team in the future. A coaching role with the AAA Sacramento River Cats would be a good idea, and would also be very convenient for me!