To cap off their celebration of 40 years in Oakland, the A's announced their fan-voted
40th Anniversary Team
yesterday.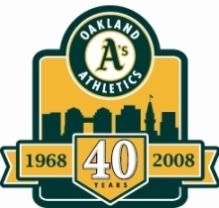 What should come as no surprise, is that Rickey was voted as one of the top three A's outfielders, along with Reggie Jackson and Joe Rudi. The full team can be seen below:
Position Name Years in Oakland
C Terry Steinbach 1986-96
1B Mark McGwire 1986-97
2B Mark Ellis 2002-present
SS Bert "Campy" Campaneris 1968-76*
3B Carney Lansford 1983-92
OF Rickey Henderson 1979-84, 1989-95, 1998
OF Reggie Jackson 1968-75, 1987
OF Joe Rudi 1968-76, 1982
DH Dave Kingman 1984-86
P Jim "Catfish" Hunter 1968-74
P Vida Blue 1969-77
P Dave Stewart 1986-92, 1995
Closer Dennis Eckersley 1987-95
Manager Tony LaRussa 1986-95
The A's have invited the entire team to a ceremony before their September 21 game against Seattle, their last home game of the year. It looks like Mark Ellis is the only lock to attend, but I hope most of the others decide to come as well. Rickey has been much more active with the A's this year (attending Root Beer Float day, helping at a youth clinic), that I hope he shows up as well. If we're lucky, he might even suit up and bat leadoff!
The A's also announced the
top moments of each decade
(video clips are available on the site), with Rickey playing a role in two of them.
The top moment of the 1980's was the A's 1989 World Series win, in which the late season acquisition of Rickey helped put them over the top.
The top moment of the 1990's was Rickey's 939th stolen base, breaking Lou Brock's all-time record. As I've mentioned before, I was unable to make it to that game, but I did get to see him tie the record a few days earlier.
Although Rickey was not involved, I was able to witness the best moment of the 2000's, Scott Hatteberg's walk-off homer to give the A's their 20th straight victory. I've never been to a more energy-filled A's game, and wish that the fans would pack the stadium like that much more often.