Nineteen years ago today, on August 22, 1989, Rickey Henderson was the victim of Nolan Ryan's historic 5,000th strikeout. This may not have been Rickey's finest hour, but it will definitely not be the last time that these two legends path will cross. As I've mentioned
before
, Nolan Ryan threw his th no-hitter on the same day in 1991 that Rickey broke Lou Brock's all-time stolen base record.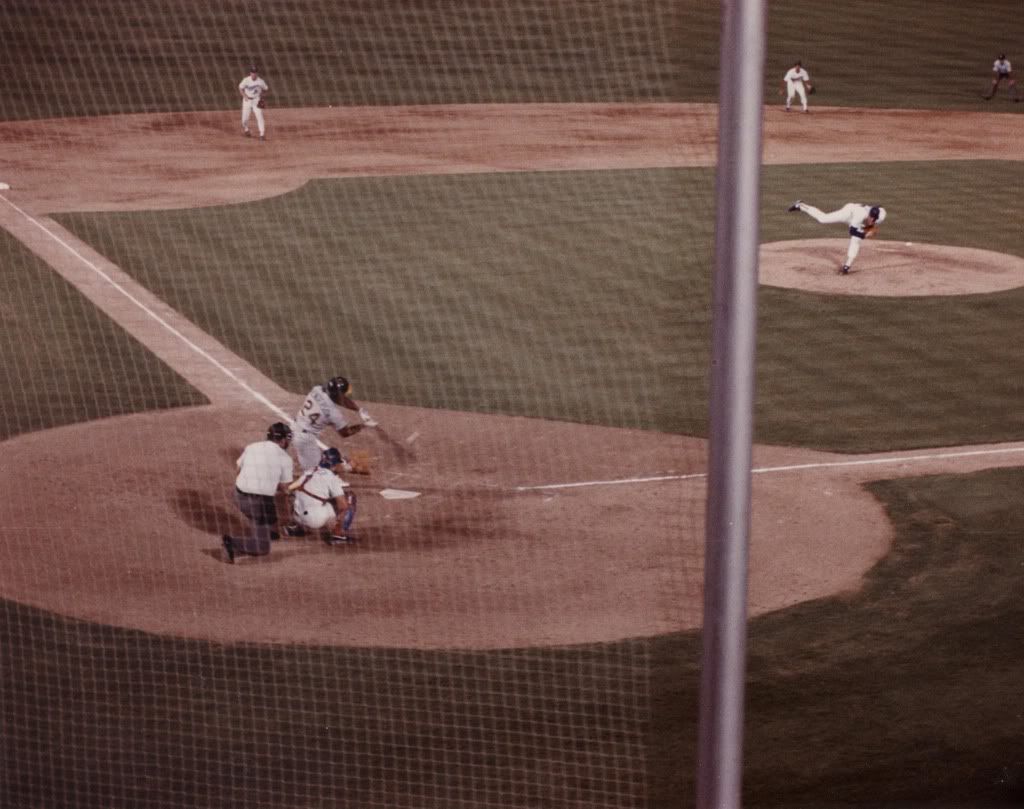 The 8"x10" photo above depicts Nolan Ryan pitching to Rickey during that fateful at bat. It's one of the few items in my collection where Rickey isn't actually the focal point.
Photo copyright Dallas Morning News
In the 5th inning of the game, Rickey struck out swinging at a 96 mph fastball. Ryan struck out a total of 13 batters that game, but the A's still managed to beat the Rangers 2-0. Rickey later responded to questions about the event by saying, "If you haven't been struck out by Nolan Ryan, you're nobody." Exactly what you'd expect from someone like Rickey.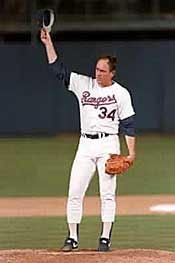 Photo copyright Houston Chronicle
The excerpts below appeared in the August 23, 1989 edition of the
Dallas Morning News
.
[Nolan Ryan] hurled a 96 mph fastball – the trademark of his career – past a swinging Rickey Henderson on a 3-2 pitch to open the fifth inning of the Rangers' game against the Oakland Athletics. At 8:51 p.m., on his 73rd pitch of the game, Ryan became the first pitcher in history to strike out 5,000 batters.

"If somebody had asked me how I'd have liked to get it, I would have said with a fastball swinging," said Ryan, whose milestone pitch equaled his top velocity of the game. "That's my bread-and-butter pitch."

Ryan's feat prompted a one-minute, 25-second standing ovation from the sellout crowd of 42,869, the second-largest in the Rangers' 18 years in Texas. The adulation ended only because Ryan stepped back on the mound and resumed pitching.

Although the A's tried to play down their part and point to their interest in a pennant race, even they couldn't ignore what was about to happen.

As Henderson walked to the plate, en route to becoming No. 5,000, he chatted with home plate umpire Larry Young.

"He said, 'If I'm the 5,000th strikeout, can I get the ball to give to my little boy?' " Young said. "I told him I didn't think either one of us could get out of here with that ball."
Although not the 5,000 strikeout ball, someone can now buy a ball with slightly less historical significance.
American Memorabilia
is currently selling a ball singed by Nolan Ryan that was supposedly used during this exact game. It's definitely not the ball he struck out Rickey with (I really hope it's in the Hall of Fame somewhere, and we know Rickey didn't get it), but if authentic, is a pretty cool piece of history. The $714 price tag, however, does put it out of most collectors' price range.