UPDATE 8/11
:
Thanks to fellow Rickey collector Brian (whose Pacific Prisms have been showcased here recently), I've been able to add 4 new Rickey pins to the collection, and also solved the "mystery" of the 1992 MVP pin series.
Among all of the oddball items produced, I've always been a big fan of the cloisonne pins and pinback buttons that can be found from various sources. Part I of this post will focus only on Rickey pins, while Part II will be dedicated to buttons.
I think I have a pretty good collection of Rickey's pins and buttons, but I know that there are more out there that I don't have. If anyone reading this has a pin or a button that I haven't posted, I would definitely be interested in learning more about it, and acquiring it if you're willing to part with it.
We'll start with these two similar looking pins. The one on the left was produced in 1988 by Peter David Inc., while the one on the right doesn't include any markings on the back, but is probably from around 1990.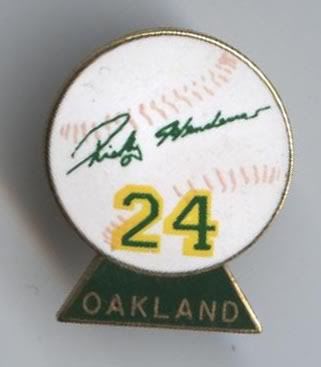 This pin was made in 1990 by PSI, and also features the MLBPA copyright. I like the fact that it's a fairly basic and simple pin, with not much to distract from his name and number.
The above package is a 1990 Ace MVP pin, which also includes a 1990 Score card. Rickey was included in the Ace MVP pin set in 1990, 1991, and 1992. These three pins are all recognized by Beckett, and are listed as 1990 M.V.P. Pins 74, 1991 M.V.P. Pins 40, and 1992 M.V.P. Pins 24, respectively.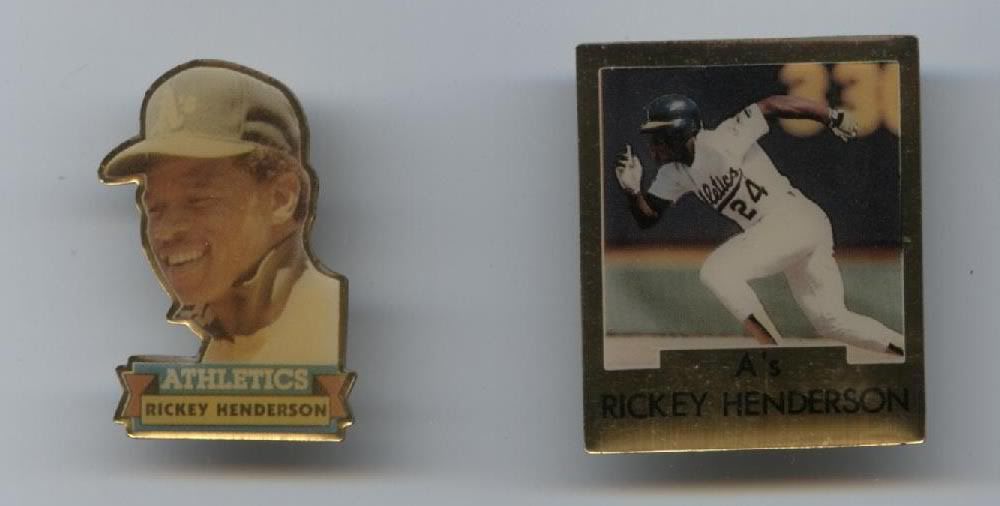 On the left is a close-up of the 1990 Ace MVP pin, with the 1991 version on the right.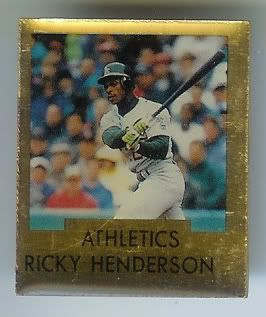 I don't have the 1992 pin, and I'm not sure that I've ever seen one. I have a feeling that it looks the same as the 1991 pin, but I don't have any information to confirm that. (
EDIT
: Thanks to Brian, I now have a picture of the 1992 Ace pin, which goes against my initial belief, now all I need to do is find one for my own collection. Somehow Ace managed to misspell his name in 1992, after having no problems with the 1990 and 1991 releases.)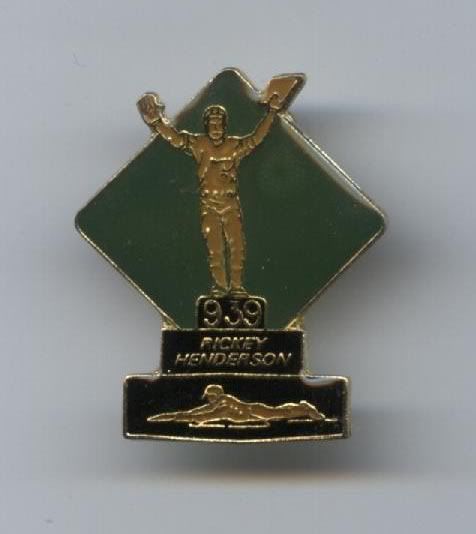 When Rickey broke the stolen base record in 1991, the pin at the top, sponsored by All American Raisins, was given away at the Oakland Coliseum after the game. The above card was attached to the pin, which includes all of Rickey's milestone steals over his career.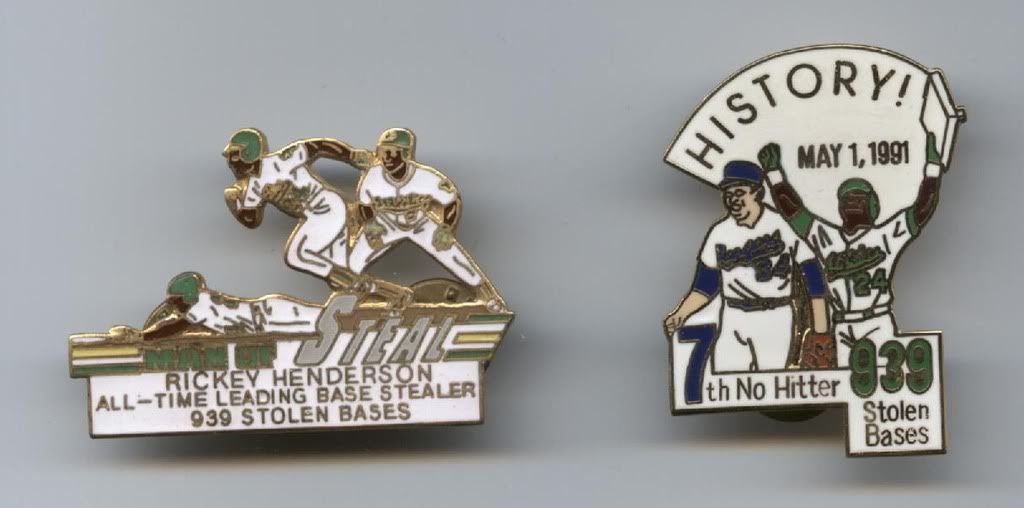 The pin on the left is my favorite Rickey pin, and one that I fondly remember acquiring at the sporting goods store at the local mall growing up. It's also lacking any stamping on the back, but due to its subject matter, was probably produced in late 1991 or early 1992.
The pin on the right also commemorates Rickey's 939th stolen base, but also includes Nolan Ryan and his 7th no-hitter, which happened on the same day in 1991. Similar to the Man of Steal pin, this one includes only a blank gold back.
EDIT
: The scan above was also provided by Brian, and is a pin that I recently featured in a post on Rickey items for sale on
eBay
(now I wished I'd actually bought it). This pin is similar to the 939 pin above, and once again features no markings on the back.
This next pin was available for purchase with a fill-up at Unocal 76 gas stations. It was produced in 1992 and is #2 of 5 in the "Record Setters in Oakland" set. Vida Blue, Reggie Jackson, Jose Canseco, and Rickey Henderson, all of the Oakland A's MVP's, are included on the pin. Unocal put out a different set of pins every year, but I believe this is the only one on which Rickey is included. Surprisingly, this pin is also recognized by Beckett, and is listed as "A's Unocal 76 Pins Athletics MVP's-Vida Blue-Reggie Jackson-Jose C 2."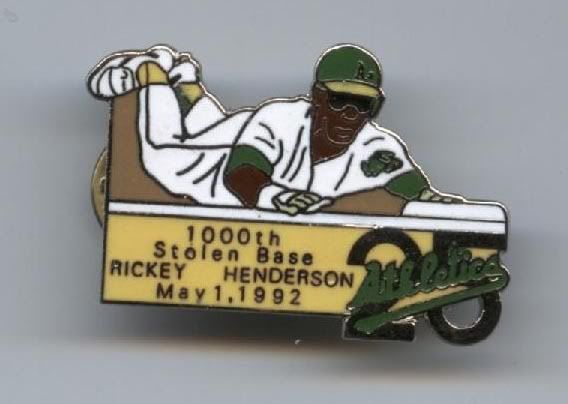 The above pin was probably produced by the same company that put out the "History!" and "Man of Steal" pins in 1991. This pin commemorates Rickey's 1,000th stolen base, which he reached on May 1, 1992, ironically, one year to the day after he stole #939!
Above is a classically designed MLB pin, also produced by Peter David. It features a replica of Rickey's Padres jersey, with the team banner at the bottom. There has to be one of these out there somewhere with Rickey's A's jersey, but I don't yet have one.
EDIT
: Ask and you shall receive! Another pin scan provided by Brian, this one is similar in style to the Padres jersey featured above, and is one that I do recall seeing at least once before. Based on the style and lack of details in the pin, I'm guessing that this one was probably produced around 1990 or so, but it also could have been just a lower end pin produced at a later time.
The next three pins were all Peter David pins released in 2001, a pretty iconic year for Rickey, as far as baseball milestones go. The top pin celebrates his 2,246 career run scored, setting the all-time record. The pin in the middle is for his 2,063 career walks, also an MLB record. Finally, the pin on the bottom showcases his 3,000 hits, which he also reached in 2001. It was a good year to be a Rickey fan in San Diego!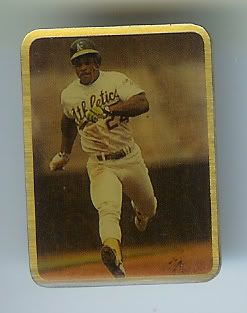 EDIT
: The above pin from Brian seems to be similar in style and time frame to the 1991 and 1992 M.V.P. pins. I seem to recall running across this pin on eBay a few times, but never did pick one up. I'll have to try and remedy that in the future.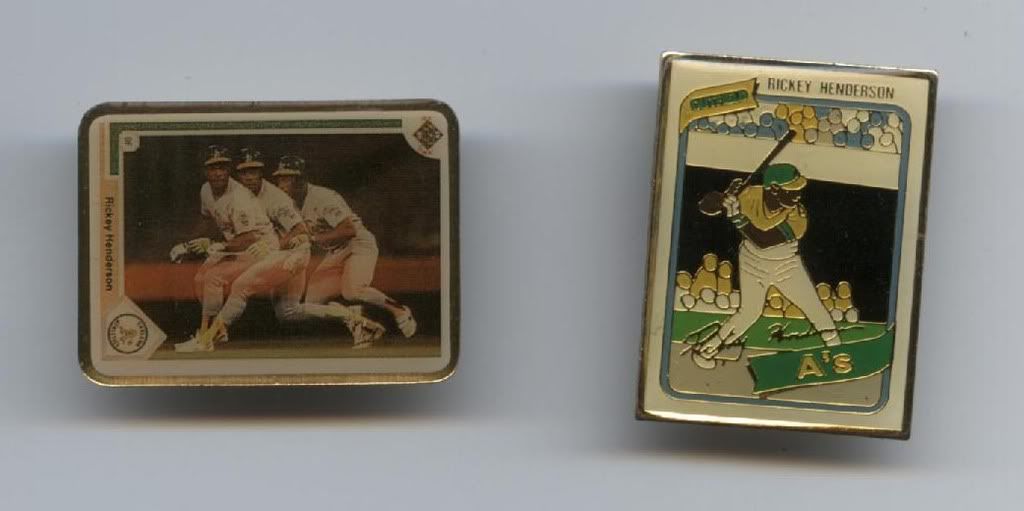 I'll conclude this post with two more generic Rickey pins, this time featuring replicas of two of his baseball cards. The one on the left is his 1991 Upper Deck card, and was probably created sometime around then. The pin on the right recreates his rookie card, but it's harder to pinpoint when it was created. Based on the style of the pin, and the lack of detail they were able to include, I think it's probably from the early to mid 1980's, but I can't be sure.