I've recently acquired a handful of Rickey Henderson game-used cards through various online trades and select eBay purchases. I thought I'd put a photo-heavy post together (in no particular order) that includes the cards description and possibly some commentary of my own.
2003 Finest Bat Relics FRB-RH -- The card has a nice shiny refractor-like finish, but there is only one version, unlike some Finest cards with both a base and refractor version.
2004 Leaf Certified Materials Fabric of the Game Jersey Year FG-189 #/84
2002 Finest Jersey Relics FJR-RH -- With some game-used inserts consisting of a myriad of parallel versions, it's nice to know that with only one card, this set is complete. The same holds true for the 2003 Finest jersey above.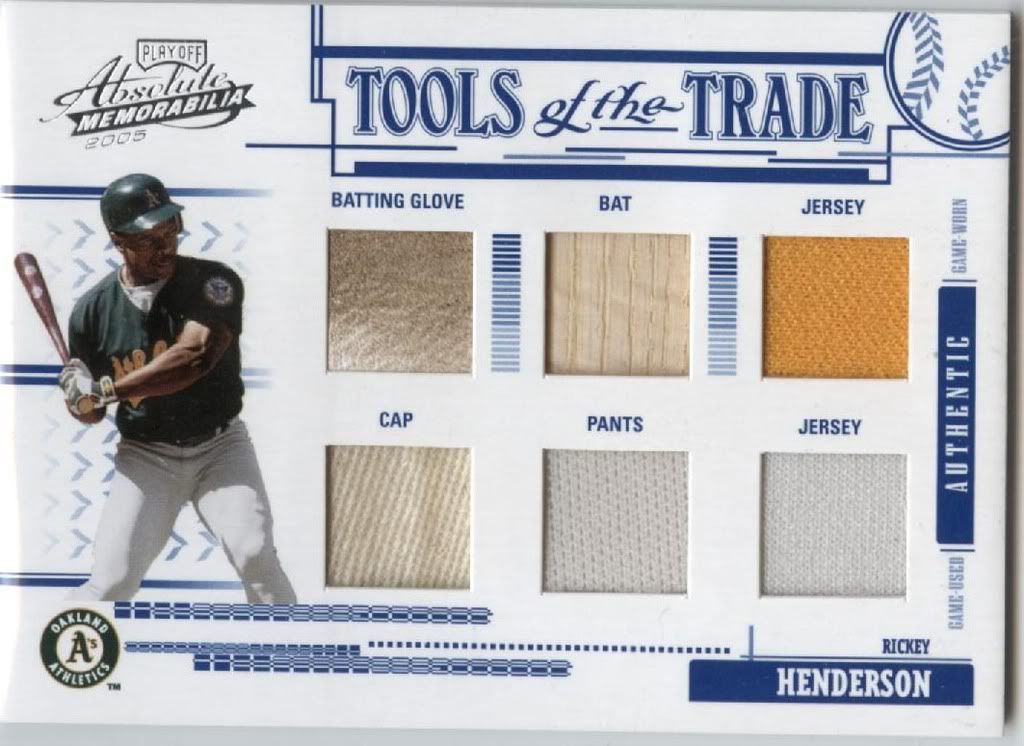 2005 Absolute Memorabilia Tools of the Trade Swatch Six TT-94 #/50 -- This is the nicest game-used Rickey Henderson card that I currently have. It features a piece of batting glove, bat, cap, pants, and jersey (both yellow and grey). It's sets like these that I was referring to above, with Rickey having around 200 different Tools of the Trade game-used cards in the 2005 Absolute Memorabilia set.
2005 Donruss Champions Impressions Material Jkt 50 -- This cards features the first game-used jacket that I've obtained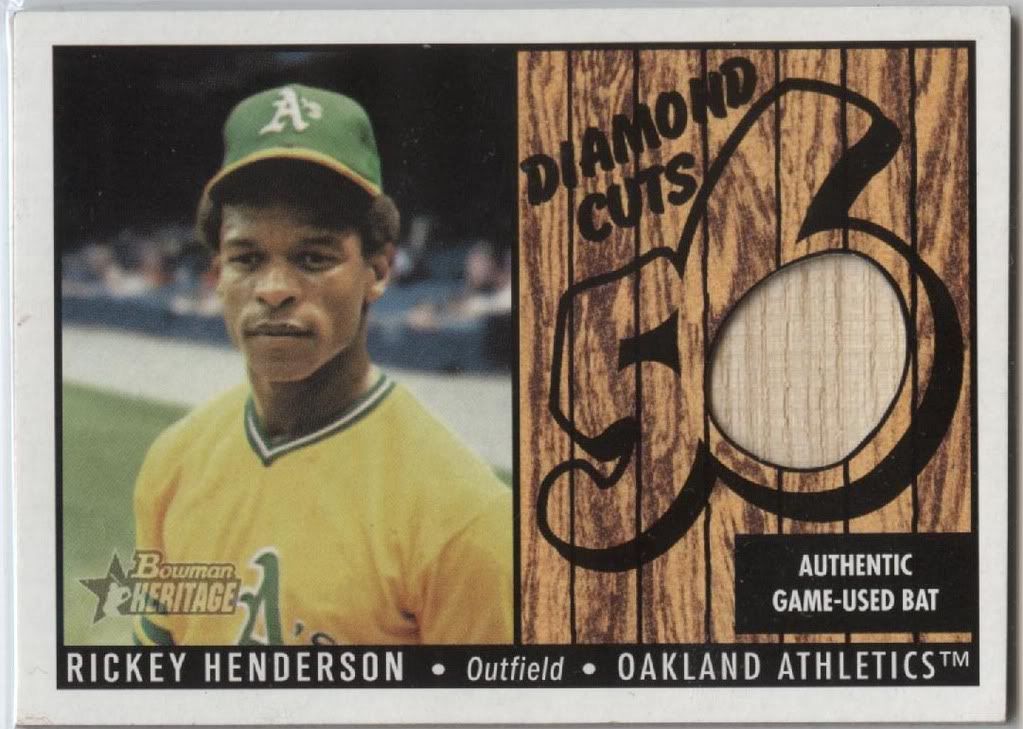 2003 Bowman Heritage Diamond Cuts Relics Bat DC-RH -- Readers of this blog know that I'm a sucker for retro-looking cards, and this is no exception.
2002 Diamond Kings Diamond Cut Collection Jsy DC-78 #/250
2004 Topps Clubhouse Relics Uniform RHE -- Another card featuring Rickey in his early A's jersey, and probably my favorite card of the lot! It would have been even better if the swatch had actually matched the yellow jersey shown.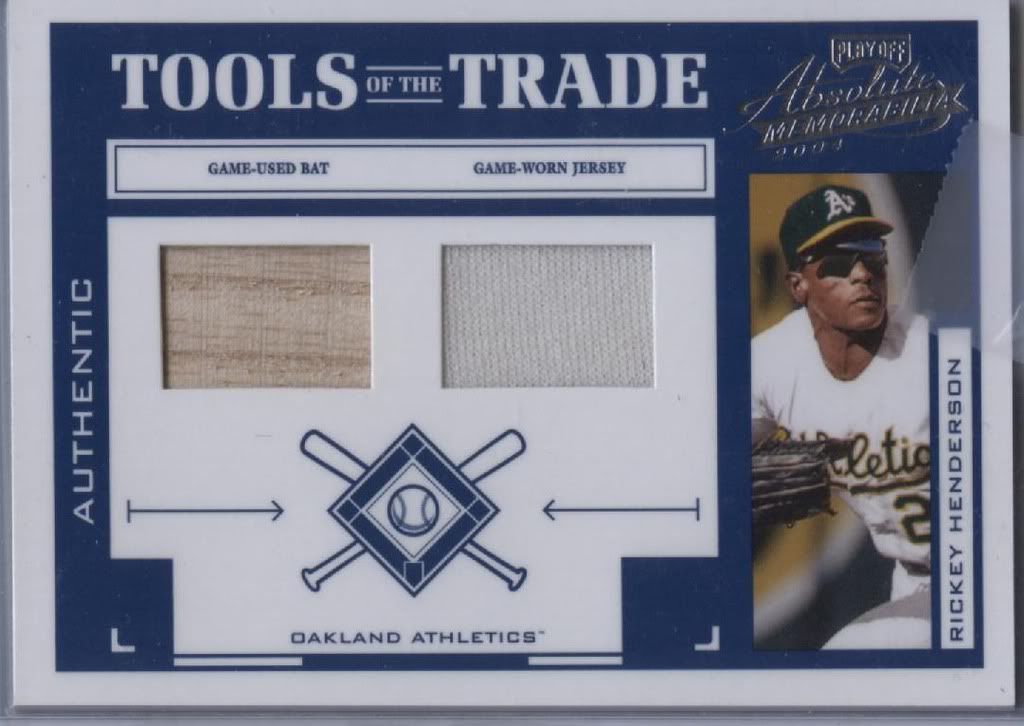 2004 Absolute Memorabilia Tools of the Trade Material Combo Bat-Jsy TT-121 #/250 -- Another Absolute Memorabilia Tools of the Trade insert, but this one is from a year earlier than the first.
2002 E-X Game Essentials Bat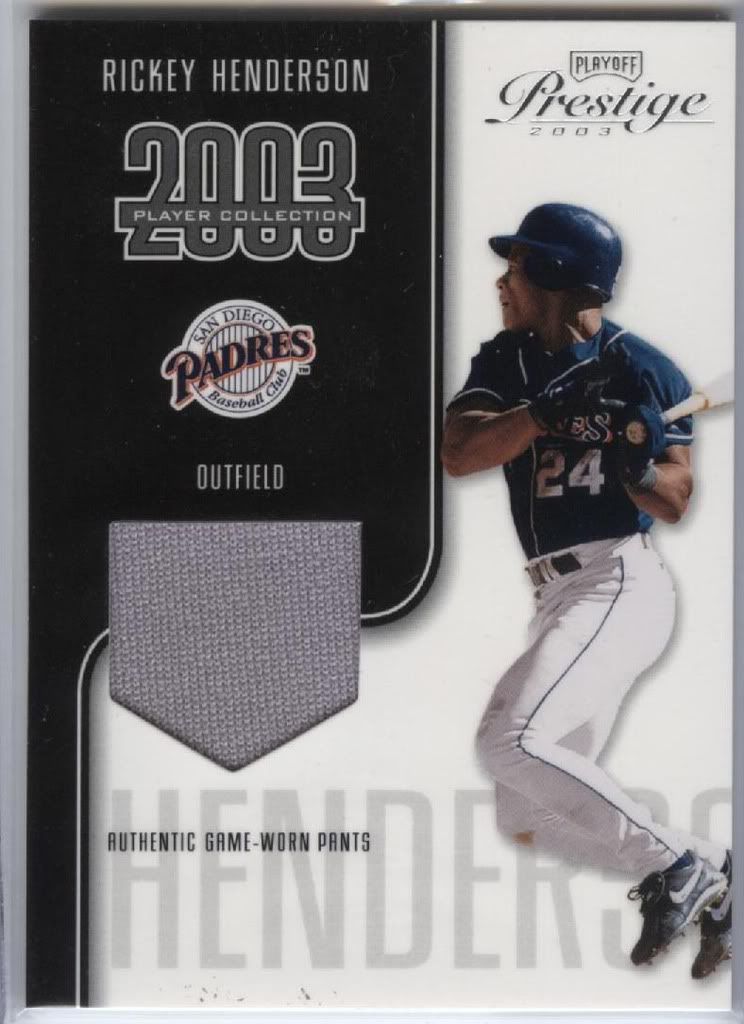 2003 Playoff Prestige Player Collection Pants #/325
2002 Topps Traded Tools of the Trade Relics Bat TTRR-RHB -- Another card that only has one version, without any parallels or variations!
2003 Donruss Elite Throwback Threads Padres-Mets TT-53 #/125 -- This is my first game-used card with pieces on both sides. There's a white swatch from the Padres on the front, with a black swatch from the Mets on the back.
This obviously doesn't even begin to scratch the surface of cards that are out there, but it's a nice start, and I'm always looking for more.