Ever since the new little one arrived, it seems that everything around here has been in miniature; tiny shirts, tiny socks, tiny fingers, tiny toes... So, I thought for my first Rickey Henderson related blog post-baby, I'd write about something bigger, or Jumbo even!
When Topps released their Finest brand in 1993 the cards brought the hobby to a new level. Covered in bright colors and shiny foil, they were arguably the biggest advancement in cards since Upper Deck was released in 1989. But, not only did Topps release regular version of the cards, but Jumbo ones as well.
The 1993 Topps Finest Jumbo is shown compared to the base card, and is about 6" x 4 1/4". It really is a nice card, and looks even better in such a large scale. If only I could get my hands on a reasonably priced refractor from 1993, the set would be complete!
I have had the 1993 Jumbo for a few years, but I just recently acquired the 1994 Finest Jumbo in a trade with another collector, which allowed me to check off one more of his cards from my
Priority Want List
. Unlike the 1993 version, the 1994 Jumbo measures at a smaller 4" x 5 1/2".
Here's a side by side comparison of the two Jumbo's. I had no idea that they were different sizes until I put them both together. I would say that this is "interesting," but that would be true to only the most hardcore of collectors.
While on the subject of Jumbo cards, I have a few more recent additions that I'd like to share. I've mentioned in the past how much I like the
Topps 3-D cards
released in both 1985 and 1986. I just found another set of these cards, but the reason I got them was because they also came with the envelopes/packages that they were found in.
The above blue "pouch" is from the 1985 set, which includes Rickey playing for the A's. As can be seen in the checklist, future Hall of Famers such as Mike Schmidt, Eddie Murray, George Brett, and Cal Ripken, just to name a few, were also included in the set.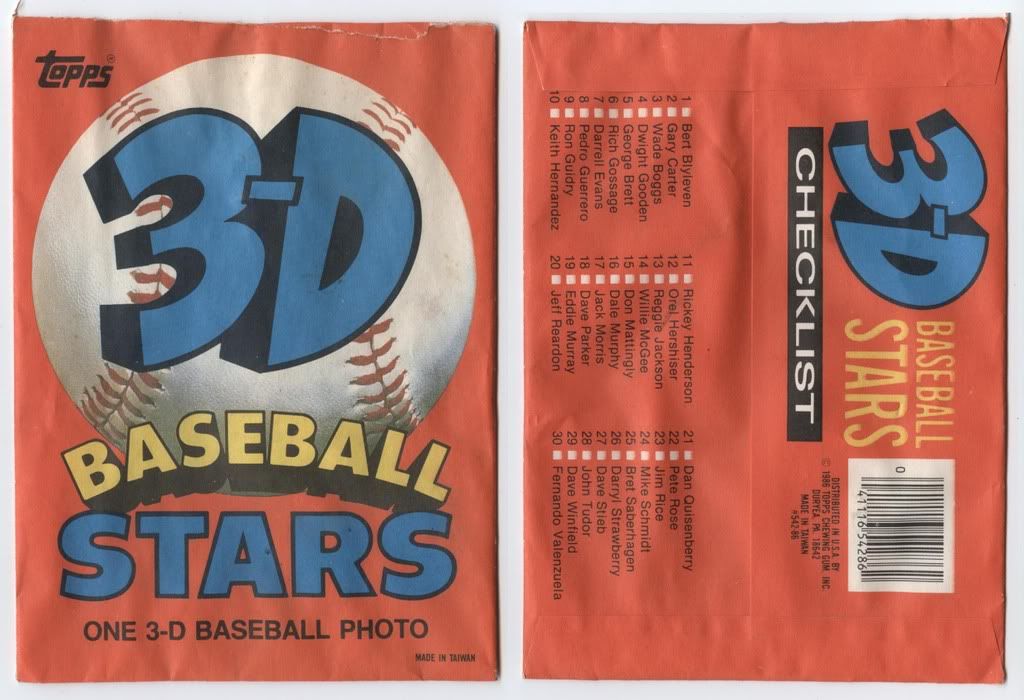 The 1986 pack features the same graphics as in 1985, but in orange instead of blue, and with an updated checklist. New additions to the 1986 set includes players such as Wade Boggs, Bret Saberhagen, and Darrell Evans.
The blog will be updated less frequently than usual for the next few months, but I'll try and get up at least one new post a week. If anyone has any Rickey cards they'd be interested in trading, or even showcasing on the blog, please don't hesitate to send me an e-mail.