UPDATE:
Looks like Rickey was at the game to help with a clinic for some local youth baseball kids. According to Susan Slusser, the A's beat writer for the SF Chronicle, he also threw out the ceremonial first pitch of the game. The announcement on the scoreboard speled his name "Ricky." Blasphemy!!
For the second time in the past few weeks, I turned on the A's game, only to be greeted by Rickey Henderson. The A's were playing the Mariners tonight at the Oakland Coliseum, and I turned on the game about 5 minutes late. Well, what do I see when the TV turns on, but this:
There aren't too many 50-year-old former Major Leaguers that can get away with wearing white pants, a white shirt (only halfway buttoned of course), and a brimmed black hat. Since it was probably in the low 90's at first pitch, it was a smart and "stylish" choice of clothing.
It really is great to see Rickey back in Oakland, and he'd probably suit up and play tonight if they asked him too. I'm not sure exactly why he was at the game, but he was visiting with some players in the Mariners dugout, and he definitely caught them by surprise. I wouldn't be surprised if he didn't know anyone on the current A's roster, other than any of the coaches that he might have played with.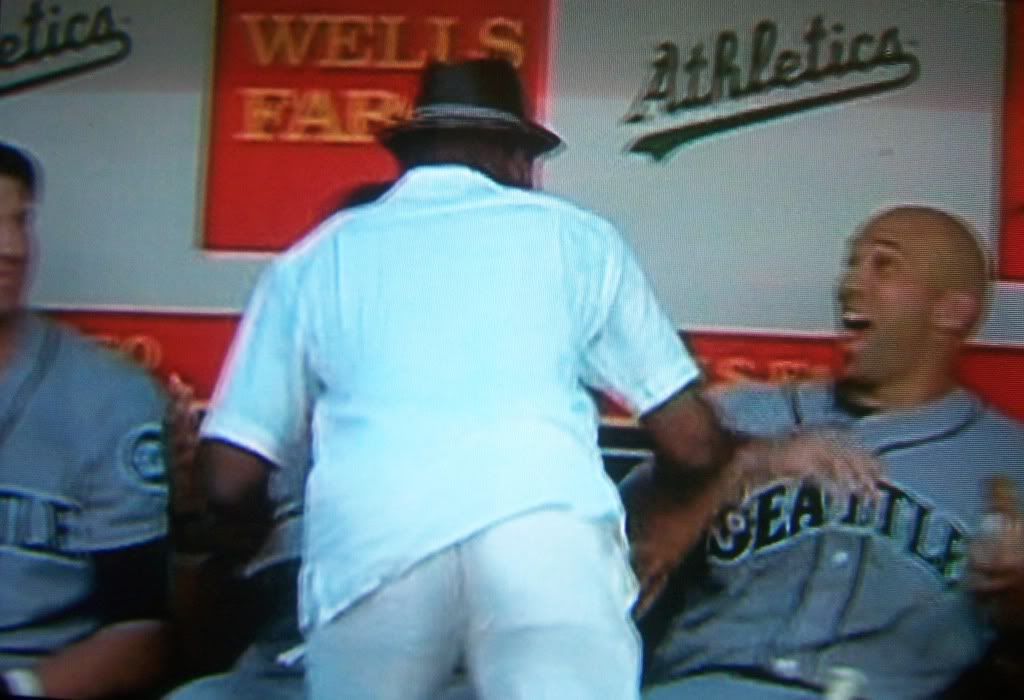 Rickey is now working as a special instructor with the Mets (he coached first base for their AAA team a few weeks ago), but it would be great too see him back in the A's organization. A position with the AAA River Cats here in Sacramento would be awesome, but I don't want to be greedy. No matter where he goes, you can tell that he's definitely excited to be around the game.