I purchased the 2009 Upper Deck blaster below about a month ago, when they were first released. I scanned the cards, and had everything ready, but just never found time to write the post. So, since I did most of the work already, I figured I might as well finish it off.
I was very pleased with this blaster, and thoroughly enjoyed the variation in the cards that I received. Along with some great looking base cards, I also received at least one insert in every pack, which was a nice surprise. While opening the cards I was reminded of the early Score releases, where every pack contained a Dream Team, Franchise, or other insert or parallel set to keep things interesting.
We'll start with the most important part of the break, the Oakland A's cards. I ended up with two A's in total, which considering my usual luck, is pretty good!
Every blaster contains a separate pack with a game-used jersey cards, and I pulled the above Dan Uggla, with a small pinstripe jersey swatch in the J. It's already been set aside for Mario, who I know will enjoy it.
I pulled on Starquest in the pack, this Blue Uncommon parallel of Alfonso Soriano.
I also managed to pull three different O-Pee-Chee inserts, which I think was beating the odds. I still find it weird that Upper Deck owns the rights to O-Pee-Chee, since they're essentially just Topps cards with a different logo.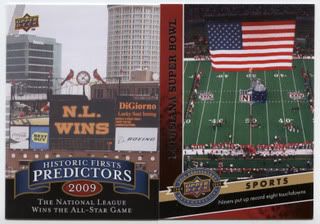 These historical first inserts are a little weird, but this one is at least practical, unlike the Alien version that also exist. I got one of the 20th Anniversary Retrospective cards, of which I've still yet to see a checklist. I'm really holding out hope for a Rickey in there somewhere!
Continuing on my run of inserts, are these two USA Retrospectives. I'm not too into the Team USA cards, but they do have a decent design.
I added three more Yankee Stadium Legacy cards to my stack, in the hopes of eventually trading them for ones that I need. If anyone has any of
these cards
for trade, on games when Rickey hit a home run, I'd definitely be interested in working out a trade.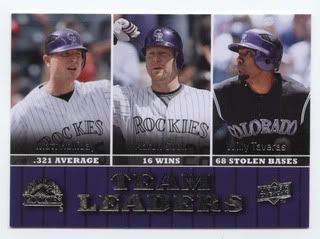 I received a few Team Leaders cards in the packs, with the one above featuring current Athletic Matt Holliday.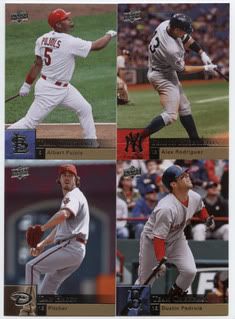 One of the interesting things about the break, however, is with the influx of inserts, there was actually a lack of "star" base cards. The Dan Haren above was actually the biggest star in the lot. Although I enjoyed the break, it's probably going to be the only UD blaster for me this year. I'm going to focus on collecting the A's cards, and I now have a nice lot to use for trading with others.