After putting up the previous
post,
I found a few more pictures of Rickey's recent tour of the Hall of Fame. Thanks to the
Associated Press
, here's an inside look into Rickey's visit.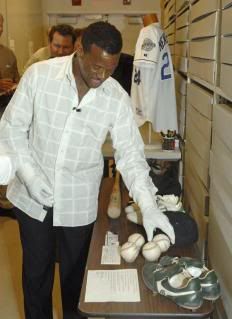 This is my favorite picture of them all, as it reminds me of the end of
Raiders of the Lost Ark
. I can only imagine what's inside that wall of boxes in front of Rickey, and would really love to find out! The table in front of Rickey is full of memorabilia from his career that has been donated to the Hall, including shoes, bats, balls, and jerseys!
Wearing "stylish" white gloves (which Rickey might not mind wearing on a normal occasion), Rickey checks out an old bat of his which now finds its home in the Hall's archives.
Rickey admires the plaques in the Plaque Gallery, where his own plaque (wearing an A's hat!) will be hanging in about two months time.
Last but not least, Rickey's poses in front of the shoes that he was wearing when he tied Lou Brock's all-time stolen base record, with steal number 938, in a game that I was lucky enough to be able to attend.