This 1995 Classic Phone card is one that I've been trying to track down for quite some time. It was a fairly limited release, and I don't recall ever actually seeing any back in the late 1990's. I don't even think I knew that it existed until I saw it listed on the Beckett checklist.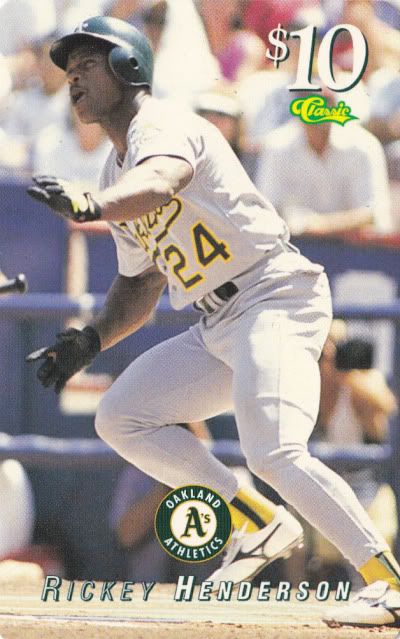 There were a total of 57 $10 phone cards in the set, which included everyone from Cal Ripken Jr. to Denny Neagle. There was also an autographed Ripken version, which I can realistically assume was nearly impossible to find.
The cards are a little smaller than normal (about 2 1/8" by 3 3/8"), and are printed on a credit card like plastic with rounded corners. It was an interesting idea, but I don't think it really caught on.
The back of the card included the instructions on how the phone card could actually be used. I'm curious as to the price point on these, if they were sold for $10, or included some sort of "collectible" premium. I believe that the phone number at the top was at one time covered by a little scratch-off panel, which would indicate that this card was actually used. But, since the card expired in December 1996, that doesn't really matter.
Overall, a great addition to the collection, and the final card I needed to finish off the 1995 official Beckett checklist, with all 70 cards now in-hand and accounted for.