Now that my latest birthday is behind me, it's time to revel in the spoils. My lovely wife gave me a Beckett gift certificate, and I also received some other funds which were partially used towards expanding the Rickey collection.
Most player collectors probably have a love/hate relationships with Burbank Sportscards, and I do as well. If you're looking for that hard-to-find 90's insert or parallel, there's a good chance that they have it. You'll also probably pay an arm and a leg in the process, so it all comes down to how much you want it. But, with a little digging, you can surprisingly find a few "deals" hidden among the $499 autographed relics.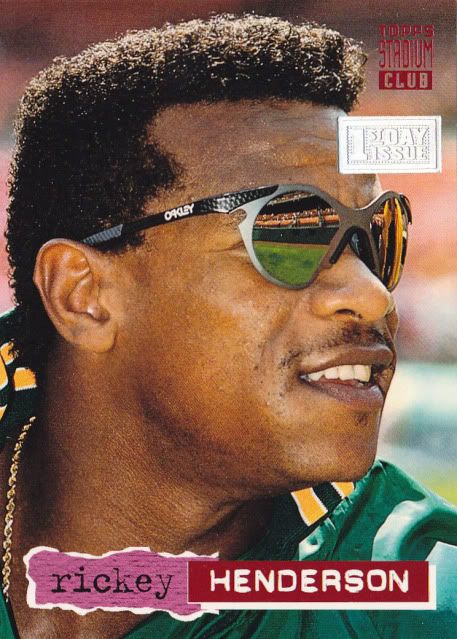 1994 Stadium Club First Day Issue #654 (print run 2,000) -- I'm not sure why I haven't been able to track this one down already, as with 2,000 of them out there, it shouldn't have been too hard to find. But, 1994 Stadium Club finally complete, for a total of 9 cards including Golden Rainbow, Members Only, and First Day Issue parallels.
1996 Leaf Signature Platinum Press Proofs #142 (print run 150) -- I've never seen this card for sale on eBay, so even though the price was a bit high, I have a feeling it would have been much more had it actually been put up for auction. This now completes the 1996 Leaf Signature set, with a base card along with the gold and platinum press proofs.
1998 Circa Thunder Rave #87 #/150 -- It was nice to finally be able to track this one down, but the elusive Super Rave #/25 is still out there somewhere!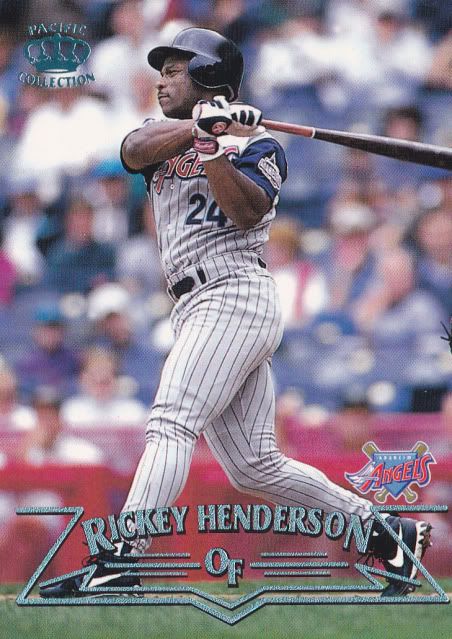 1998 Pacific Platinum Blue #9 (print run 67) $10.65 -- I now have all 3 of the 1998 Pacific Parallels which included the Silver and Red Threatt (yes, it's spelled with two "t"'s) versions.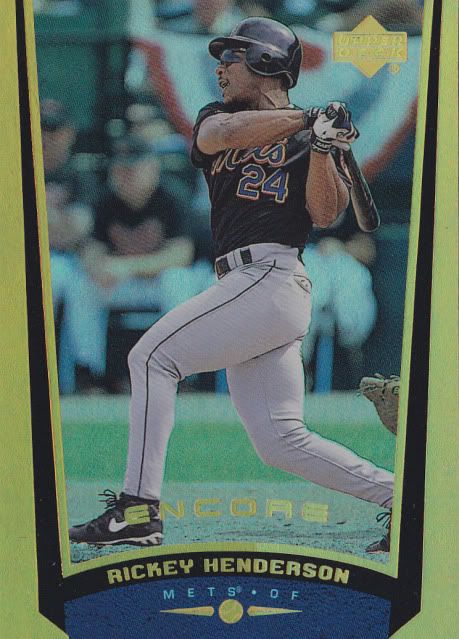 1999 Upper Deck Encore FX Gold #58 #/125 $19.05 -- This is another card that I don't remember ever seeing for sale on eBay. It's also nice that 1999 Upper Deck Encore only had two cards, the base card, and this parallel.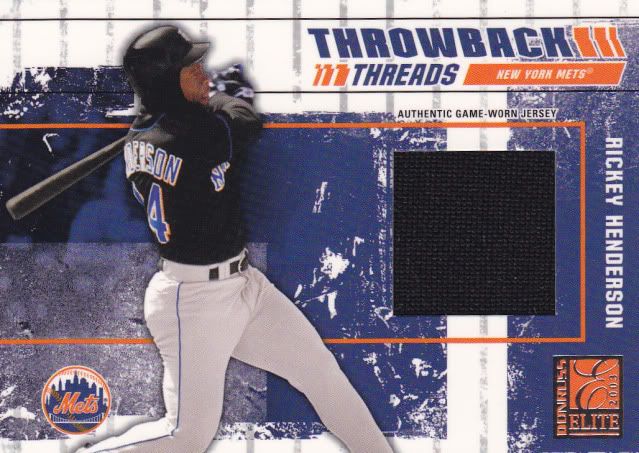 2003 Donruss Elite Throwback Threads #25 #/250 $9.90 -- There are 3 "base" Throwback Threads in the 2003, all #/250, but this is the first one that I've picked up so far.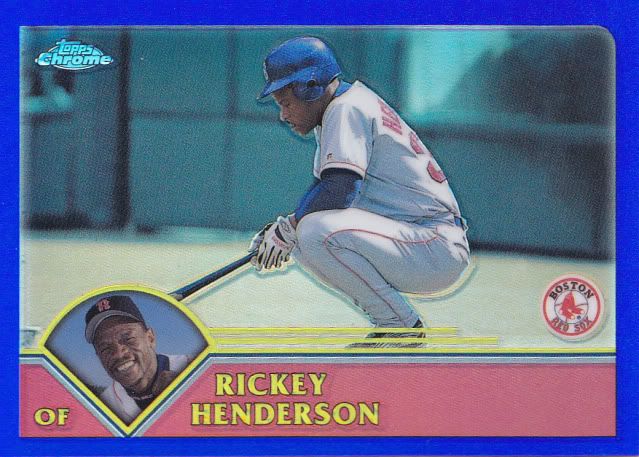 2003 Topps Chrome Refractors #186 #/699 -- I recently purchased the Gold Refractor #/449 as well, but am still looking for the Black Refractor #/199 and the Uncirculated X-Fractor #/50.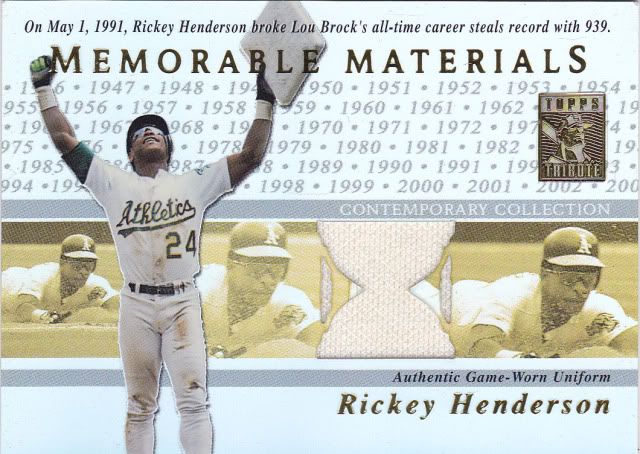 2003 Topps Tribute Contemporary Memorable Materials Relics #RH $15.45 -- Although not serial numbered, these 2003 Topps Tribute relics don't surface very often, as they are pretty nice looking cards. Plus, most of them feature Rickey in vintage A's gear, which is always a plus!
I had a lot of fun on my Beckett shopping spree, and the early holes in the collection are slowly dwindling. The thrill of the hunt in tracking cards down one-by-one is fun, but every once in a while, adding a stack of cards all at once can be just as fun!