During All-Star weekend in Anaheim, Rickey Henderson participated in the celebrity softball game, which was played on the Sunday before the game (although it was shown on TV tape-delayed after the Home Run Derby on Monday). Here's a clip of Rickey's lead-off homer (one of two homers that he hit) and the ensuing classic-Rickey home run trot.
Although I was not able to attend the game, a fellow Rickey fan was (thanks David!), and he talked one of the photographs on hand into e-mailing him some extra shots of Rickey. The photos below are courtesy of photographer Jon Gaede.
From what I saw of the game (the Home Run Derby ran over, and I forgot to extend my DVR timer), Rickey always looked like he was having a lot of fun!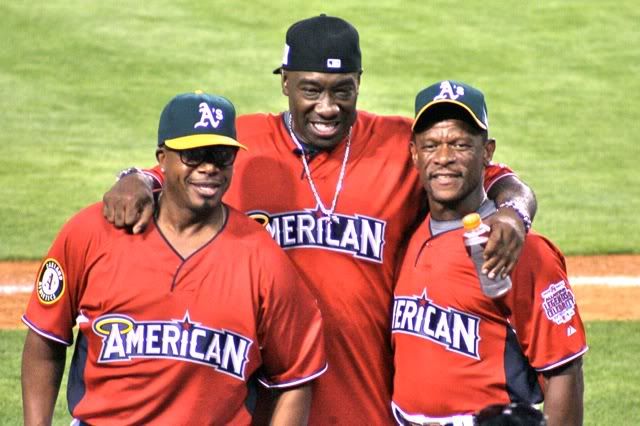 Interesting group picture, MC Hammer (who also homered), actor Michael Clarke Duncan, and Rickey.
While attending the weekend festivities, Rickey was also signing autographs at the All-Star Fanfest. This ticket was recently sold on eBay, and surprisingly, also comes with an MLB authenticated hologram.