While waiting around for an MLB team to pick him up, Rickey played for the San Diego Surf Dawgs in 2005. The Surf Dawgs were one of the original teams in the Golden Baseball League, which had its inaugural season that same year.
The signing of Rickey Henderson to the team was a huge promotional boost to the Surf Dawgs, who obviously exploited it as much as possible.
I just recently picked up a Surf Dawgs bobblehead, which in my opinion is one of the nicer Rickey bobbles to have been produced.
The back of the bobble just say "GBL Inaugural Season 2005" on the base, with no sign of a sponsor anywhere! This is one of the main reasons I like this bobble, as it's not covered in corporate advertisements.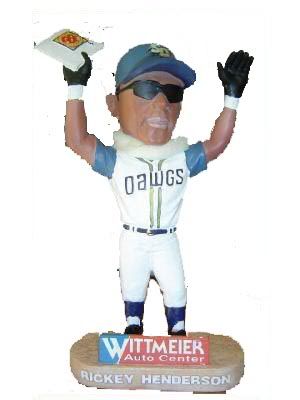 But, there are actually different (ie "rarer") versions of this same bobblehead, which do feature sponsors plaques on the base. I don't have either of these too, and don't plan on purchasing them either. Both the Fleetwood and Wittmeir bobbles are currently for sale on eBay.
In the same auction that I acquired the bobblehead, I also received a Rickey Henderson autographed Surf Dawgs baseball. Due to the blue panel on the ball, Rickey was forced to sign on the white panel, which unfortunately also contained the copyright information. If only a silver pen had been available, it really would have looked nice!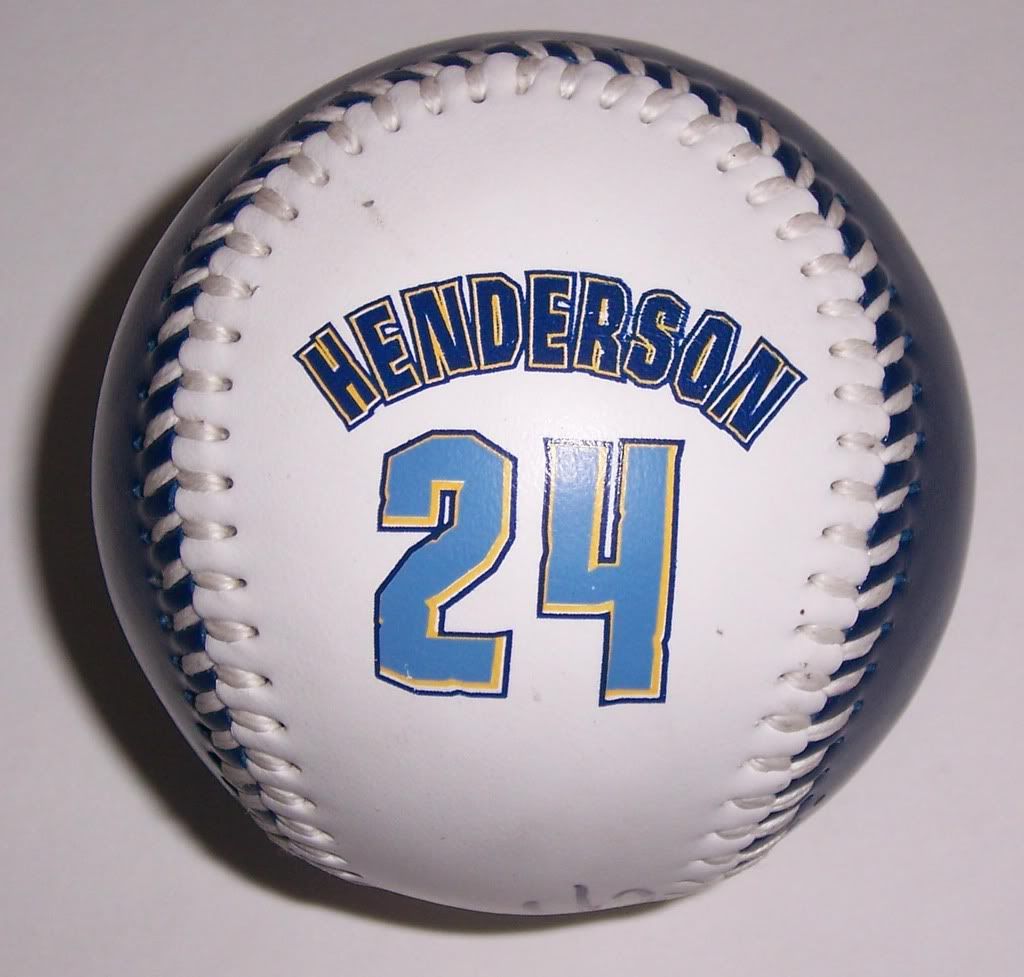 After getting the ball in the mail, I actually received a nice surprise (uncommon for an eBay auction). The ball was not just a generic Surf Dawgs logo ball, but a special Rickey ball that included his name as well as his jersey number! I know the A's had to have produced a similar ball during his many stints with the team, but I've never gotten one, so it's nice to have added a similar ball to the collection now.
The Surf Dawgs frequently used Rickey in their advertisements, including a poster sized season schedule ( I had an eBay picture at one time, but can't seem to find it now). Although I don;t think it features Rickey, I'd also love to add a 2005 Surf Dawgs pocket schedule to my collection, so if anyone has one, please let me know!