While perusing other blogs a few weeks ago I ran across a post from Chris from Nachos Grande, whose attempting to complete a ton of 2008 sets by hand. He was very close to completing the Allen & Ginter set, and I had one of the World's Deadliest Shark minis that he needed. A few e-mails later, and the trade was complete.
I sent Chris the above mentioned Bull Shark card, as well as a few Heritage Black Backs, a Heritage Target T205 mini, and a Hit Parade insert from Goudey. In return, I got a handful of cards for my A's collection, as well as a small set that I've almost completed as well.
With the Mark Ellis 2008 Allen & Ginter in hand, I now only need Frank Thomas (#68) to complete the A's base set. The Barton knocks of one more card in my Heritage set, and I believe the only remaining rookie. I really love the design of the Baseball Heroes card, reminiscent of the Upper Deck of my youth. Even though some of the colored parallels are pretty bright, I still find them interesting, and would welcome any A's that others would like to part with.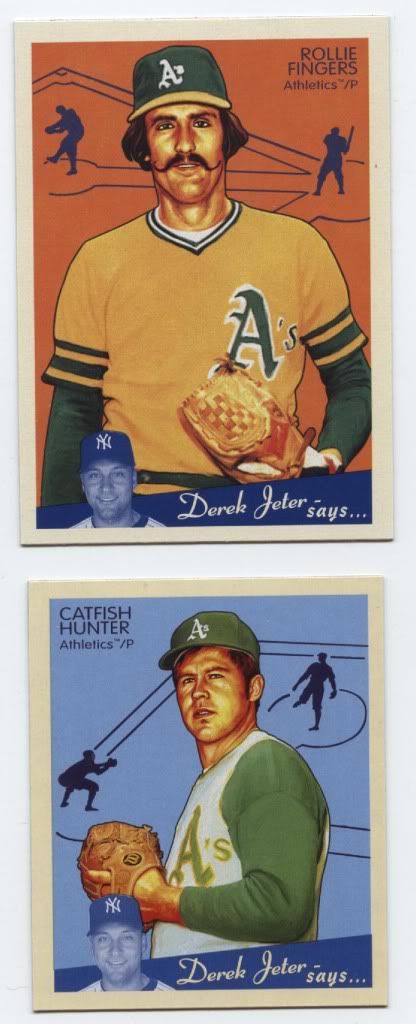 My favorite part of the trade was the two Goudey cards of retired A's greats. Rollie and his mustache never get old, and the young Catfish in his vintage A's uniform is a really sweet card. The Catfish is actually a red back mini, the only As Goudey mini currently in my collection.
The finally part of the trade actually didn't involve Rickey Henderson, or the Oakland A's, which is pretty rare for me. I pulled a few of these Heritage Baseball Thrill cards in blasters this year, and really liked the design. Since it was a pretty small and non-short printed set, I thought it might be fun to collect them all. With these four, I now only have three remaining (cards #367, 370, and 373).