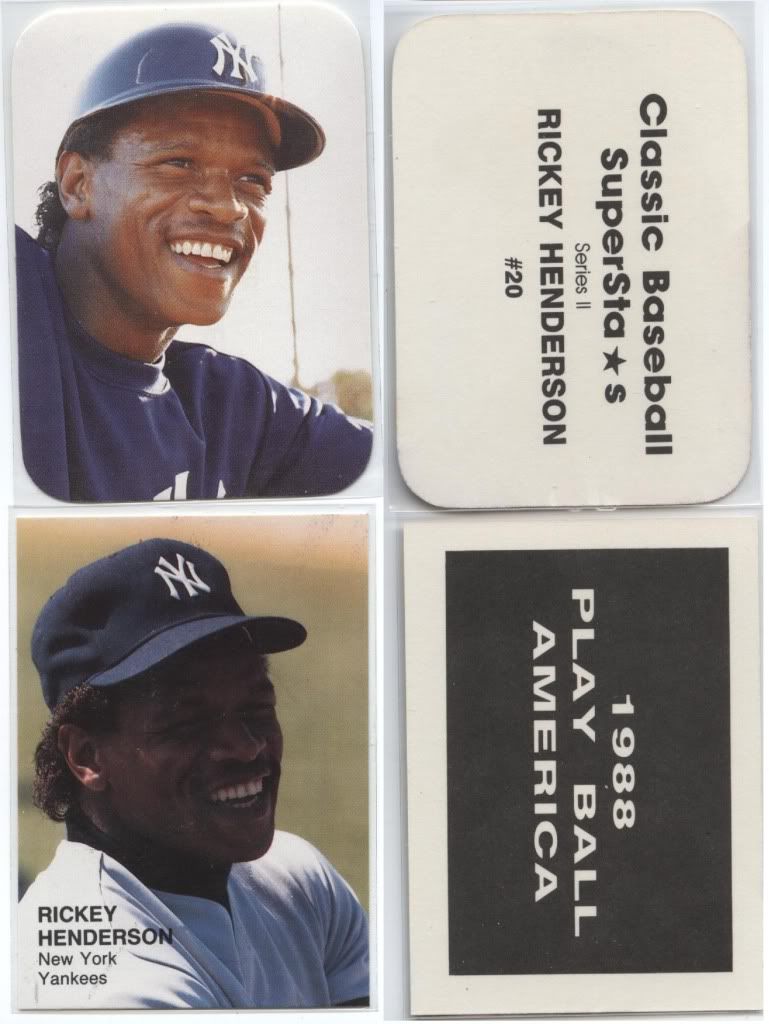 These first two cards are unlicensed cards now known generally as "Broder" cards since the mysterious Rob Broder created quite a few different sets. The top card (Classic Baseball Superstars Series II #20) does not have a year, but I'm guessing it's from 1988-1989. The text and rounded corners look very similar to other Broder cards that I have. The bottom card (1988 Play Ball America) looks like a lot of the other unlicensed cards from the front, but the back is very unique. At some point in time I'll post pictures of all of these that I have. It's difficult to compile a want list of these cards since a complete listing of the different sets doesn't really exist anywhere.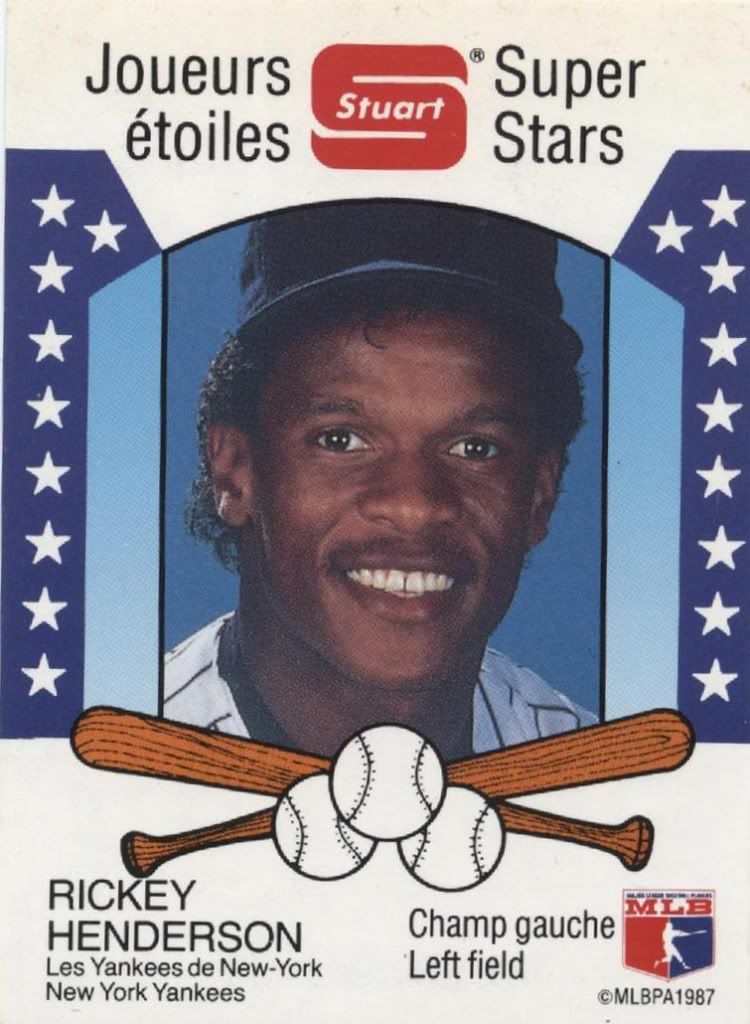 1987 Stuart Panels #23 - The above Canadian issued card is one that I've been chasing for awhile, and actually came on a three card panel along with Don Mattingly and Dave Winfield. Eventually I'll track down a complete panel, but this will have to do for now. I'm now down to only four more cards left on my want list from the 1987 issues.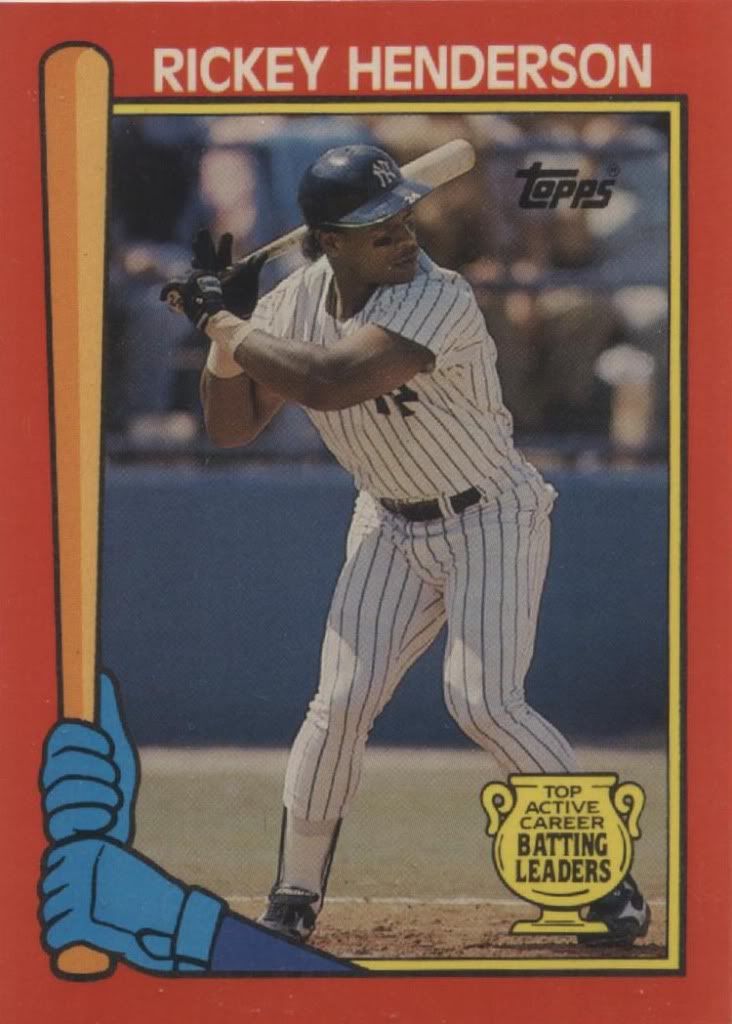 1989 Topps Batting Leaders #15 - This is a card that has been eluding me for awhile, and I was finally able to pick it up on eBay a few weeks ago. These cards were only found on the front of rack packs at Kmart. I'm now down to only 2 missing cards from 1989 (one is a base Topps Big, that I have no idea why I don't have already), and the other is a Topps Doubleheaders test issue, which will be a little harder (i.e. pricier) to track down.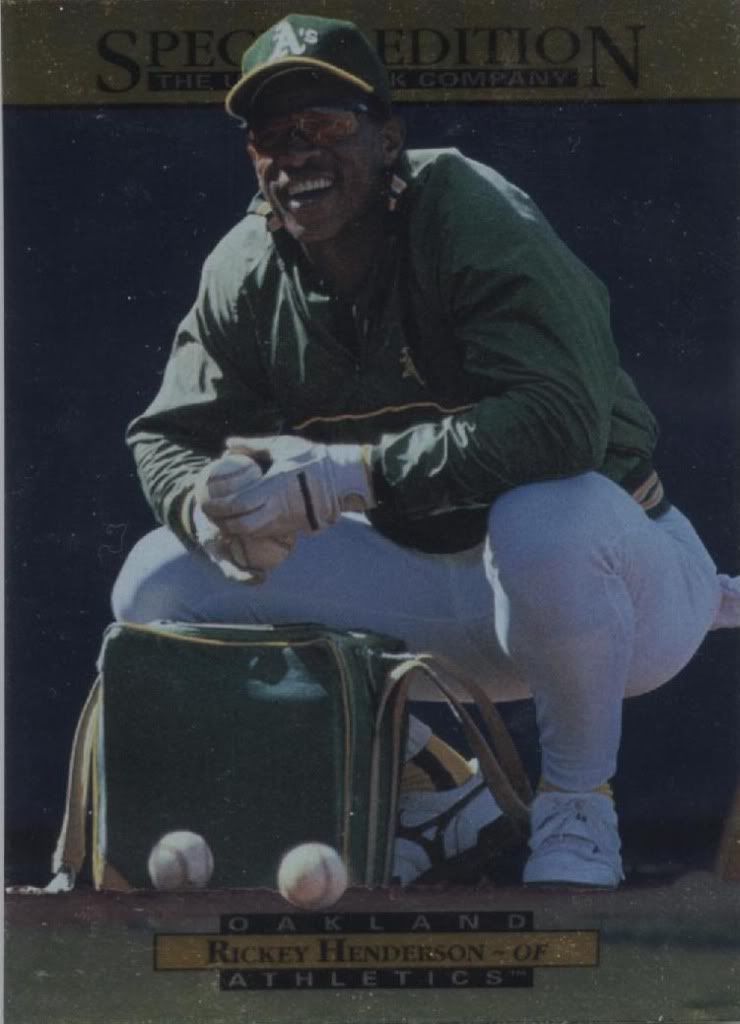 1995 Upper Deck Special Edition Gold #245 - I've been looking for the gold parallel of this card for awhile, and finally received it from Perry over at
RickeyHendersonCards
. He had a doubles of the card, saw that I still needed it, and graciously sent it my way. When I first started this blog I definitely didn't foresee something like that happening! I'm now only missing 4 Rickey cards from 1995 (Blue Jays U.S. Playing Cards 3S and 11H, Classic 10 Phone Cards #42, and Pacific Prisms #102). I'm not sure why I don't have the Prisms card yet, but the other three have proved fairly elusive.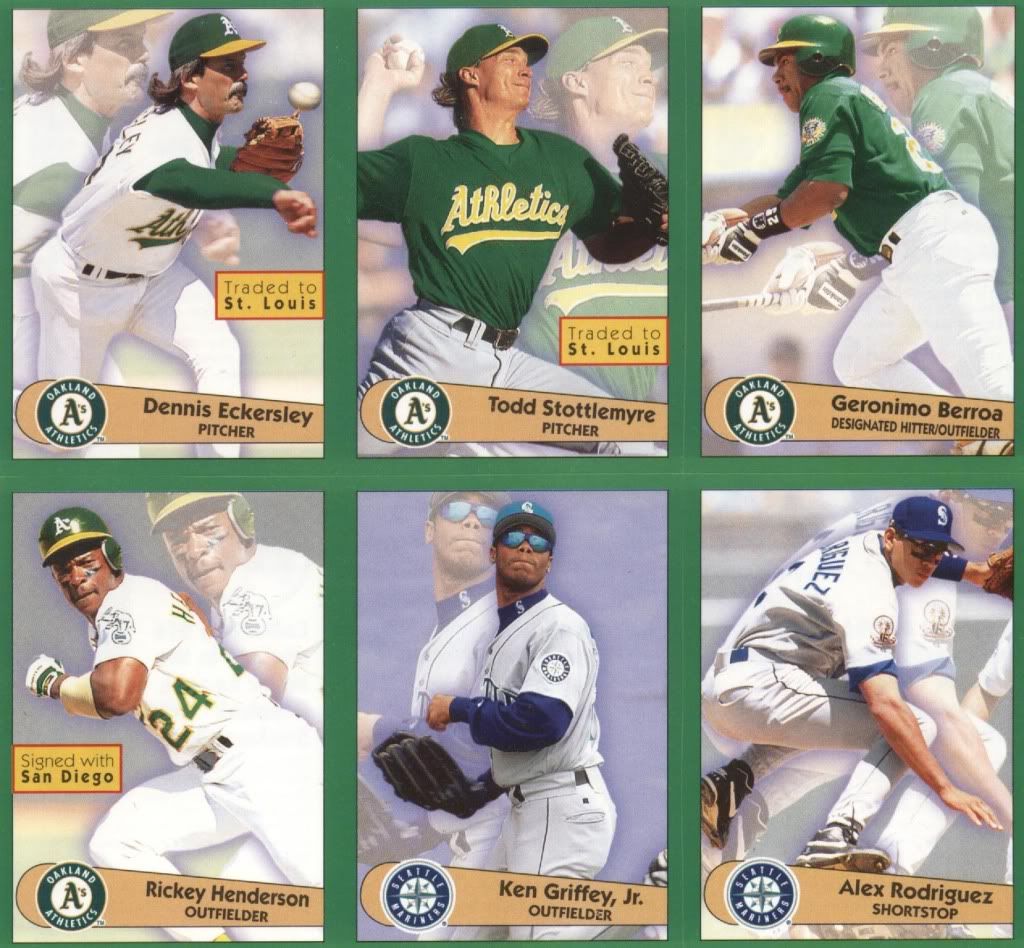 1996 Panini Stickers #222 - Another great addition, this sticker completes my base Panini collection. The only Panini stickers that I still need are from a non-Canadian release in 1991 (Panini French #171 and Panini French #196).
I also have an uncut sheet of the stickers that I'd acquired a few years ago, but wasn't able to find the individual sticker itself until now. It's actually a pretty impressive sheet, with 4 out of the 6 players being potential Hall of Famers.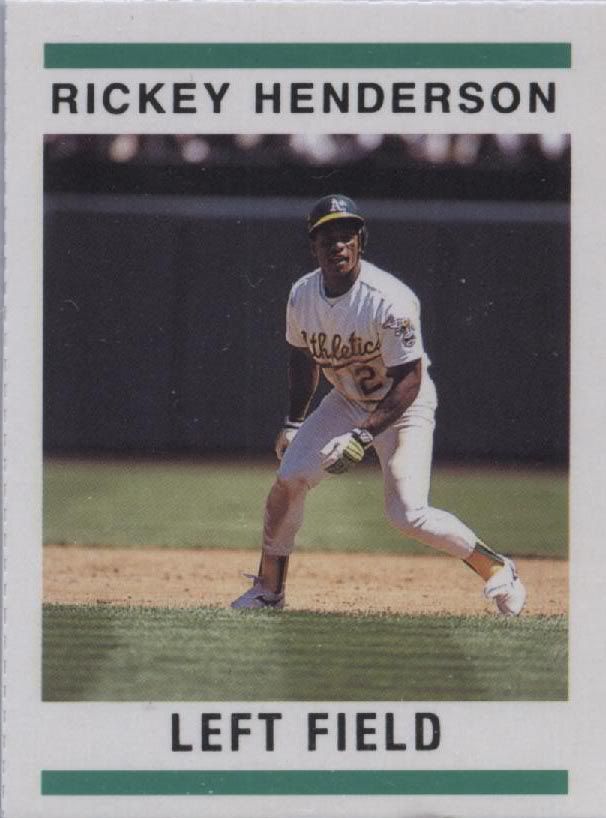 1996 Red Foley #16 - This sticker, like most of the Red Foley releases, doesn't contain any sort of identifying information (set name, year, number), which would have made it difficult to identify if not for the collector I traded with. I now have all of the Red Foley stickers identified by Beckett (unless there are more sets out there, which based on Beckett's prior record, is something I can't discount)
The next post is a collection of more recent inserts and parallels. The first is a 2004 Playoff Prestige Changing Stripes Foil #1. I had the base version, and now have added the foil parallel as well. Next we have a 2005 Donruss Champions Impressions Red Sox #313, followed by a 2004 Leaf Exhibits 1947-66 Made in USA Signature #39 (At least, I think that's what it is as there are WAY to many variations of this card, but it is serial numbered to 66 copies). Finally, we have the base version of the 2003 Donruss Champions Grand Champions #24 insert, which features him in an A's jersey, which I always prefer.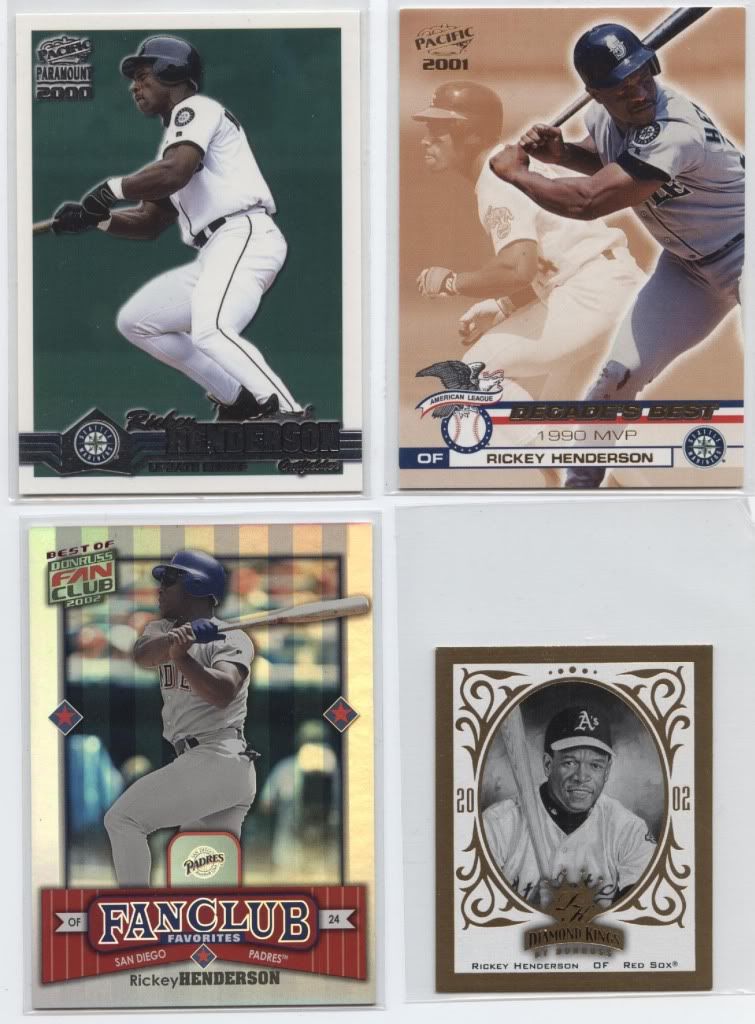 This next lot contains two "base" cards as well as two great inserts. The first is a 2000 Paramount Update #84, a card that I never even remember seeing until I was offered it in a trade. It's followed by a 2001 Pacific Decade's Best #A1, an insert without any parallel versions, a rarity when it comes to Pacific releases. Next we have a 2002 Donruss Best of Fan Club FC #274 (it's the base card in the "Best of" set, but is basically just a parallel to the same card in the Fan Club set, while also being serial numbered to 2,025). Last, but certainly not least, is the card that is probably my favorite of all those in the post. It's a 2002 Diamond Kings T204 #RC4, that looks much better in person than it does in the scan. It really is a sweet "little" card.

2006 Topps Sterling #44 and #46 - I'm really impressed by these Sterling cards (definitely the thickest base cards I've ever seen), and now only need 4 more to complete the entire 10 card base set. Not a bad way to end a post, with two really nice base cards, one featuring Rickey in a retro A's jersey.