I just received an e-mail today with Hall of Fame Induction Day Cards that PhotoFile is going to release. I've seen the image on a PhotoFile 8x10 that is currently for sale, but had not yet seen the induction day version.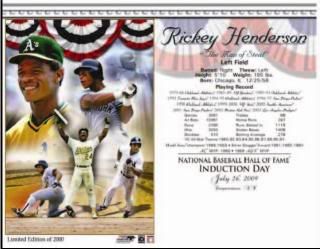 The flyer lists the retail price at $4.95, which is right around what you'd usually find these for. There's also a wholesale price of $2.50 each if you buy 50, which does seem tempting, but even with all of the Rickey collectors (and even baseball fans) that I know, I doubt I'd be able to round up enough people to make it worth while. I think I'll just plan on picking one up at the ceremony for $5, as that's probably the easiest thing to do.
Now that the merchandise is starting to roll out, I'm getting more and more excited about the upcoming Hall of Fame weekend, which is only about a month away. In finally purchased my airfare, and I reserved the hotel almost a year ago, and now all that is left is the rental car. As I've mentioned many times before, I can't wait!