In the mail this weekend I received my first 2009 Rickey Topps Triple Threads, one of the first new cards of Rickey that has been released in many years.
It seems that there are probably 6 different parallels to three different base cards, judging by the auctions that have surfaced, so I'll be chasing these for quite some time.
Rickey has card with the "SB KING" notation, as well as "MAN OF STEAL" and "1990 AL MVP," and I believe that's all their is, unless a rare short-print shows up later. So far, I have seen auctions for cards #/3, #/9, #/18, #/27, and #/36, and can only assume that a #1/1 of each card exists as well.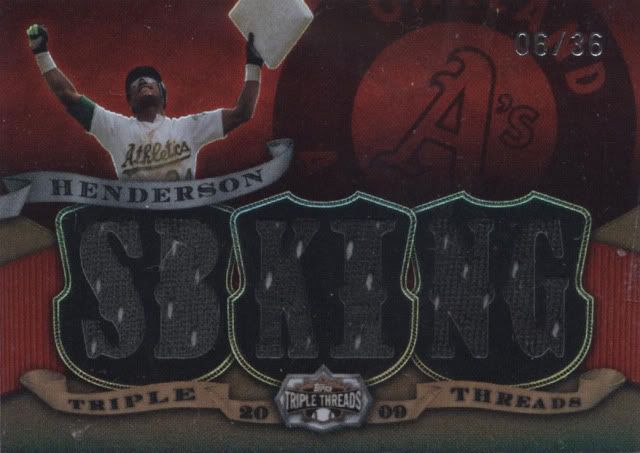 Despite how it may look in the scan, the patch is actually a dark green, and the card looks a lot brighter and shinier in person. I do enjoy the image that they chose to use of Rickey, but it would have been nice if a different one would have been used for each of the three card notations.
The back of the card lists the typical legal disclaimer, with the emphasis that this does not come from any particular year or event. I am glad that it actually came from an A's jersey, but they must want to be sure that it's clear that it was not the jersey that he wore when he broke the stolen base record back in 1991.