For the first time since I've been blogging, a new mainstream Rickey Henderson card has been produced! Other than a couple of horrific 1/1 cut signatures from Tri-Star (see
here
), Rickey hasn't had a card released since 2007, and there definitely hasn't been one that I had any chance of obtaining. But, that has all changed!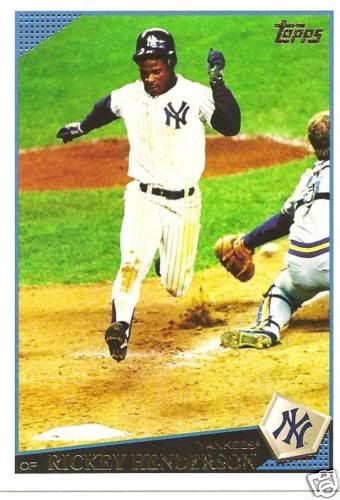 When perusing eBay last night I was shocked to see that Rickey was included as one of the variations in the newly released 2009 Topps Updates and Highlights (it's card UH318). I've seen a couple of his cards posted, all with him as a Yankee. Based on the other variations that have surfaced, most other players have two variations, featuring them on two different teams. Here's hoping that he's featured on the A's in the other one!
Of course, if anyone pulls any Rickey cards, please let me know! I'm sure we can work out something in trade. I haven't followed the variations closely, but do they have a gold parallel as well?