As I mentioned
previously
, Rickey's high school Alma Mater Oakland Tech was renaming their baseball field "Rickey Henderson Field" this past weekend. I was unable to make it to the ceremony, but Sam Laird of
Oakland North
was on hand to cover the event. Some excerpts from his coverage are included below, while the full article can be found
here
. He was also nice enough to send some additional pictures from the event which I've included below.
Hometown hero Henderson honored by alma mater
- Sam Laird/Oakland North
Oakland Tech product Rickey Henderson's pro baseball career spanned parts of four decades, included stints on nine major league teams, and ended with the hometown hero holding career records in stolen bases, runs scored, and leadoff homeruns. Widely considered the greatest leadoff hitter in baseball history, he also provided innumerable amusing and often head-scratching quotes that only enhanced his flair on the field.
On Saturday, Henderson's long, sometimes strange, and always wildly entertaining trip took the legend back to his North Oakland roots. Just a few months after being voted into the Baseball Hall of Fame in Cooperstown, New York, Henderson attended a dedication ceremony at the now-former Carter Field as the baseball diamond was renamed in his honor.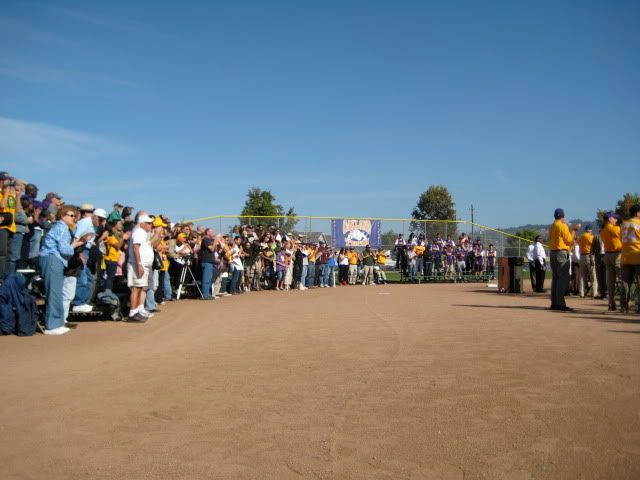 Rickey gets a standing ovation from the crowd on hand. Sam Laird/Oakland North
"As a kid I never imagined something happening like this, that they could name a field after you at the school you played with," Henderson said in a quiet moment before the program began. "It's an honor. It's something you cherish. Now maybe the kids today who play here can grow up and have something they never imagined possible happen to them."
The push to rename the field after the former Oakland Athletic began with a petition to the city school district that was approved a few months ago, said Matthew Gabel, president of
Oakland Field of Dreams
, the non-profit group that maintains the diamond.
"What would be more appropriate than naming the field after one of the greatest Tech players and one the greatest ballplayers of all time, with his just being inducted in the Hall of Fame?" Gabel asked on Saturday.
Rickey addresses the crowd at the ceremony. Sam Laird/Oakland North
In the warm autumn morning sun, facing scores of bleacher-seated fans and admirers and flanked by purple and gold banners and balloons, Henderson humbly spoke to the gathered crowd about playing sports at Bushrod Park as a kid, as well as his childhood dream of playing not baseball, but pro football.
His compact frame looking fit as ever and decked out in a half-unbuttoned white dress shirt, silver crucifix necklace, bulbous Hall of Fame ring, and dark sunglasses not unlike the stylish shades he sported on the Oakland Coliseum base-paths, the fifty-year-old appeared still capable of batting leadoff for the 2009 A's that afternoon against the Los Angeles Angels.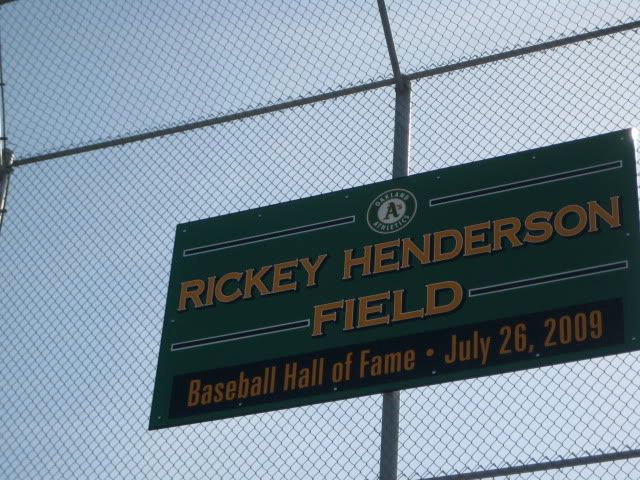 This sign is located high on the backstop, facing the diamond. Sam Laird/Oakland North

The significance of the two year-old state-of-the-art facility and its new namesake are far from lost on Tech players and coaches.

"This goes beyond words," said baseball coach Eric Clayton. "I'm sure as the kids keep playing on this field over the years, they'll honor and understand the legacy of baseball in Oakland."

Standing on the dirt infield wearing the purple and gold Tech uniform after the dedication ceremony, senior pitcher and first baseman Kelvin McMiller echoed his coach's sentiments.

"It's a very special thing to play on a field named after Rickey Henderson," McMiller said, surveying the immaculately groomed diamond as, nearby, a crowd of autograph-hounds besieged the Hall of Famer. "I know he's one of the greatest players to play at Tech; he got drafted out of high school, went to the pros, and did his thing. It'd be an honor to follow in his footsteps."