I finally was able to acquire a couple of the Legends of the Game parallels that are available only in Target and Wal-Mart retail packs.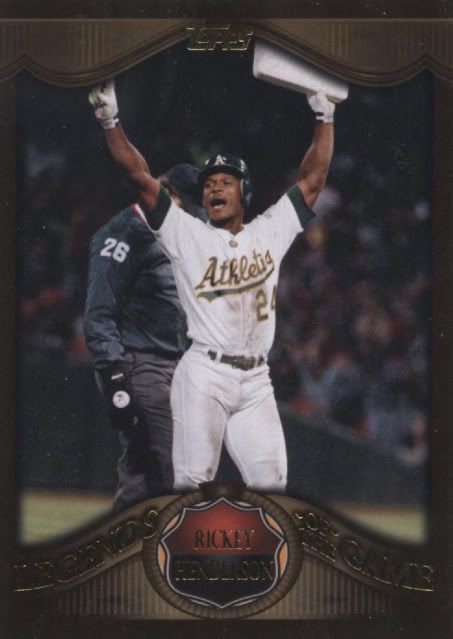 I believe this is the "base" version of the Target card, but I'm really not sure. There's also a "gold" version, and although this card does have a gold border (as compared to the greenish border on the Legends found in the regular packs), it may or may not be the gold parallel.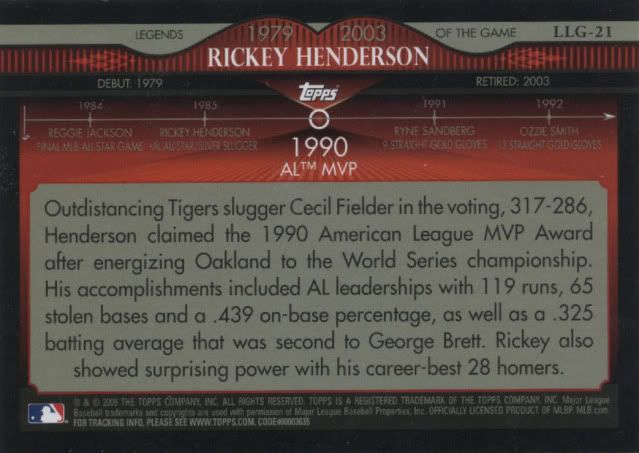 Here's the cards that Beckett says are available:
2009 Topps Target Legends #LLG21
2009 Topps Target Legends Gold #LLG21
2009 Topps Target Legends Platinum #LLG21
All of the auctions that I've seen list this as the "gold" card, and I have not seen any that look any different. I believe one of the problems arises from the numbering on the back. The Target only parallels are considered the "gold" parallels, hence the "G" in the card numbered. So, in essence, there is a gold parallel of a gold card, if that makes any sense.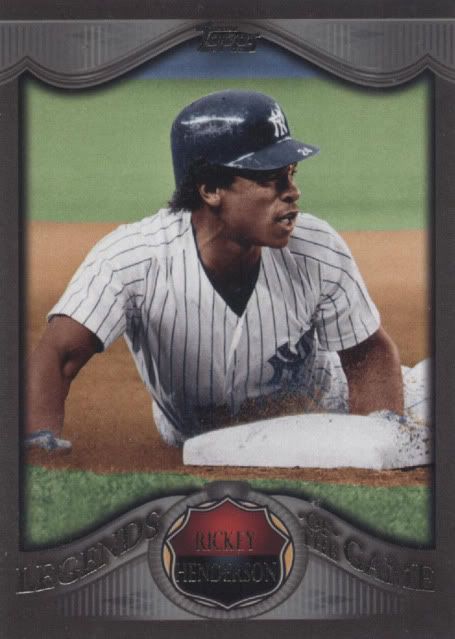 Here's the Wal-Mart card, and the identification doesn't get much easier.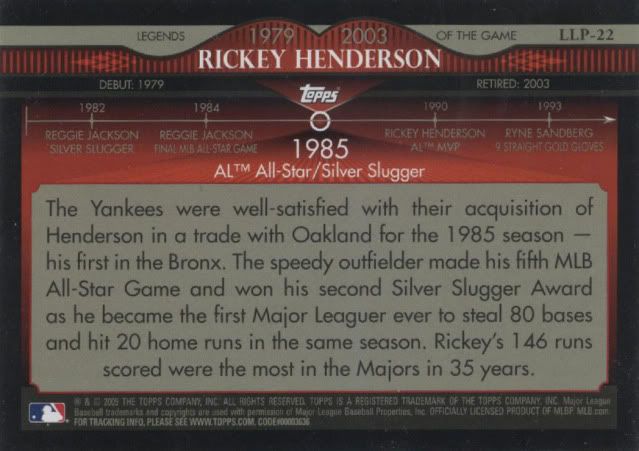 These are the cards that are supposedly available:
2009 Topps Wal Mart Legends #LLP22
2009 Topps Wal Mart Legends Gold #LLP22
2009 Topps Wal Mart Legends Platinum #LLP22
Just like Target has the gold set, Wal-Mart has the platinum set. I believe the card that's actually listed as a Platinum is a #1/1, so I know it's not that one. That leaves me to believe that this is actually the base card, although I'm still left wondering what the gold parallel might be.
I actually contacted Topps to help me out, and their response was pretty useless, as it seems that even they are confused about what's going on.
"Thank you for taking the time to write with your question, and please accept our apologies for any confusion.
It appears the Gold versions are serial numbered #/99 on the front top right of the card. The Platinum versions are serial numbered #/25. There are base versions of similarly colored Gold and Platinum parallels, however the more common versions are not serial numbered on the card."
The fact that the gold's #/99 and the platinum's are #/25 is true of the Legends that are found in the regular hobby packs, but I know this is not the case with the Target and Wal-Mart cards. If anyone has different versions of the same player (base, gold, platinum) from either the Target or Wal-Mart Legends set, I would love to see a side-by-side scan. Hopefully then I'll be able to finally put this mystery to bed.
Now I just need to wait for the U&H cereal box chrome, chrome refractors, and gold refractors to be released, and hope that those are a bit easier to decipher.