You never know when a new trade is going to pop up, but it's always exciting when it does! Although I missed out on all of the cards from approximately 2002-2007, Ryan did not, and lucky for me, he also gathered quite a few duplicates, which I was fortunate enough to help him unload.
I had a couple of cards that he was interested in, and coupled with a little extra cash, the following 12 cards arrived at my doorstop. Just getting 12 new cards at once is a feat in an among itself, but very rarely are they of this quality and variety. A lot of these would have probably soared way out of my price range if he'd listed them on eBay, and a vast majority of them I've never even seen listed before. Enjoy!
2002 Donruss Elite Status STAR 125 #/88 -- One of only two non-game-used cards in the lot. These early parallels are still pretty difficult to come across, and the red die-cut is pretty cool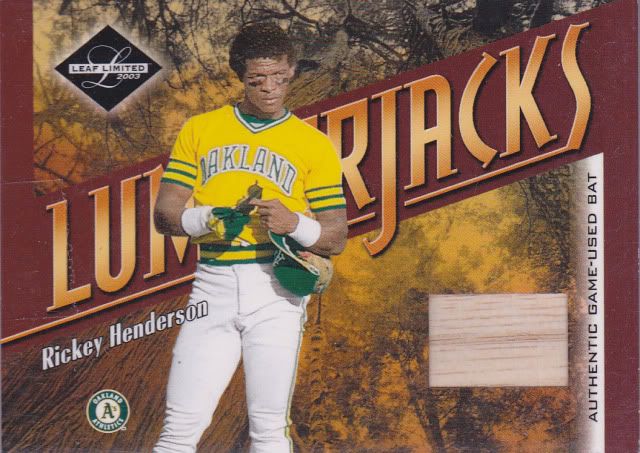 2002 Leaf Limited Lumberjacks Bat 7 #/25 -- The only thing that could have made this card better, is if it also featured a piece of the vintage yellow Rickey jersey that he's wearing on the card
2002 Leaf Limited Lineups Bat/J.Canseco 9 #/50 -- I was particularly excited to get this card, as it's my first game-used combo with Jose. There are still quite a few rabid Canseco collectors out there as well, so anytime they're featured together on a card, it definitely demands a premium
2002 Leaf Limited Gold Spotlight M's 94 #/100 -- The other non-game-used in the lot, this was thrown in as a sort of replacement for another card that he was unable to locate
2003 Topps Pristine Bomb Squad Relics Refractors Bat RH #/25 -- Rickey only has two cards in the 2003 Topps Pristine set, the base Bomb Squad relic, and this refractor. It's always not to complete a "set."
2004 Playoff Honors Tandem Material Combo D.Sanders 23 #/25 -- Like the Canseco above, the Deion Sanders combo card is a nice addition to the collection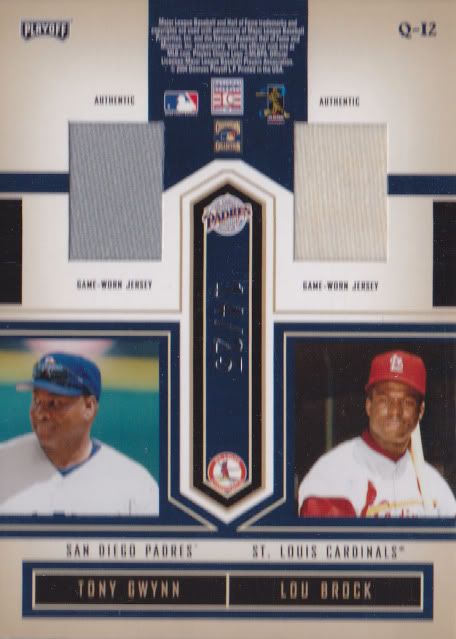 2004 Playoff Honors Quad Material Musial/Gwy/Brock 12 #/25 -- Wow, what a card! The front alone, featuring Rickey and a nice vintage Stan Musial swatch, is pretty awesome. But, flip it over, and you also get two more Hall of Famers, in Tony Gwynn and Lou Brock. Four Hall of Famers on what card is definitely something to get excited about.
2005 Absolute Memorabilia Tools of the Trade Swatch Single Jumbo A's Jsy 94 #/25 -- This is the first of three jumbo swatches I was able to pick up, and it's of course my favorite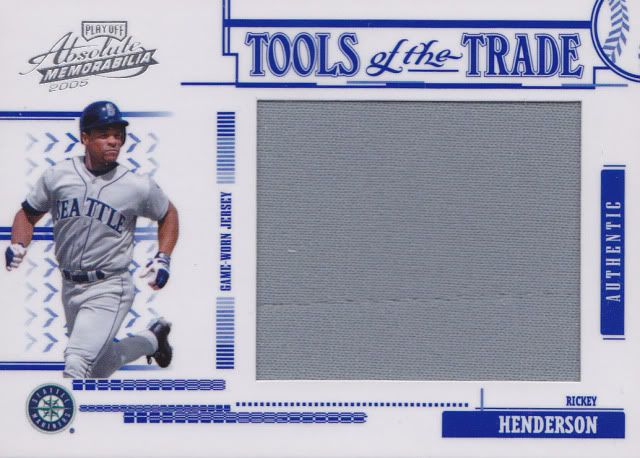 2005 Absolute Memorabilia Tools of the Trade Swatch Single Jumbo M's Jsy 170 #/100 -- Now that I have three of these I'm even more tempted to try and track down the complete jumbo swatch set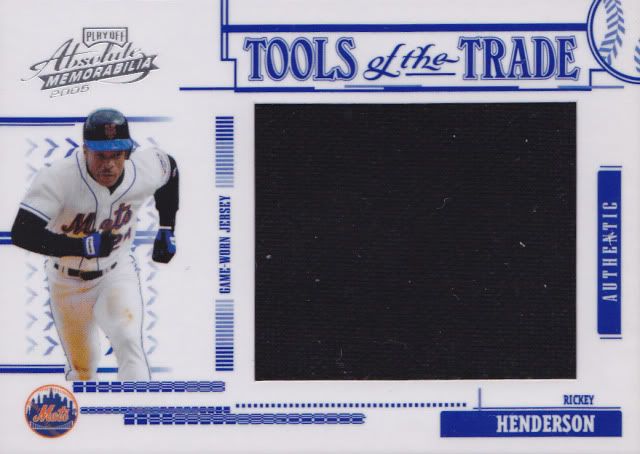 2005 Absolute Memorabilia Tools of the Trade Swatch Single Jumbo Mets Jsy 168 #/98 -- Other than the A's, Mariners and Mets featured above, there's also another Mets version #/25, as well as an A's pants swatch #/75
2005 Absolute Memorabilia Team Six Swatch Single Los Angeles Dodgers 40 #/150 - The more of these cards that I track down, the more I'm intrigued by the set. I currently ave 43 cards from the set, but I still have a LONG way to go
2007 Topps Triple Threads Relics Combos Carter/Rickey/Molitor 97 #/36 -- This is my second card from 2007 Triple Threads, but my first combo card. The Molitor cleat patch is covered in dirt, which is pretty cool, as it's not something you see too often. Now I just need to track down to more of the Rickey variations, and I'll have at least one of each.
I want to once again thank Ryan for working out a trade, as it was definitely very much appreciated!