As I mentioned a few days ago, Rickey Henderson arrived at the A's Spring Training facility, and immediately jumped into action. Here's a link to the
story
by MLB.com writer Jane Lee, the text of which is reproduced below. I've also included a few pictures by the SF Chronicle's Brant Ward, as well as a short video by the A's MLB.com new beat writer, Jane Lee.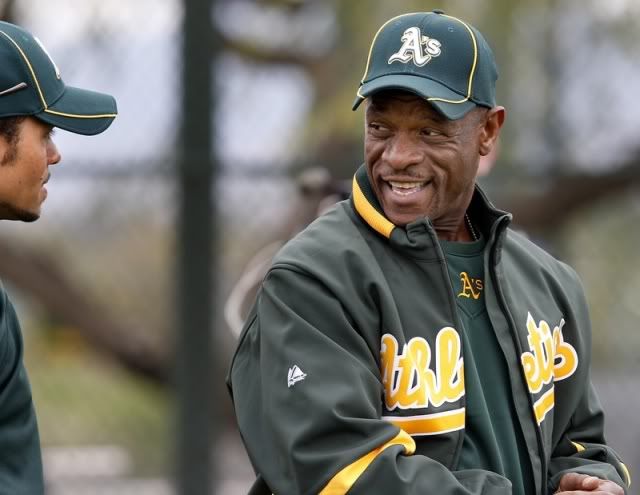 Henderson shares wisdom with A's
Hall of Famer serving as special baserunning instructor
By Jane Lee / MLB.com
PHOENIX -- Rickey Henderson entered A's camp Saturday playing the part of his usual animated self, his still-chiseled frame and unparalleled enthusiasm for his hometown team on full display.
Luckily for many players, who gathered around the Hall of Famer like kindergartners do on a day of show and tell, he also brought with him a bag of tricks and tales -- and a message or two.
Among them: Once you accept failure, the game is easy.
"You do not fail if you try," Henderson said.
Another piece of advice: Hip action and eyes are invaluable tools.
"We train the whole body except them two things," he said. "You need your eyes in this game."
Finally, and most importantly, have fun. Baseball is a game, so treat it as such.
"When I came to the ballpark, I came to have fun," he said. "Now, kids worry about too much pressure. I went to a game last year and they weren't having any fun. I'd be ready to go home if there wasn't any fun. They're not having fun, and I think that's why they don't play as well."
On Saturday, there was no denying the fun being had by the 51-year-old Henderson, who will be popping in and out of A's camp during the next week as a special instructor on baserunning -- an art he revolutionized as a player in 25 Major League seasons.
"It's fun to me because I still enjoy the game," Henderson said. "I'm hoping I can teach the kids something to have more success. You love the game of baseball, so you love talking about it."
So for two-plus hours on the fields of Papago Park, Henderson shared his insurmountable knowledge and undeniable love of the game with anyone willing to listen. Not coincidentally, the speedy Rajai Davis racked up the most one-on-one time and walked away having tweaked his running approach for the better.
"I got to messing with him, and I showed him little techniques that I went through," said Henderson, who learned the same ones from a speedskater early in his career.
Henderson showed Davis a drill that involves sliding back and forth to make better use of the lower body. Davis lasted two minutes before being told in a playful way he had to hit 15.
"And guess what?" Henderson said. "He couldn't even stand up good. He was all wobbly. He had no balance, but then we kept talking. I said there's something you're doing wrong. Everything he did, he did flat-footed. I asked him how he got to be so fast when he's flat-footed.
"I said, 'Get a little on your toes,' and he never knew it made such a difference. And that's one little thing that changed him already."
Davis, who is expected to join Coco Crisp as the club's one-two punch at the top of the lineup in 2010, stole a team-high 41 bags last year, but Henderson estimated that the A's outfielder has the ability to tally 75 or 80 -- this coming from a remarkably versatile player who owns the all-time records for stolen bases in a season (130) and career (1,406).
"He's a good kid, and to me he's got the heart that he wants to be a basestealer," Henderson said. "The biggest thing is fear that I got to get out of him -- fear in him going out and taking control of the bases and changing the game."
Said Davis: "To get another perspective from a guy who has proven his success at this level in the Major Leagues is a great opportunity. I don't know how many teams get this chance to bring back guys who are in the Hall of Fame."
The swift past and present duo of Henderson and Davis became fast friends again Saturday after having met one another last year at an A's game -- at which a fan took a picture of the two before passing it along to Henderson.
"When I got that picture, I thought, 'They made that picture up,'" he said. "If I had the uniform on, we'd be the same person. Whatever I did, however I was standing, how I was leaning, how my legs were crossed, he had the same thing."
The similarities are endless, as are the possibilities of a speed-driven A's team with Davis and Crisp in tow. The latter, acquired through free agency this offseason, also caught the eye of Henderson, who relayed some advice that could potentially help Crisp and his surgically repaired shoulder maintain a healthy dose of headfirst slides this year.
"Coco's got a great idea of what he's doing," Henderson said. "He's got the injury with his shoulder and he'd still like to go headfirst, so we talked about the pounding. You slide headfirst, and to get away from hurting yourself and banging up your body, you have to ask yourself how close you can get to the dirt before you have to dive."
In doing so, picture an airplane, Henderson suggested. If you want to know what creates a smooth landing, ask a pilot.
"If they have a hard landing, it's because they don't have control of the plane," he said.
Translation: Come in low for less of an impact.
Sounds simple, but that's only because Henderson explained it. And that's why Billy Beane talked to him last summer about getting involved with the club.
"He worked with our kids in instructional league, and he was great," Beane said. "We've got a good group of young, potential basestealing guys. His personality is great to have around. He's quick to smile, and all the guys gravitate toward him.
"The only reason not to keep him out here too long is he looks better in uniform than anybody else."