Sorry about the lack of posts lately, life has been getting in the way of the blog. Plus, within two days of each other last week, both my printer and scanner decided to stop working. A new one is on the way, but it's taking longer than expected.
These were some of the last scans that I made before the thing decided to blow up. Some of them are pretty random, but I'm excited about every one of them getting added to the collection.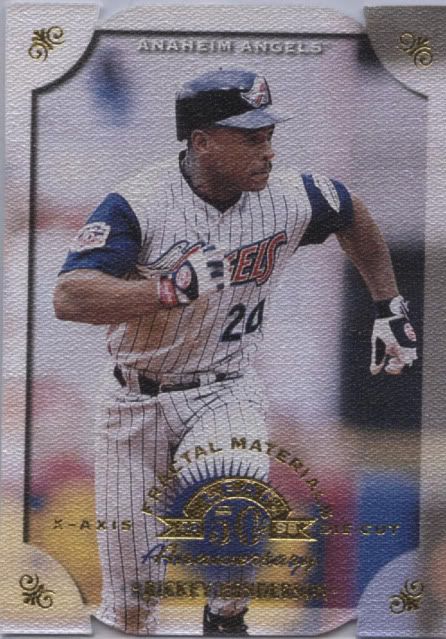 1998 Leaf Fractal Materials Die Cuts NX 34 #/500 -- These are serial numbered to 500, but only the first 200 are die-cut. I'd never even seen one of these for sale until recently, but managed to get this one in a trade with another collector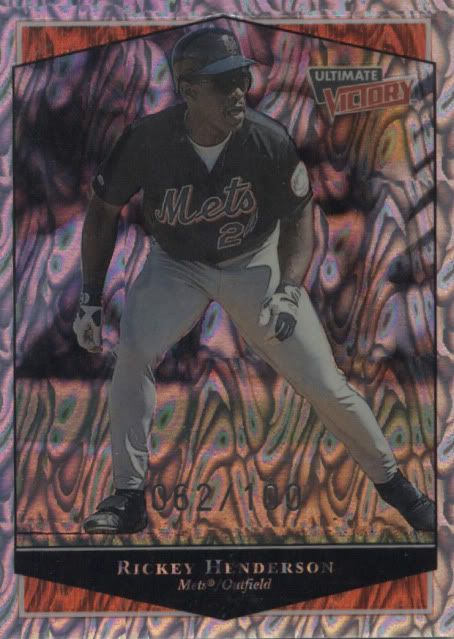 1999 Ultimate Victory Parallel 100 69 #/100
2000 Pacific Prism Premiere Date 93 #/61 -- I found this one on someones random trade page while searching Google for a different card. It's always a nice surprise to stumble upon a nice Rickey parallel hiding someplace
2000 Pacific Omega Premiere Date 132 #/77 -- I got this in a trade for a couple of extra Topps U&H Legends that I'd acquired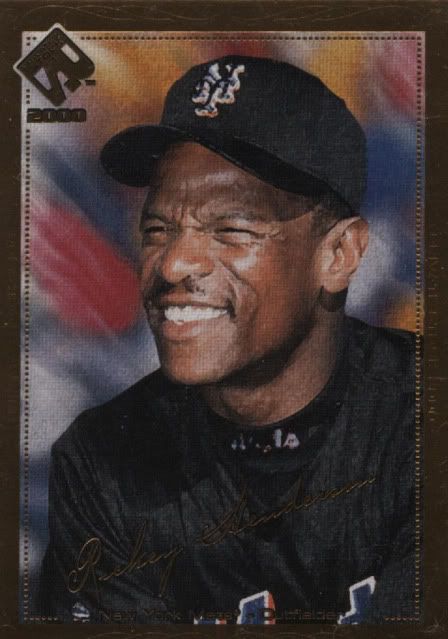 2000 Private Stock Gold Portraits 92 #/99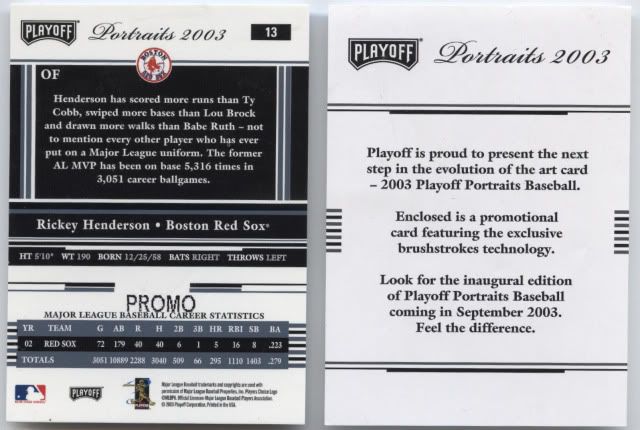 2003 Playoff Portraits Promo 13 -- I found this in an eBay auction along with a similar Hideo Nomo card. The front is the regular 2003 Playoff Portraits, and it also can with the separate card saying it is a promo. For one reason or another, this one is not listed on the master Beckett checklist
1991 Star Home Run Promo (print run of 300 sets)
1991 Star Platinum Promo (print run of 200 sets)
1991 Personality Comics ("Stop the game, I just broke a record")
1991 Personality Comics ("Swoon over my hammy")
I really enjoy adding oddball cards to the collection, and they don't get any odder than this! These were included inside specially marked issues of Personality Comics. I think these were the only cards that 'spoofed" Rickey, but do to the odd nature of this set, I really can't be sure. Either way, I'm definitely glad to have them!