Today's post will be light on the text, and heavy on the photos, as it contains picture of all the the Rickey posters that I have. The pictures are not always the best, but thanks to a set of three juggling balls, and one hacky-sack, you should at least be able to get the general idea.
The first poster, titled "119 and Counting" was produced by Mizuno in 1982, and is one of my favorites. It's actually a smaller poster, and measures only about 18" x 24". Rickey had an endorsement deal with Mizuno in his early years, and they really produced some great posters and advertisements.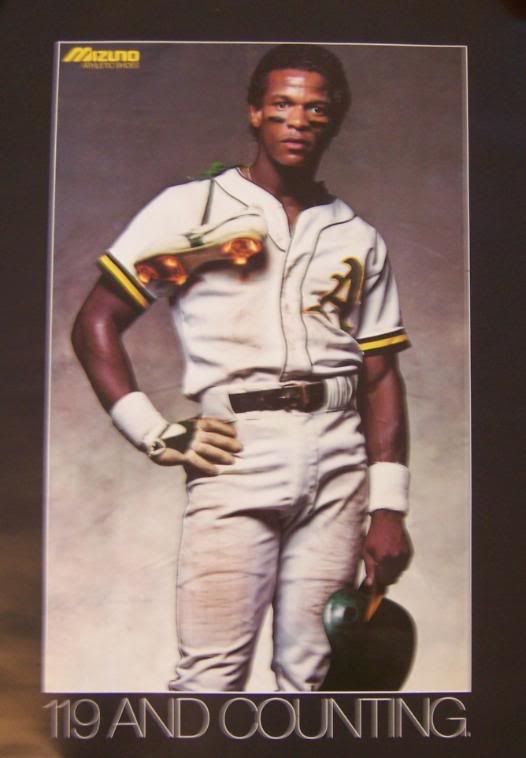 This poster was actually signed by Rickey just next to his right knee in blue ball point pen (this was before the days of the Sharpie), so it's unfortunately not very easy to read. But, since it is such an early signature, you can actually make out all of the letters of his name!

I'm not exactly sure the date the next poster was made (it's between 1986-1988), but it was produced by Sports Illustrated and Marketcom, and I actually received it as a birthday present from a classmate as a kid. I remember it was my favorite present that year!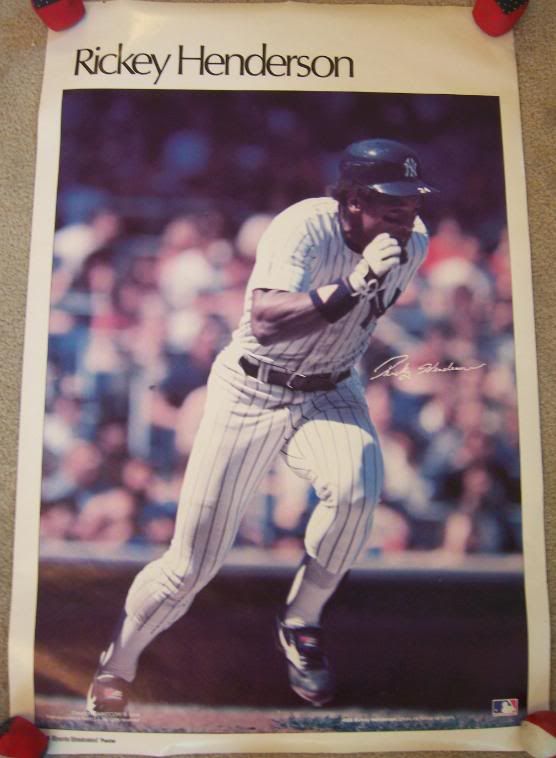 This next poster was produced by Starline in 1988 and is titled "Run." The one I have has actually never been opened, so I pulled the picture off of a website online.
Most of my posters are from 1990-1991, when Rickey was at the peak of his career, and so was my collection. This first poster from 1990 was produced by Starline and is number 17 in their "Star Series."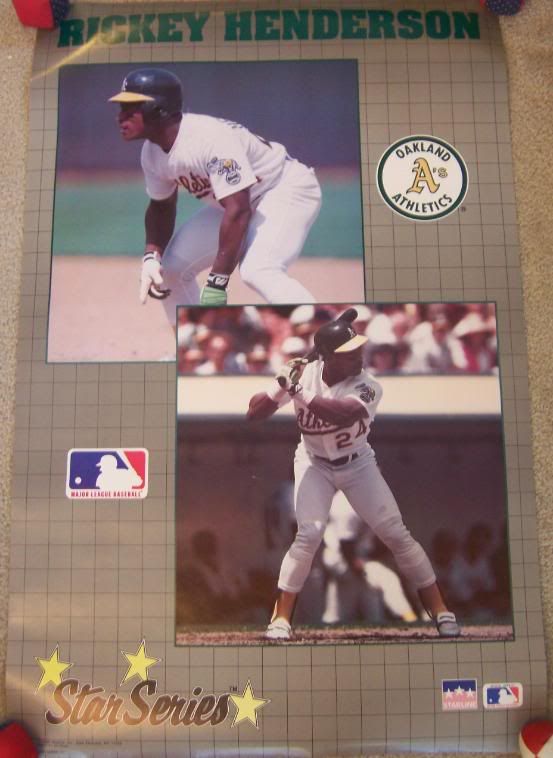 The Costacos Brothers produced this next poster in 1990, titled "The Man of Steal," which unfortunately has seen better days. When I was younger my house lacked air conditioning, and I usually left my window open in my bedroom. Well, a gust of wind caught this poster just right one day, and ripped it right off the wall!
On May 1, 1991, Rickey broke the all-time stolen base record. This next poster was a supplement inside the May 2, 1991 San Jose Mercury News. It's also a smaller poster, measuring about 14" x 24". It gives all sorts of details about his 939th steal, such as the fact that it was 1:52pm on a 1-0 count when he stole the base and was called safe by 3rd base umpire Gary Cederstrom.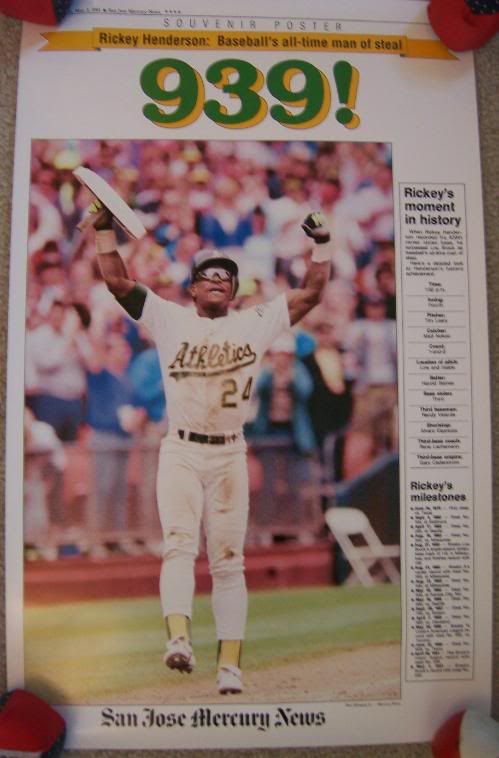 Later in 1991, Starline released a poster titled "All-Time Stolen Base Leader."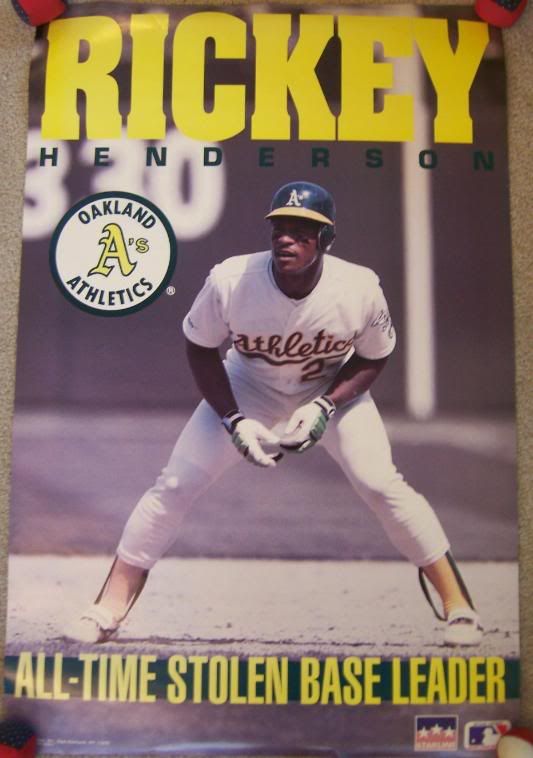 The Costacos Brothers 1991 release was a little more creative, and their "The Man of Steal" poster is still one of my favorites. They make sure to give special thanks at the bottom to "Loomis Armored, Inc., and Bill Hatch Sporting Goods."
While attending an A's game later on in 1991, I received the following Mizuno poster. I like the fact that they titled it "939 and Counting," as a follow up to their "119 and Counting" poster from almost 20 years prior! It was an awesome surprise, as it was an unannounced giveaway, and was just sheer luck that I happened to be there.
Not surprisingly, Rickey made the All-Star team in 1991, and is featured here with a few others from that game in Toronto.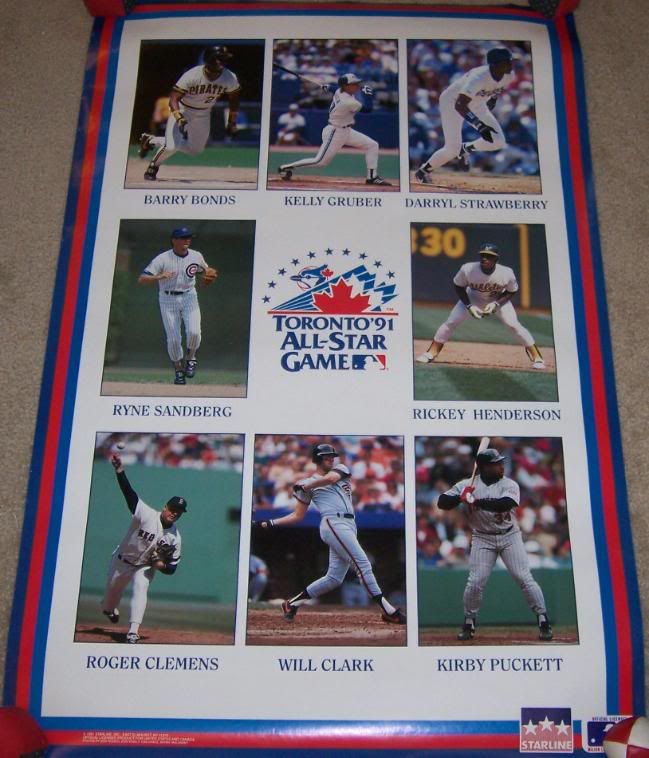 I went a few years before picking up another Rickey poster, but then found this Costacos Brothers poster from 1999. They once again utilize the "Man of Steal" moniker, with the New York skyline in the background (which I only just now noticed prominently features the Twin Towers).
This final poster isn't really a Rickey poster at all, but a poster produced by Beckett showcasing all of their covers over the years, three of which have featured Rickey.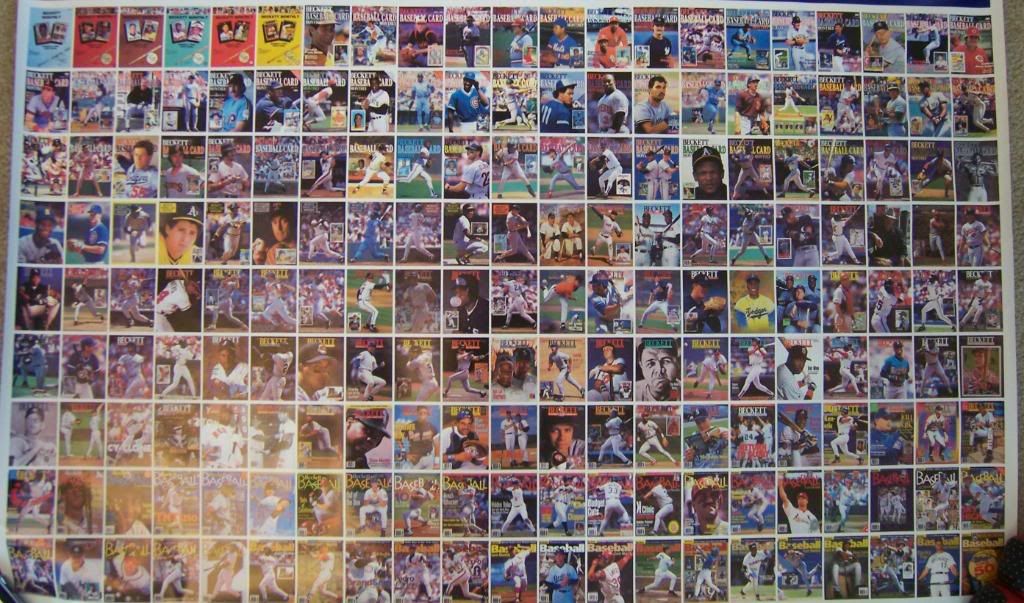 Rickey received his first Beckett cover in December 1989, which he shared with a picture of his rookie card.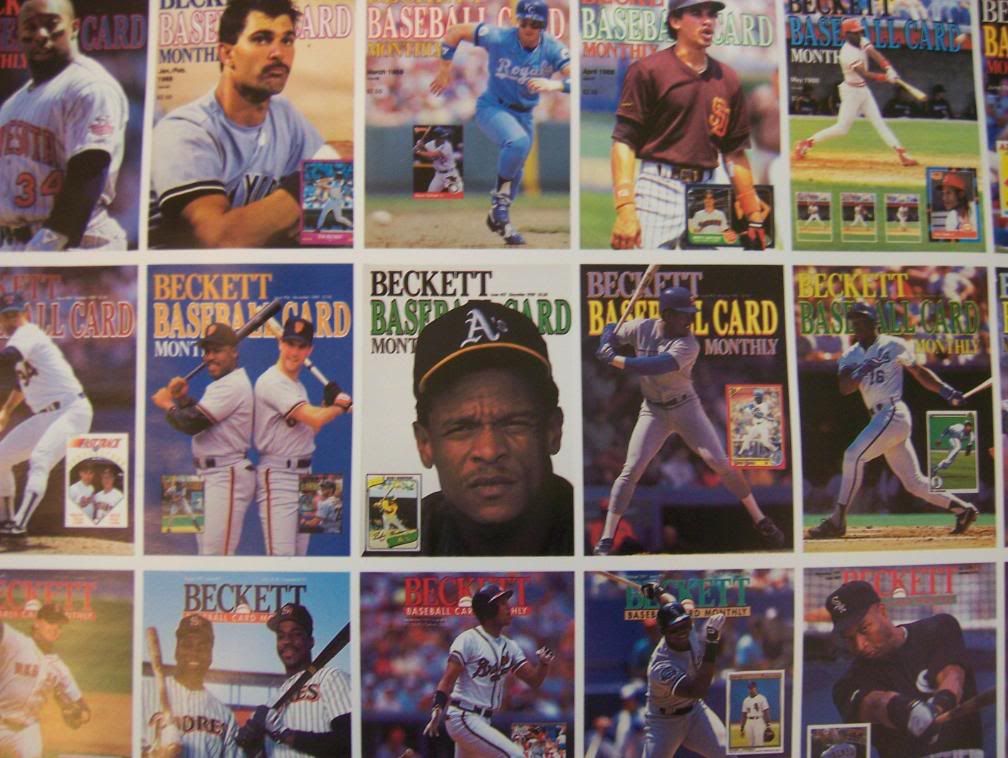 His next cover came less than a year later, in September 1990. I was never really a fan of this cover, as I really disliked the yellow border. Looking at the Beckett poster now, this was the only time during that cover design that they included a border, so they must not have liked it either!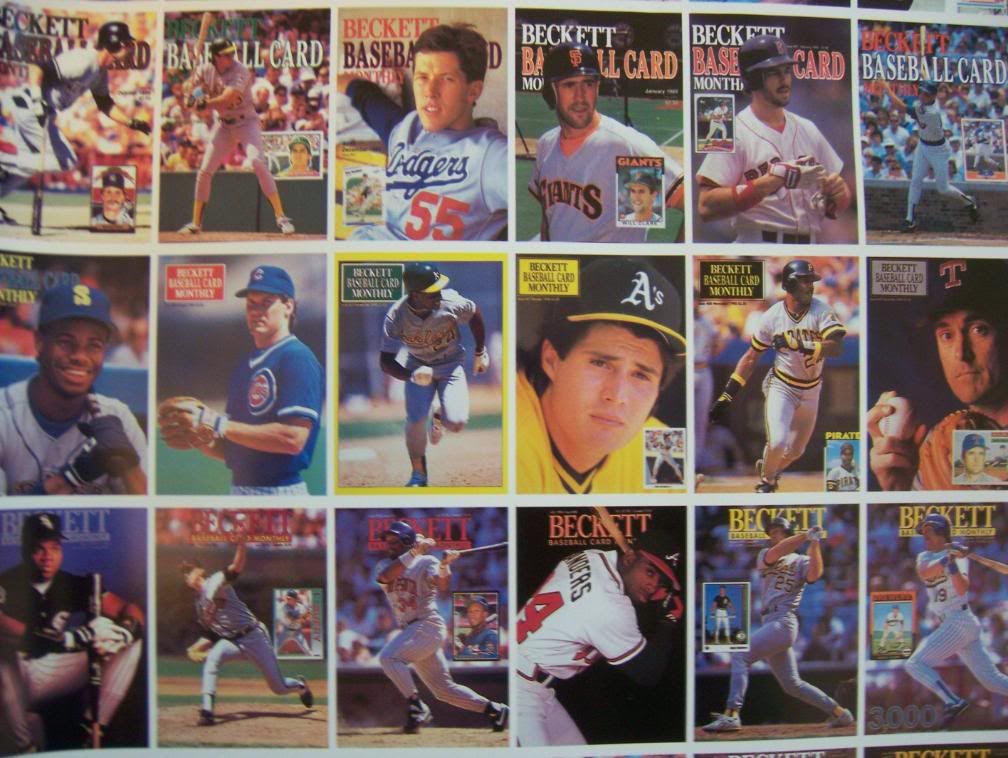 Rickey's final cover came in April 1991, right before he was to break Lou Brock's all-time record. The card with Brock on the front of the magazine was later re-issued with the April 1st dated added above the 939.
I know that there are probably quite a few other Rickey posters out there, but these are the ones that I grew up with, totally covering the walls of my room. It was fun relieving the "walls" of my youth, and I hope everyone else enjoyed it to!