As a follow up to the post from a few weeks ago, which focused on the Rickey Henderson
game-used cards
I'd recently acquired, this post will highlight some of the base cards, inserts, and parallels that I've recently added to my collection.
1999 Upper Deck MVP Gold Script #131 -- These gold signature parallels were serial numbered to 100, and are surprisingly difficult to find. I was able to acquire this one in a trade over at the Bench.
2000 Crown Royale Premiere Date #89 -- Pacific was producing an insane numbered of parallel cards in 2000, and this is one of the nicer ones. It is serial numbered to 121.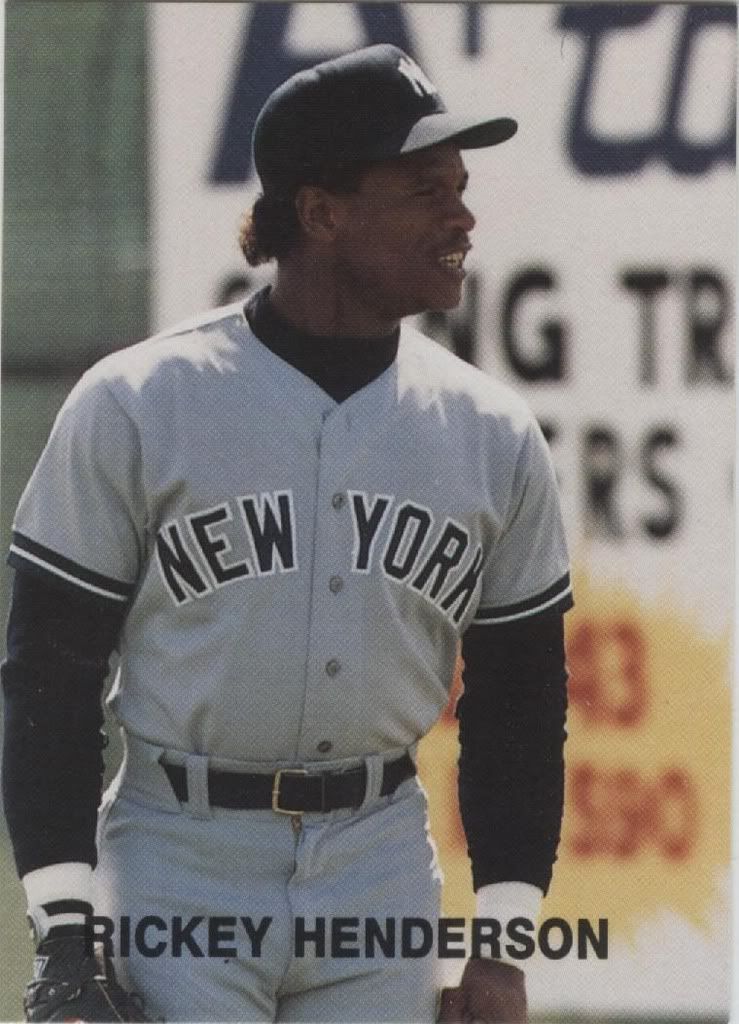 1987 Action Superstars Series III #50 -- Being a big fan of oddball cards, I can never past up one of these that a don't already have. It's one of many unlicensed cards produced in the late 1980's that have now become known as "Broder Cards," since most were produced by a mysterious guy named Rob Broder.
Fleer Then and Now R.Henderson/I.Suzuki #5 -- This card compares Rickey to Ichiro, arguably today's best leadoff hitter. It features a great vintage picture of Rickey wearing a ridiculous headband. It's serial numbered to 275, which although isn't very limited, it's not a card that shows up very often.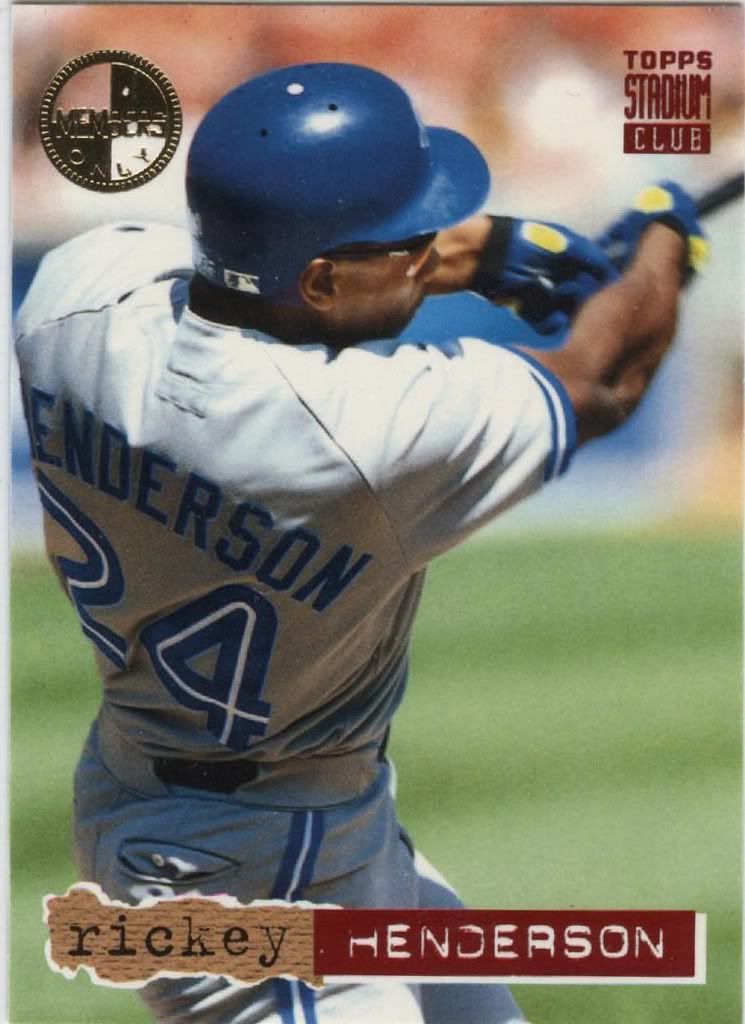 1994 Stadium Club Members Only Parallel #107 -- This Members Only parallel from the 1994 Stadium Club sets has proven fairly elusive, until now. Rickey had two cards in the set, each with a Golden Rainbow, Members Only, and First Day Issue parallel. All I need now is the First Day Issue of #654, and the set will be complete.
2001 Topps Home Team Advantage GM #787 -- This Home Team Advantage parallel features a great shot of Rickey setting the stolen base record in 1991. I still need the base card version of the HTA parallel, which is #105 in the set.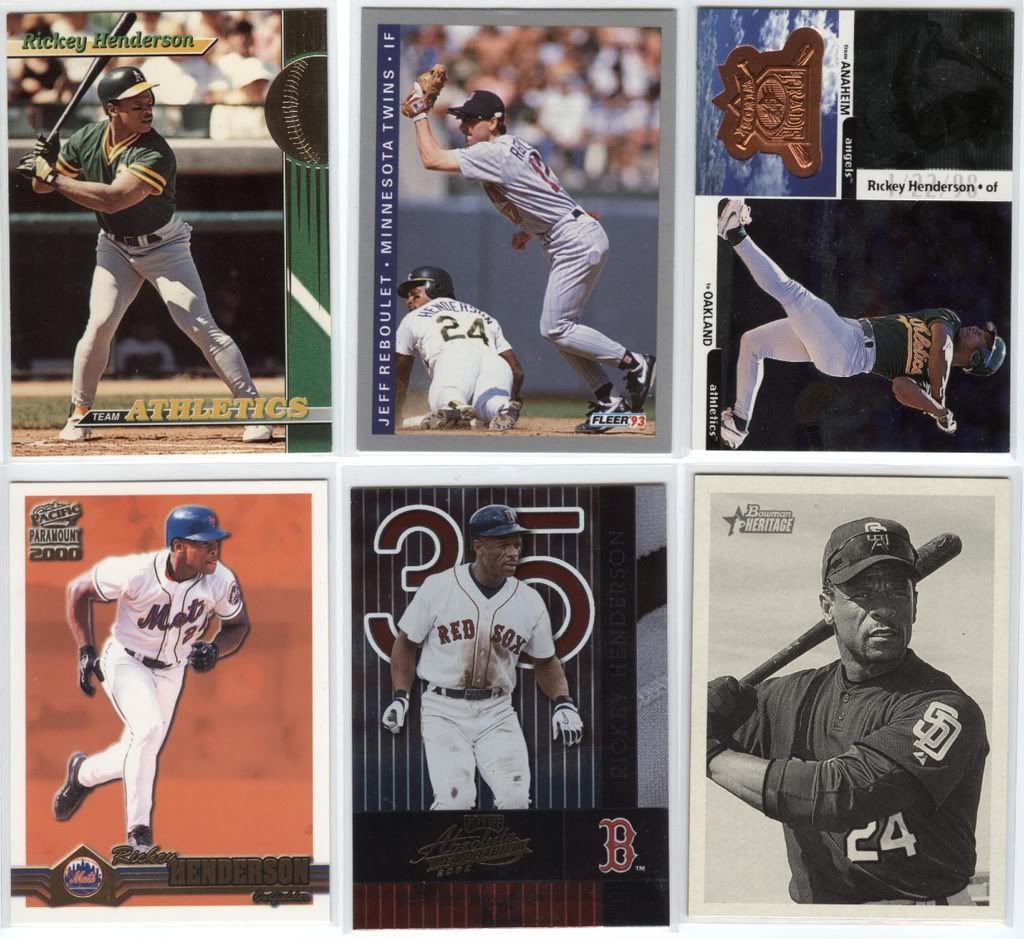 This above collection of six cards, as well as the six below were all acquired in a trade with a fellow Rickey collector. Highlights of the top picture include a 1993 A's Stadium Club #8 (I had been looking for this card forever!), 1993 Fleer Jeff Reboulet #642 (This is the latest Rickey "cameo" card that I've added to my collection, of which I'll write a post on some time in the future), and a 2001 Bowman Heritage SP #412 (You just gotta love black and white cards).
The second picture includes a 2003 Topps Hit Parade #21 as well as my favorite of the bunch, a 1989 Broder-type card, (Series 4, Card #6), which for some odd reason features Rickey in front of Wrigley Field!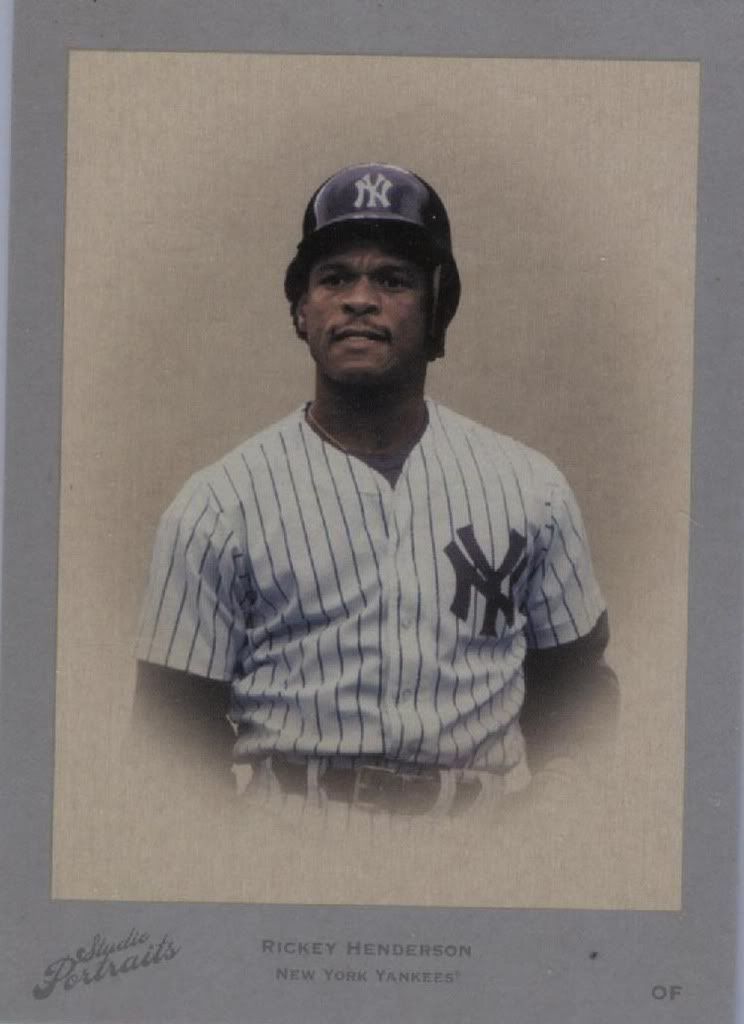 2005 Studio Portraits White #82 -- This is probably the first Rickey card, that when looking at a checklist, I had no idea which one it was! There are 56 different studio portrait variations, which is rather ridiculous. But, this is a rather nice looking card (and serial numbered to 50), so I can't complain too much.
The above picture contains some awesome inserts! It starts with two 2002 Leaf Rookies & Stars Longevity parallels, both serial numbered to 100. The next card is a 2004 Upper Deck Play Ball Home Run Heroics 81st Lead #RH. It's a two layered card with the background layer the box score from the game when he hit his 81st leadoff home run. We round out the picture with two Fleer inserts, a 2005 Fleer Tradition Club 3000/500/300 3000 #7 and a 2002 Fleer Triple Crown Diamond Immortality #3.
The next six cards start with a nice tribute to Rickey's 1989 MVP season (2003 Upper Deck MVP Celebration ALCS #37, serial numbered to 1,989 on the front). My favorite cards above are the two inserts with Jose Canseco (2005 Throwback Threads Dynasty Rickey/Eck/Canseco #4 and 2005 Leaf Cornerstones J.Canseco #18).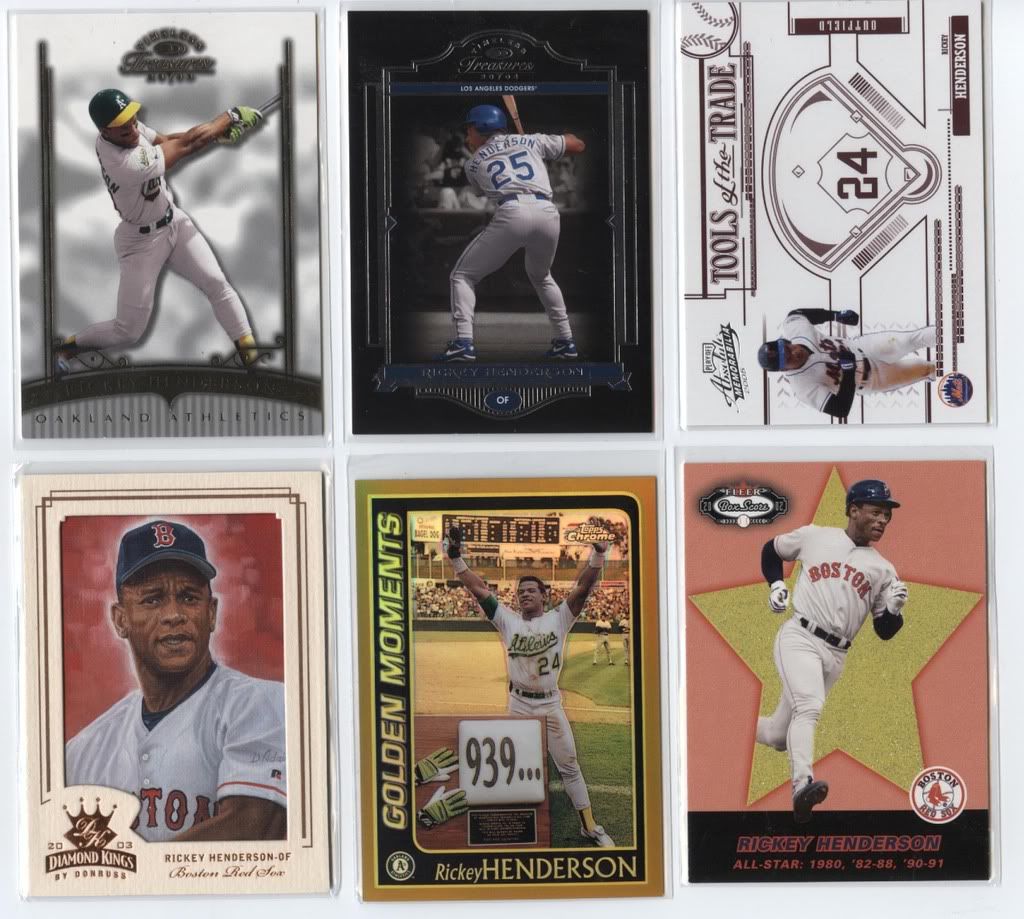 The final picture of this incredibly long post begins with Rickey's 2003 and 2004 Timeless Treasures base cards (serial numbered to 900 and 999 respectively). It ends with a 2001 Topps Chrome Retrofractors GM #657 and finally a 2002 Fleer Box Score AS #258, serially numbered to 2,950. Overall, I pretty wide variety of cards, and all good additions to the collection!