I hope everyone had a great Christmas, opening presents and spending time with family, I know I did. Santa was nice enough to leave me a few packs of cards, a tradition that has continued for many years. I used to get my first packs of the new Topps release in my stocking every year, and couldn't wait to see what the new cards looked like. But, due to the 2009 products now being released until January (which does make sense, since it's not 2009 yet), this is no longer possible. But, any cards are better than no cards!
Now that everyone is mesmerized by the adorable baby (Henry is 5 months old, and seemed to love his first Christmas), it's on to business. I'm a little behind in the posting of my "recent" trades, but I hope to catch up before the end of the year. I sent Matt over at
Heartbreaking Cards of Staggering Genius
some Royals (and a few players with horseshoe mustaches) back in November, and he sent me a great package of A's in return. I've just been a bit slow in posting the results.
To begin, he sent over a great stack of older Rickey cards. I've always enjoyed the older Topps stickers (why don't they do anything different anymore?), and the 1991 Upper Deck with 3 Rickey's in one has always been one of my favorites.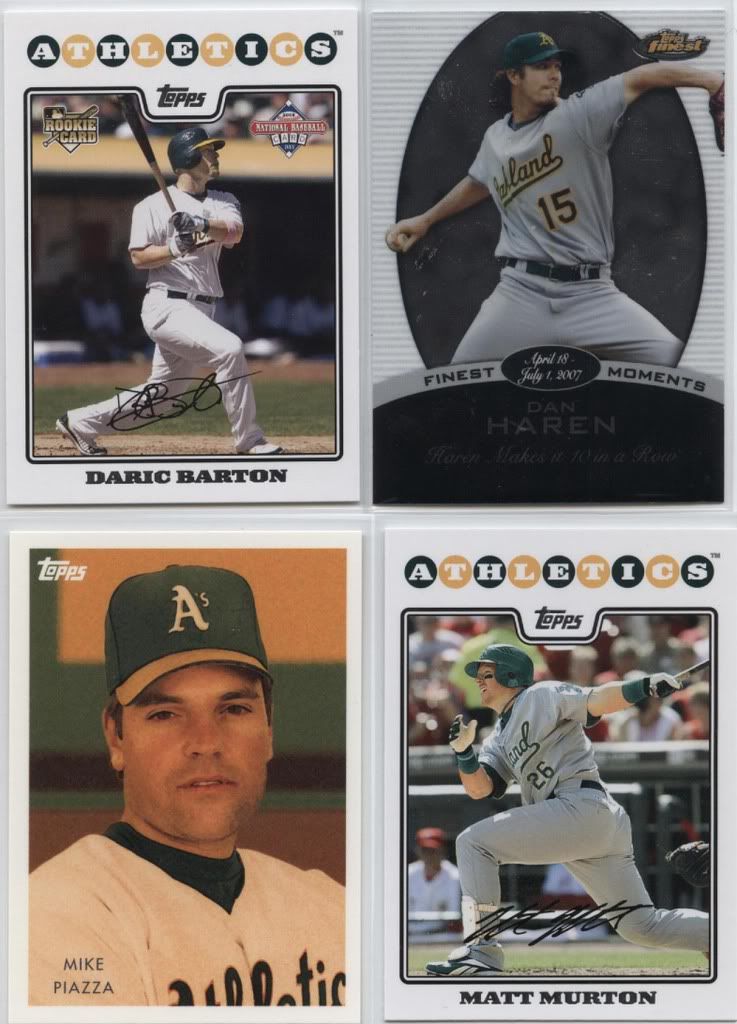 He also sent some greater cards of newer A's, some of which I didn't even know existed. The Daric Barton Topps from National Baseball Card Day s pretty sweet, as is the Mike Piazza insert, which was exclusive to Wal-Mart (well, as exclusive as Wal-Mart can be). The Matt Murton is also the first A's card that I've received from this years Topps Update & Highlights set.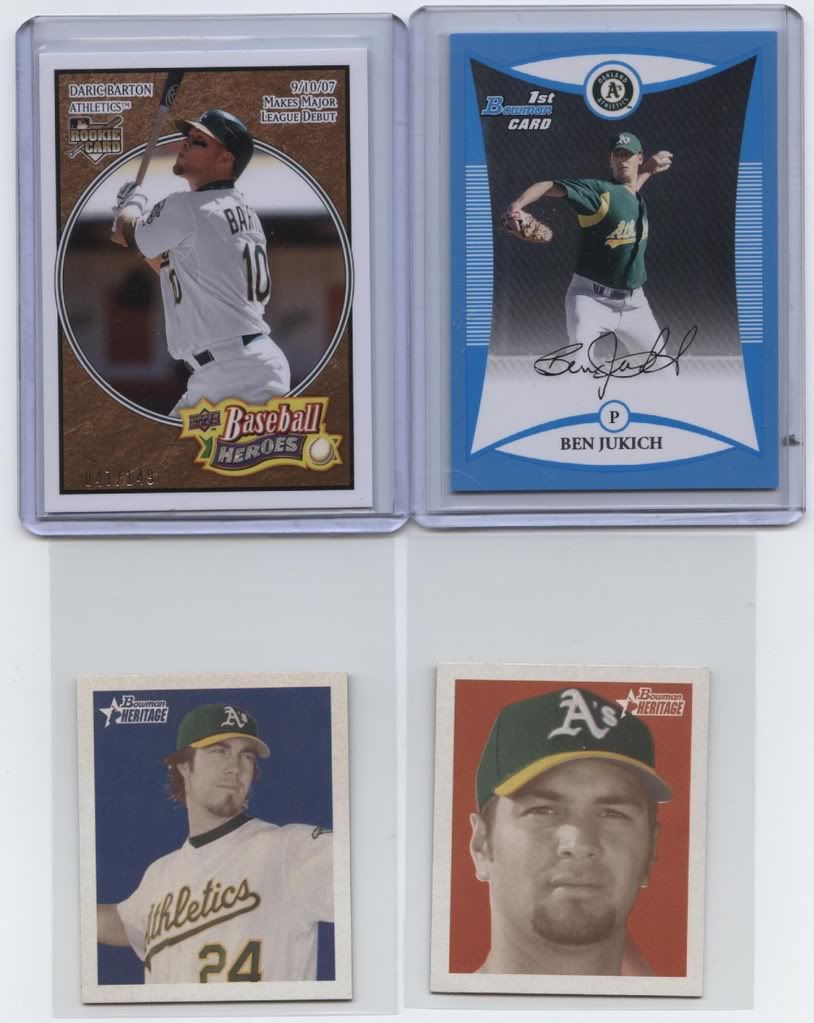 The top cards are two serial numbered parallels, with the Barton (#/149) being either Brown or Bronze, I'm not quite sure (anyone know?). The Haren and Chavez are minis from 2006 Bowman Heritage, and are the first ones that I've scene, but I definitely wouldn't mind getting more!
Also included in the package were various vintage A's cards, which are always fun since I didn't start collecting until 1987. Although more recent, you can never go wrong with a Fleer sticker.
The next card is from a pretty neat little insert set, featuring the programs from past World Series. This one is from the 1989 Battle of the Bay, where the A's (and Rickey!) handed it to the Giants. Unfortunately, this is also the last time that the A's have won a World Series.
We finally have a few 2008 Moments & Milestones, featuring Frank Thomas and Nick Swisher. I already had an Eric Chavez from the set, and although I know there are a ton of parallels, I now only need a base card from Jack Cust and Huston Street to have a card from each A's player included in the base set.