With Christmas closing in, I thought it would be an appropriate time to put together my ultimate Rickey Henderson "wish list." If money was no object (which of course it is), the list below is of the top five Rickey "collectibles" I'd most like to own. It was hard to limit it to just five, and I know I'll think of something to add in the future, but you can't go wrong with anything on the list below!
5. Game-Used Neon Green Batting Gloves
As if Rickey wasn't flashy enough on the field, he had to go find him self some neon green batting gloves to wear. While with the A's from approximately 1989-1991, Rickey wore both black and white Mizuno batting gloves with bright green padding on the backs of the fingers. I'd love to have a pair of gloves he actually wore in a game, and it would be even better if he stole a base while wearing them! It was this style of gloves that he was wearing when he broke Brock's all-time stolen base record.
4. 1977 Chong Minor League Rookie Card
The only card to make the top five is Rickey's 1977 Modesto A's Chong Rookie card, the first card of Rickey ever produced. The copy above recently sold on eBay for almost $2,500, so you can see why it's on my wish list, and not already in my collection. I'm usually not a fan of graded cards, but I would definitely make an exception for this one. Note the spelling of his name as "Ricky," since this was his first card, it's the only time that it's slightly acceptable, but any future occurrences are just not right.
3. Early Oakland A's Jersey
As you probably know if you read this blog, I'm a sucker for "retro" Rickey items, and nothing is cooler than one of his jerseys while first playing for the A's. Shown above is a 1982 home jersey, which he wore during the season that he set the single-season stolen base record with 130. It belongs to Steve, who also owns
Rickey's high school yearbook
, which I posted about back in April
2. A Stolen Base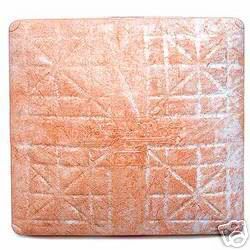 This was an obvious choice, and one that I knew had to be near the top of the list! How cool would it be to own a base actual "stolen" by Rickey Henderson. I don't need #939 (I'm hoping that's already in Cooperstown), but #512 or #1,123 would be just fine.
1. Getting to Meet Him and Talk About the Blog!
The last item on the list is obviously not an object, but an experience! I'm hoping to finally meet Rickey while in Cooperstown for the Hall of Fame induction ceremony next summer. I would love to talk to him about the blog, and would welcome any input that he would like to provide. If I found out that Rickey had actually heard or even seen the blog, I don't know what I'd say. I'm planning on having some business cards printed up, so even if he hadn't heard of the blog yet, maybe he'll go check it out in the future.