While out of the hobby I missed out on the initial emergence of game-used and autographed cards being inserted in packs. I have since accumulated quite a few different Rickey game used cards, including pieces of jerseys, pants, cleats, hats, and batting gloves to name a few. I still don't have a certified autograph card (at around $100 each, they're a bit pricey for me), but I finally obtained my first jersey patch card a few days ago.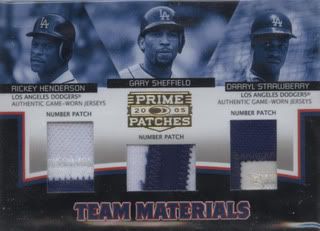 The card is a 2005 Prime Patches Team Materials Triple Number Patch (I know, it's quite a mouthful) featuring number patches of Rickey, Gary Sheffield, and Darryl Strawberry. All three are really great patches, featuring bold blue colored patch squares, along with pieces of white patch and white jersey.
The card is serial numbered to 107 copies, which is pretty high for a patch card, and the main reason that I was able to afford it. Now I have to track down an affordable A's patch, which is not going to be an easy task.
I could have just bought this one, which ended up selling on eBay with a best offer $450. It's definitely a really sweet patch, and one of the best patch cards I've ever seem, but something about it just seems fishy. The card is numbered 3/10, but you'd think a patch like this would definitely warrant a 1/1. Plus, that A's logo doesn't look familiar, and it's not one that I remember them ever wearing on their jerseys. I'm not saying it's fake (I really hope it isn't), but it's definitely a card I'd look at more closely before purchasing.