Since everyone will probably be blogging about 2009
Topps
this week, I thought I'd do something a little different. I went down to Target this weekend and was able to purchase 5 packs, the results of which are shown below. I only managed to get one A's card, as is usually the case when I opened packs, but it made me curious as to which teams actually were included.


The one A's card that I did manage to pull was of Frank Thomas, who seemed to be the only (ex-)Athletic I ever pull out of packs anymore.




A selection of some of my favorite cards from the packs. I was always a Matt Stairs fan with the A's, and it was nice to see him break out with a great post-season last year.




The design of the League Leaders cards this year is pretty solid, with each player getting a full picture. In my list below, each of these cards counts for all three of the teams pictures, as does any card with multiple players. I'm not sure how Braves fans feel about it, but I kind of like the orange Braves jersey Chipper's sporting.

Below is a list of the cards I received from each team, along with the number of cards that were not base cards (i.e. League Leaders, Inserts, ToppsTown, etc.) listed in parentheses. I realize that this is a small sample size, and will even out with more packs, but this breakdown does seem to be indicative of my usual pack breaks.

Phillies -- 8 (League Leaders, Highlights, Topps Attax) -- World Series Champs
Yankees -- 7 (Legends of the Game, ToppsTown, Attax)
Dodgers -- 5 -- NLDS Champs
Rays -- 3 (HL) -- A.L. Champs
Red Sox 3 (TT) -- ALDS Champs
Cardinals -- 3 (TT, LL)
Indians -- 3 (LL)
Mariners -- 3
Padres -- 3 (LL)
Royals -- 3 (TT)
Braves -- 2 (LL)
Brewers -- 2 (Turkey Red, TT)
Diamondbacks -- 2 (Checklist)
Marlins -- 2
Mets -- 2 (LL)
Nationals -- 2
Rockies -- 2 (LL)

I got one card from 11 other MLB teams, and was left with only the Cubs and the Orioles without any players represented. It's interesting to note that the last four teams left standing in the 2008 Postseason are all in the top 5. Only the Yankees snuck up there into the top level, and given that they are the Yankees, that is to be expected. I also managed to get 5 different Dodgers base cards, which would be great if I was a Dodger fan, but seeing as I'm someone who can't bear to see Kirk Gibson hobble around the bases, is not the most ideal situation (but at least I know someone who can take them off my hands).


Now back to the contents of the packs themselves. I did manage to pull one Turkey Red card, and although not really of a player I know much about, they are nice looking cards.
The Legends of the Game cards are Target exclusive, and despite what some may think, it's always fun pulling a Mickey Mantle card from a pack.
I pulled 5
ToppsTown
cards (the scan shows four of them), and when putting the scan together I realized that the
Sabathia
card must be some sort of gold or bronze parallel. All of the other cards have silver backgrounds, and this one is definitely a variation. It's also nice that they included players on the cards this year, giving team and player collectors another card to go after.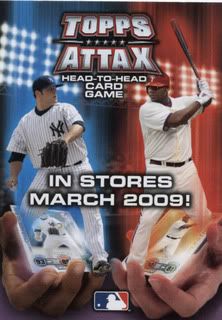 I also pulled one
Topps
Attax
card, which added one to both the
Phillies
and Yankees team totals. I'm interested to see how this "game' works, but not really interested enough to purchase any of the packs. I've started a trade list for 2009 cards
here
, with all of my current cards on hand listed. If you see anything, please let me know.