I was browsing the card aisle at Target a few days ago, looking to see if they'd finally gotten in the blasters of 2009 Upper Deck and Topps. They finally had (a UD Blaster review is on its way), but I also noticed on the way out that the bargain bin had also been refilled. After passing by a large stack of 2007 Upper Deck Series 2, I came upon these beauties...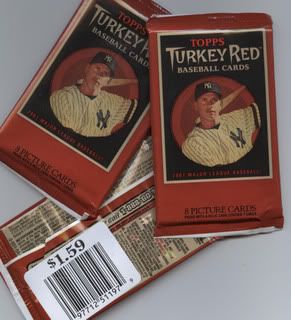 I hadn't gotten back into the hobby yet in 2007, so I missed out on the last Turkey Red set that was released. For $1.59 I couldn't pass up a few packs, as everyone always seems to give the set rave reviews.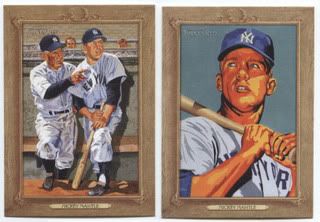 I pulled a Mantle card in each of the first two packs that I'd opened, which was pretty cool. I know he seems to be everywhere in Topps products nowadays, but these painted cards definitely look good featuring classic Hall of Famers.
I pulled one short print of Sammy Sosa in the three packs. I'm not a fan of short prints in general, but I do like it better when they keep them at the end of the set (unlike here, where they are spread throughout) so that set collectors don't have holes sprinkled throughout their binders.
I really like the old stadiums included in the background of some of the cards. It seems to take you back to a time when baseball was "fun," and not the steroid induced mess that it has recently become (not to say that I'm not totally looking forward to the A's spring training games starting soon!)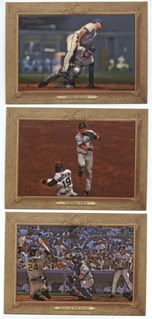 I love the use of these action shots on what would normally be boring checklist cards. I pulled one in each pack, and it's the first time in awhile that I've been excited about a checklist.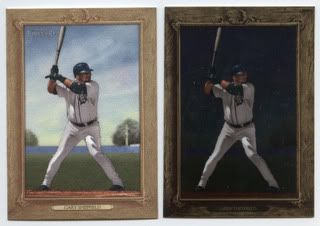 In my last pack I pulled my only insert, a Chrome parallel of Gary Sheffield numbered #/1999. I also pulled the Sheffield base card in the same pack, and it was nice to be able to compare one to the other.