From February 27 through March 1, Walt Disney World is holding "ESPN the Weekend" inside their Disney's Hollywood Studios (formerly Disney-MGM Studios) theme park in Florida.
For those who may not know, ESPN is owned by the Walt Disney Company. Well, Disney actually owns ABC, and ABC owns 80% of ESPN (with the other 20% owned by the Hearst Corporation), but for all intents and purposes, Disney owns ESPN.

Aside from the prerequisite ESPN personalities, there are quite a few big name athletes also appearing, from all of the major sports. The current list includes Rickey Henderson (of course), Brett Favre, CC Sabathia, Scottie Pippen, and Ivan Lendl to name a few. A complete list of all of the attendees can be found here (just click on "Who's Coming" at the top), along with the rest of the information about the event, although the specifics dates and time the players will appear doesn't seem to be available yet.

Unfortunately, being on the other side of the country, I won't be able to attend (If anyone does attend, please let me know how it went!), but I will be going to Disneyland at almost the same time. If anyone has perused all of the links on the blog (I know at least one reader has, thanks again for the postcards Padrographs!), you may have noticed the Disneyland links at the very bottom.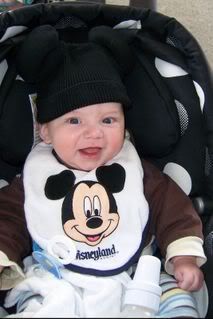 There's only one thing I'm crazier about than Rickey (I know, you didn't think it was possible), and that's Disneyland! Although we live in Sacramento, my wife and I have had annual passes for over 5 years now, and we go at least every couple of months. Now with the little guy, we have an even better excuse to go, and we don't seem so "crazy."



I found the above picture on a Disneyland message board in 2007, showing Rickey hanging out by the FastPass machines in front of Space Mountain in Disneyland. If he was trying to blend into the crowd, that yellow jacket sure wasn't helping things! Space Mountain also happens to be my favorite Disneyland ride, and I'd love to have seen the in-ride photo they take of you at the end. If you could get Rickey to sign it, now that would be one unique collectible!