As you might expect, Rickey's face was popping up all over the place at the Coliseum this weekend.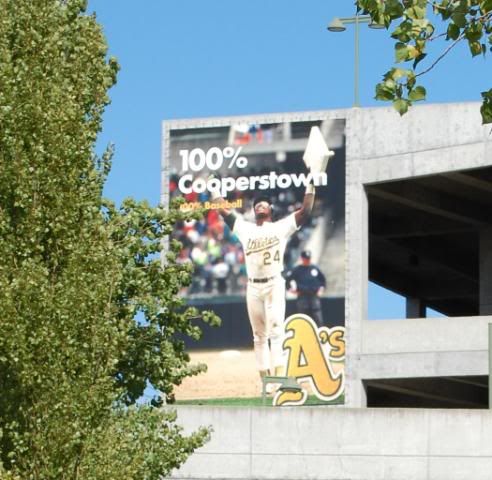 When you first drive into the parking lot, one of the first things you see when you look up at the stadium is this giant Rickey banner off to the left.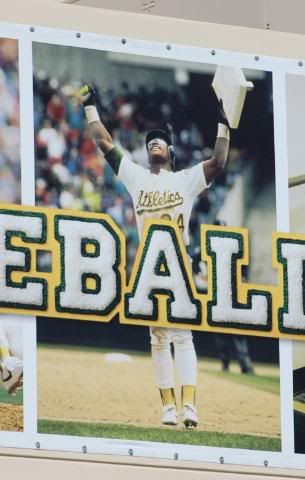 Surrounding the concourse walls on the other side of the stadium are a few other banners, prominently featuring Rickey as well.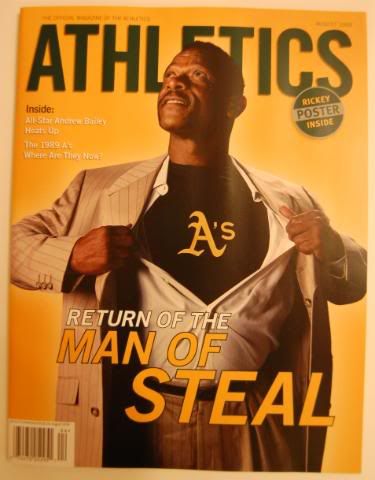 Once you enter the stadium, the "program" for the day's game features Rickey as the "Man of Steal" on the cover. I had hoped that the A's would have produced some sort of special program for the ceremony, but this copy of the August A's Magazine will just have to do.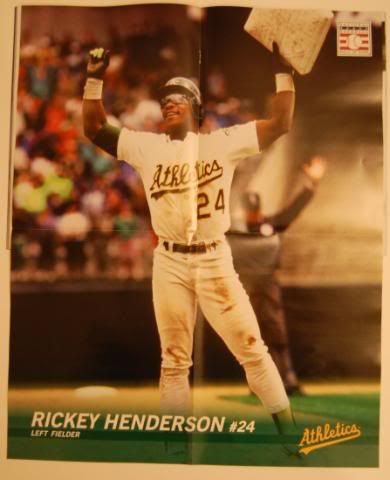 But, the magazine does feature a foldout poster of Rickey inside, which is a nice touch.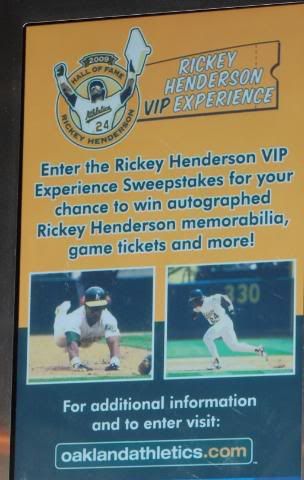 On flat screen monitors inside the stadium, the A's were promoting the Rickey Henderson Sweepstakes which I'd mentioned previously.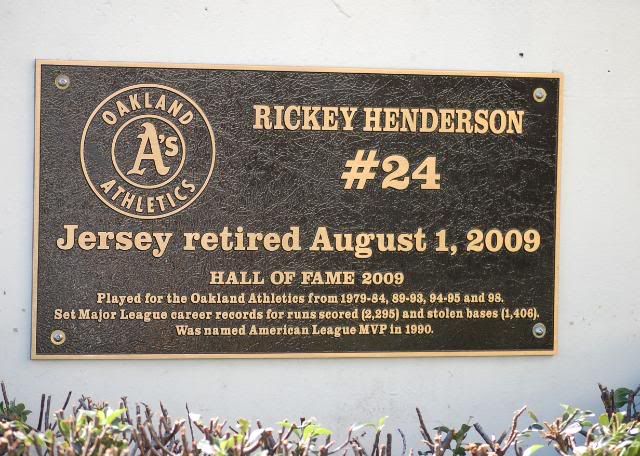 During the jersey retirement ceremony, Ray Fosse noted that a plaque honoring the event would be included in the concourse in-between the stadium and the arena (where the Golden State Warriors play), joining the plaques of other retired jersey numbers, as well as those of world championship teams.
As far as merchandise goes, they A's didn't have very much to commemorate the event. But, they did have this gold baseball, my second gold Rickey ball of the week. I found it odd that the bottom of the ball had the Hall of Fame Induction logo, as it almost seemed like something that should have been sold in Cooperstown, not Oakland.
There was also a Rickey pin commemorating his 1,406 stolen bases, but I was never able to find one, and I forgot to take a picture. They had a 5-piece set, similar to the Rickey set I'd purchased previously, but this set only contained one Rickey pin, so I didn't buy the entire set. The pins were also being sold separately, and I found all of the others, but the Rickey pin was sold out.
As I mentioned previously, I also missed out on the Rickey jersey giveaway, but I wasn't too disappointed. The jerseys are basically T-shirts with buttons, and I wasn't a big fan of the Mountain Dew logo on the sleeve anyway. So, I've borrowed the images above from eBay, where the jerseys are being sold for fairly ridiculous amounts right now.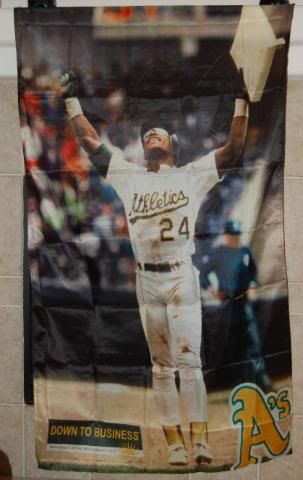 But, I did manage to get the banner giveaway on Sunday, which I thought was pretty cool, as it measures about 5' tall by 3' wide. Here it is hanging from my fireplace, which is not where it's going to stay.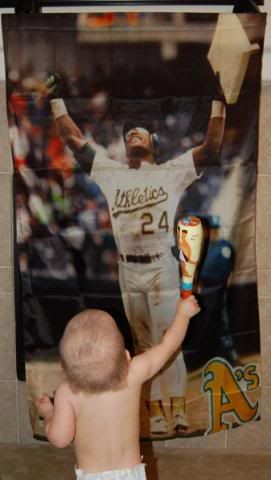 Finally, here's my sons best Rickey Henderson impersonation. I promise that he did this all on his own, and he even picked up the bat. Looks like we've got another Rickey fan in the family!