I didn't bring the printed version of my Rickey checklist along with me to Cooperstown, as I wasn't sure what kind of cards I'd find when I got over there, and it wasn't worth carting around cross country. So, I'd have to go from memory, and hope I wasn't too far off.
I returned from Cooperstown with three cards, only one of which I actually needed. But, I still considered it a success, especially since they were only $0.50 each. There were quite a few shops with Rickey cards set aside, but most of them were commons from the 80's and early 90's, with price tags far exceeding their actual values.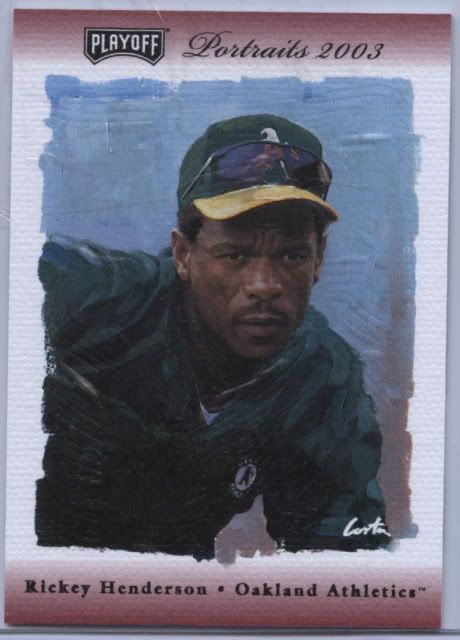 2003 Playoff Portraits National Red #142 - This card isn't listed in my Beckett checklist, but from what I can find out online, the red parallel was released at the National card convention. I knew that I didn't have this variation, and it was the only card that I actually added to the collection.
1998 Pacific Paramount Red #80 - I actually thought that I might need this one as well, but I did end up having it. The red parallels were released only in retail packs, and are now pretty hard to come by. If anyone's interested, this one is now up for trade.
1991 All-Time Stolen Base King Oddball - This is an oddball card that I had just picked up a few weeks prior, but since I knew it wasn't all that common, I figured it would be a good pick up for trading in the future. The card is "limited" to 10,000, with this copy being number 8,939. I actually like the number on this one, as it corresponds to the 939 steals that the card is commemorating.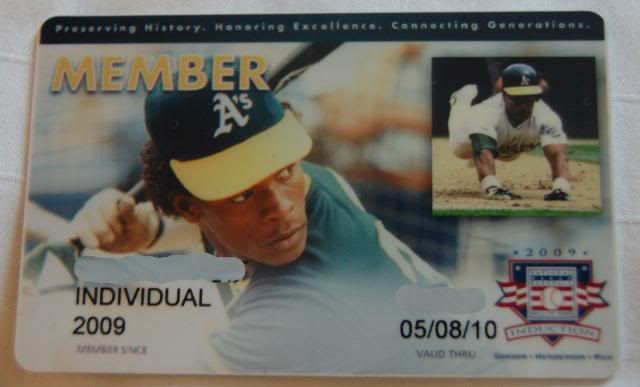 Although it's not your typical "card" this is my favorite card acquisition of the weekend, and it's definitely going into my collection. For anyone attending induction weekend, I would definitely recommend buying a membership to the Hall of Fame, as it was definitely worth the cost, and you're left with a really cool souvenir. I had purchased a membership ahead of time, and received a Billy Williams card in the mail, But, at the last minute, they decided to produce a special Rickey membership card, which the employees of the membership department were nice enough to update for me.